If you are considering visiting the UAE in October, congratulations, you are halfway through to a successful vacation. Now, all you need to do is budget carefully (as money tends to disappear quickly in the Emirates!), create a bucket list of places you don't want to miss while you're here, and choose the perfect resort and hotel.
The peak of fall is our favorite time in the UAE, although it does have its downsides. Let's explore how much a vacation in Dubai costs in October, which resorts are better and cheaper, and what to expect from the weather in the Emirates during the spookiest month of the year.
Article contents
Weather in Dubai in October
Is October still hot in Dubai? Yes, but not to the point of it being unbearable: It's ideal for those who prefer temperatures not lower than +30°C and not higher than +35°C.
Can you swim in the UAE in October? Yes! The weather conditions strongly suggest you do. The water is warm as milk and you don't shriek in shock every time you do a cannonball dive into the gulf. Plus, spending the whole day on the beach in Dubai in October becomes even more tempting as you learn that the sunny days are guaranteed to be abound all throughout your vacation (clouds are quite rare in the Emirates in general).
Mid-fall is the moment when the country awakens from the scorching +45°C summer heat. The dog days are over, and locals return to their residencies. Life flows back to the cities. However, acquiring the wrong shade of red instead of a golden tan is still quite easy, so stay diligent about sun protection if you don't want to become yet another Dubai sun casualty (it's not going to kill you, but you will be red, sore, and peely for weeks).
The end of October in Dubai is that ideal period when the water is still warm enough for swimming, and air temps allow you to show your nose outside between 10 a.m. and 5 p.m. In comparison with the months leading up to October, this is such a treat — even if the temperatures weren't that crazy (we're talking September in Dubai, mainly), the sheer unforgiving power of sun rays would make even a self-proclaimed tanning fanatic spend tons of cash on expensive beach loungers with giant umbrellas.
How hot is Dubai on October night? Heat haters, rejoice! October evenings in Dubai tend to be quite pleasant. The temperature drops to a refreshing +24°C, and you still don't have to add another layer to your outfit to enjoy the night out.
Side note: Speaking of clothes, the ultimate packing list for the fall season in the Emirates includes a swimsuit, shorts, a t-shirt, and dresses. You won't need a shirt or a jacket outdoors, but you'll definitely need them indoors, where the air conditioning is set to a chilly +16°C degrees.
Many people consider October to be the sweet spot in the UAE's climate, and it's easy to agree with that. September in Dubai tends to ride out the unbearable heat wave of summer months, while November and December oversee a significant drop in water temperatures. You can still swim, but the water feels less like warm chicken soup and more like a refreshing gazpacho (on second thought, food, even in liquid form, is a weird metaphor to use when it comes to swimming, but you get what we mean, — just roll with the punches!).
To put a face to a name (or a number to a feeling, in this case), here's a short table we've made to help you understand the scope of October weather in the UAE, with all the little changes you might encounter emirate to emirate:
Emirate

Average air temperature

Average water temperature

Start of October

End of October

Dubai

+33°C / 91,4°F

+32°C / 89,6°F

+30°C / 86°F

Sharjah

+33°C / 91,4°F

+32°C / 89,6°F

+30°C / 86°F

Ras Al Khaimah

+35°C / 95°F

+32°C / 89,6°F

+30°C / 86°F

Abu Dhabi

+34°C / 93°F

+32,5°C / 90,5°F

+28°C / 82,4°F

Fujairah

+33°C / 91,4°F

+31°C / 88°F

+29°C / 84°F
If after all the information we've thrown at you thus far has made it even harder for you to choose the best time to visit Dubai, then, by all means, feel free to consult with our article here, where we detail all the pros and cons of each of the month you might want to consider for your future travels to the Emirates.
Which Emirate to choose for your trip?
Here's a brief overview of resorts in the UAE that can help you choose where to stay in October based on your travel goals:
Dubai takes the lead in everything, and this list right here is no exception. October prices in Dubai are a cut above those in other emirates, but there are also so much more tourist activities here.
Miles-long beaches and the sea, endless shopping possibilities (from Zara to Gucci, covering the entire spectrum of tourist retail habits), entertainment ranging from observation decks and museums to renting Lamborghinis, world-famous restaurants courtesy of celebrity chefs like Jamie Oliver and Gordon Ramsay, among others; boozy rooftop bars with head-spinning city views, and even snow at the indoor ski resort Ski Dubai, — in a nutshell, Dubai is ideal for those seeking a perfect blend of modernity, entertainment, and Emirate culture.
Sharjah is great for a beach vacation. You don't have to pay the premium prices of Dubai that usually follow its "top" status, all while being in close proximity to the city.
Most local hotels offer free transfers to Dubai Mall, and taxis cost 90 AED / $24.5 (+20 AED for crossing the border). The beaches here are wider and less crowded, with many hotels located on the waterfront. But there's one important detail to keep in mind: Alcohol is strictly prohibited in the Emirate, even in all-inclusive hotels. So for a night out with cocktails, you'll have to go to either Dubai or Ajman — the next Emirate on the coast.
Sharjah would probably suit best for a family vacation. It offers numerous water parks and other family-friendly entertainment options.
Abu Dhabi is another good resort for a family vacation with children. It is more conservative and family-oriented compared to Dubai, and the local amusement parks are a dream for both kids and adults (more details about them in the section below). However, the beaches are not the strongest point of Abu Dhabi. The most decent ones are located on Saadiyat Island — it's only a 10-minute drive from the center, but it's still a drive.
Ahu Dhabi is definitely the best choice for cultural and historical exploration. Here, you can visit a lot of cultural landmarks like Louvre Abu Dhabi (check out our review of the museum here) or Manarat Al Saadiyat Art Gallery.
Side note: Saadiyat Island is set to become the Emirates' top cultural hub, with such constructions as Guggenheim Abu Dhabi and Zayed National Museum currently underway.
Ras Al Khaimah would work great for those who want to spend their time on the beach 24/7. You won't be distracted by the fear of missing out on attractions (there's not much to see in the city itself, and Dubai is far away), nor will you have to worry about the distance from the hotel to the sea.
Most hotels in Ras Al Khaimah are located almost on the waterfront. Additionally, it is the most relaxed emirate when it comes to alcohol regulations. If a peaceful and secluded beach vacation gets dull at any moment, you can always plan one or two day trips to Dubai and Abu Dhabi to learn what the fuss is all about.
Why do people spend another hour and a half on the road to Fujairah after landing in Dubai? In fact, the emirate has solid reasons that might make you consider this bus adventure.
First of all, it's the best place to find the cheapest all-inclusive packages for your October vacation. Secondly, Fujairah is located on the Gulf of Oman (weather-wise, it's the same as an ocean-front resort), which means it offers different water temperatures and marine life, compared to other emirates that all face the Persian Gulf. Just imagine being surrounded by a fantastic mountain landscape on a cozy beach with a diving session in an hour. Snorkeling in Fujairah is a very popular activity! Finally, the country of Oman is just around the corner, making it convenient for you to kill two birds with one stone and cover two new countries in just one vacation!
Travel expenses for your October trip to the UAE
Since October promises the best weather in Dubai, tourists love this season. Therefore, the prices change quickly and tend to grow exponentially fast. Your best bet to secure a fun and affordable vacation is to plan ahead of time.
Flights to Dubai in October
While looking for plane tickets, take your time and double-check the aggregators — sometimes you can find better deals on Skyscanner and Wayaway, and sometimes there are nice surprises on Momondo or Kayak.
A round-trip from the East Coast (NYC) will cost approximately $1,000 for one person. But if you don't mind layovers, you can find deals that start at $600–$700.
West Coast prices are a tiny bit higher: $1,100 for a direct flight, and $800 — with layovers.
Flights from Europe, despite your hopes and dreams, aren't cheap in October either (although the "ground" covered is a little shorter, resulting in more bearable travel days). They are $800 for a round-trip, but if you want to save another couple of hundred bucks, book the itineraries with stopovers — from $500.
Hotel prices in Dubai, UAE
Keep in mind that hotel prices in the Emirates vary significantly based on the resort and star rating of the hotel. As always, finding a budget-friendly resort with great service is the ultimate goal of every traveler, but it can be tricky in the Emirates. Generally, the further you go from Dubai, the more affordable options you can find.
To help you with your decision, we've created a comparative table with the average prices of accommodation in the Emirates in October.
Side note: The prices mentioned here are for a 1-night two-person stay, so budget accordingly.
| | | | |
| --- | --- | --- | --- |
| Emirate | 3-star hotel | 4-star hotel | 5-star hotel |
| Dubai | $90 | $150 | $220 |
| Sharjah | $50 | $80 | $110 |
| Ras Al Khaimah | $50 | $70 | $100 |
| Abu Dhabi | $70 | $90 | $150 |
| Fujairah | $50 | $70 | $100 |
If you want to dig deeper into the price policies of Dubai and be fully prepared for anything, check out our article on prices in Dubai.
Which Dubai's neighborhood to choose for your stay?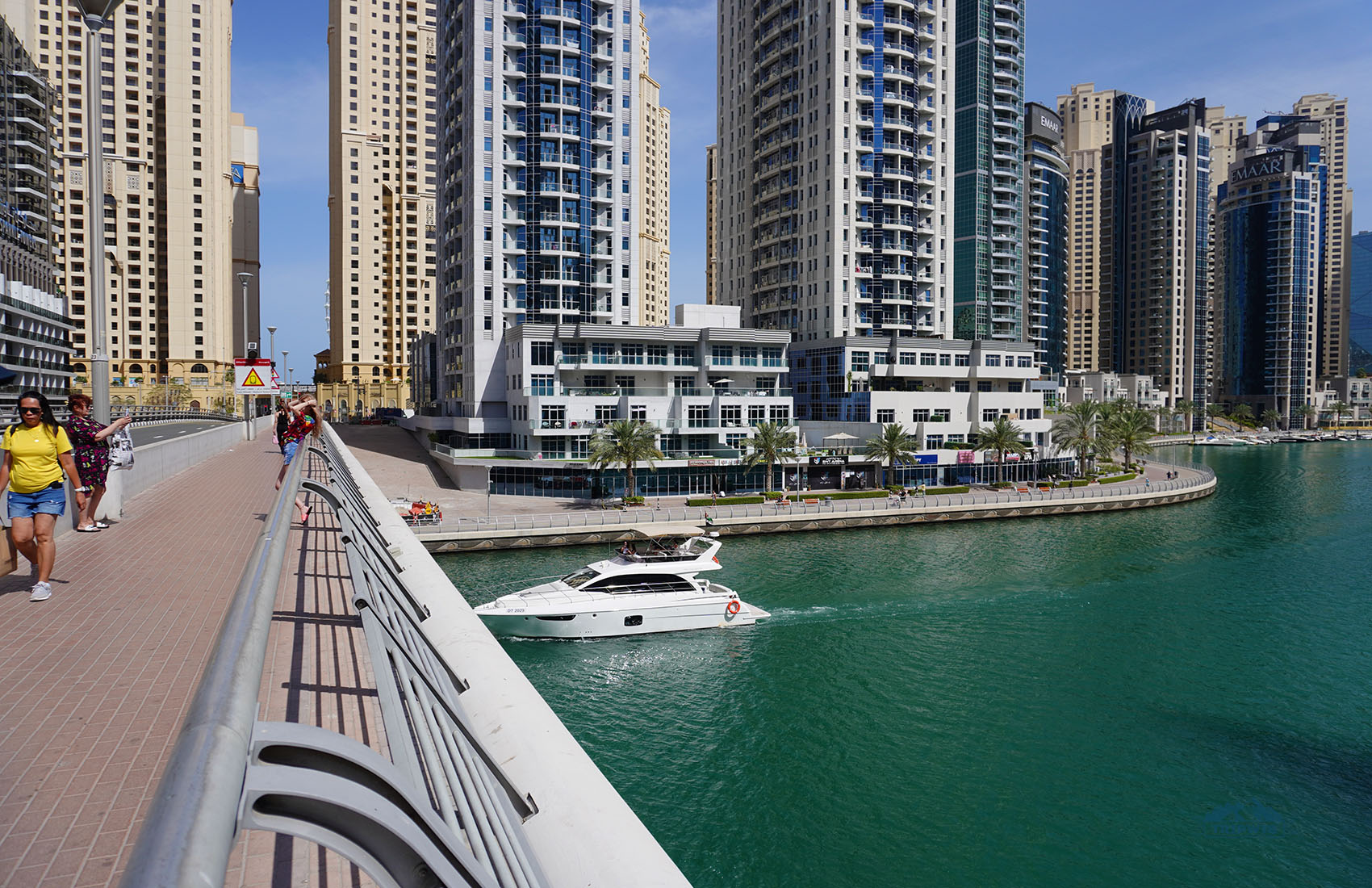 If you've landed on visiting Dubai in October, we have a pleasant bonus for you. Here is a list of Dubai's neighborhoods that you can stay in:
Al Barsha — an ideal choice If you're looking for a location that is conveniently close to major attractions and offers affordable lodging options. It may not have direct access to the sea and beaches, but many hotels in the area provide complimentary transfers to nearby beach destinations.
Deira — located on the outskirts of Dubai, it's an inexpensive district with affordable hotels and dining options. While it lacks beaches, its easy access to the rest of Dubai through the metro makes it a convenient base for city exploration. Despite its bustling atmosphere with vibrant markets and shops that can at times scare tourists away, Deira remains a popular choice due to its budget-friendly appeal.
Bur Dubai — located across the bay from Deira, it holds a unique historic charm and vibrant atmosphere. As the oldest district in Dubai, it was once the center of life in the city. Despite the modern skyscrapers that now dominate the skyline, remnants of its past can still be seen in its architecture, adding to the overall allure. There are several notable attractions in Bur Dubai, including the historic Al Bastakiya District and the futuristic Dubai Frame.
Dubai Marina — the most family-friendly district in the city, offering a perfect blend of prestige and convenience. Situated near the sea, it creates its own self-contained world with excellent beaches and fantastic nightlife entertainment. The neighborhood has a lot of skyscrapers that effectively shield it from the main bustling highway, ensuring a peaceful atmosphere for families enjoying their vacations here.
The Palm Jumeirah — stands out as the most luxurious and exclusive district in Dubai. Its iconic palm-shaped artificial island offers a range of exquisite local hotels and private beaches. However, convenience in terms of grocery stores, independent restaurants, and public transportation is limited. It's a place where the focus is on providing an exclusive and upscale experience, with attractions like the Atlantis Aquaventure water park and thrilling helicopter rides.
Downtown Dubai — the heart of the city featuring remarkable architecture and famous landmarks like Burj Khalifa. On one side, it's pricey and lacks easily accessible beaches on foot. On the other — it's ideal for luxury shopping, dining, and stunning skyscraper photos.
Our best Dubai hotel recommendations for October 2023
We have a deep respect for the hotel industry in the Emirates. Strict adherence to standards and precise organization has led to a reality where you're always guaranteed a pleasant stay, be it in a 3-star hotel on the outskirts of the city or a simple apartment hotel.
But all good things come at a price (and it's not just about hotel prices in October). There is a mandatory tourist tax that you pay upon check-in in the UAE:
5-star hotels — 20 AED ($5.5) per day
4-star hotels — 15 AED ($4) per day
2 or 3-star hotels — 10 AED ($3) per day
The tax is calculated per room, not per number of guests. So, for triple occupancy in a 4-star hotel for a week, you'll need to pay 15×7 = 105 AED ($29). The tax can be paid with a credit card or in cash with dirhams.
Which hotel to choose in the UAE? We have gathered a whole collection of completely diverse hotels in the Emirates from all of our trips. Let us share them with a brief note on the type of vacation they are best suited for:
Here are some hotel recommendations in Dubai for a fantastic and beautiful vacation by the beach:
The easiest way to book a stay in Dubai is through the Booking website. If you are all in on the various loyalty programs, then this website will become your best friend. The more you travel, the more special prices and offers you'll get.
Must-do October UAE experiences
There's an endless list of things to see and do in the UAE, and we could talk about it indefinitely. It's partly due to our frequent visits to the Emirates and the constant emergence of new and exciting attractions here. For every trip, we have 2–3 unexplored places on our itinerary. But what to do in Dubai in October specifically?
1. Check out the coolest beaches in the city
… and go for a swim while the weather in Dubai allows it in October. The choice of beaches is vast, ranging from free public ones to beach clubs collaborating with Dior and Ralph Lauren. Tourists often flock to:
La Mer — a small beach with calm waters, well-equipped, and always crowded. But it has an incredibly photogenic surrounding area designed in industrial style — what used to look like warehouses are now stylish cafes and shops.
Marina Beach is located in Dubai Marina, and that description pretty much sums it up: It has everything for everyone (partly because it's conveniently accessible by the metro).
Kite Beach — a beach popular among kite surfers, part of the extended Jumeirah beach area where there's plenty of space for everyone.
Palm West Beach on Palm Jumeirah, with a broad shoreline and a neat promenade.
2. Visit all the main attractions of Dubai
The Bluewaters district with the Ain Dubai observation wheel is a relatively recent addition to Dubai's list of attractions. Bluewaters itself is a typical shopping and entertainment area of the city, featuring interesting architectural accents. Strolling, taking photos, popping in and out of stores, and relaxing in a café with a drink in hand are the usual activities here. The Ain Dubai observation wheel, the largest in the world, is also located here, but unfortunately, it's been undergoing some maintenance works for over a year now, so you won't be able to take a ride on it at the moment.
Burj Khalifa doesn't need an introduction: It's grand and iconic. Here is a useful tip on how to buy tickets: Standard fare cost $52, evening tickets (from 3 p.m. to 6:30 p.m.) cost $73, and there is also a great combo offer for the tower and the aquarium in Dubai Mall for $73. While you're in the area, check out the Fountain Show. Starting at 6 p.m., it happens every half hour and lasts for about 4 minutes.
Side note: You can either watch it from the viewing deck of Burj Khalifa, from one of the many free viewing points peppered all around the fountain (like the Apple Store), or take it a step further and watch the spectacle from the traditional abra boat on the water.
Museum of the Future is a place you literally can't get into: Tickets are sold out weeks in advance! It features flying penguins, robot dogs, and predictions of what our Earth will look like many, many years from now. It's a fantastic museum — you should definitely grab a ticket if you can!
Al Fahidi District is a recreated historic quarter of Dubai. Skyscrapers give way to low-rise buildings and a Middle Eastern atmosphere with its bustling markets and shops selling teapots and carpets. However, unlike many other Eastern cities, this area is very clean and orderly. We recommend visiting the Al Shindagha Museum to learn the story of Dubai from its early days and taking a ride on a boat to the Spice Market on the opposite bank (1–2 AED / 50 cents).
Al Serkal Avenue is an area where garages and warehouses have been transformed into galleries showcasing contemporary art, coffee shops serving matcha lattes to go, and fitness studios offering hot yoga classes. There are so many great spots here for taking beautiful photographs!
Dubai Frame or The View at the Palm — another couple of great observation decks to enjoy the city from up high. Dubai is a very expansive city, so each viewing point offers a completely different experience.
3. Explore amusement parks (and not necessarily with kids)
It's a great plan for excessively hot days (most parks are indoors and have air-con). In Dubai, everything is built with grandeur, and amusement parks are no exception.
Wild Wadi Water Park — recently reopened after a massive renovation. It competes with Aquaventure for the title of the best water park in the emirate. Wild Wadi has a lower price (295 AED / $80) and the facilities here are upgraded.
Dubai Parks & Resort — a complex consisting of three amusement parks:
— Legoland with attractions suitable for kids up to 7 years old;
— Legoland Water Park with, you guessed it, a Lego theme all throughout;
— MotionGate with roller coasters and carousels featuring characters from famous movies like Kung Fu Panda, Ghostbusters, and The Smurfs (despite the names, they're entertaining for all ages). There's an offer for 2 parks in 1 day for $97. Individually, each park's entrance fee is $80.
IMG Worlds of Adventure — if your child (including your inner child) ever admired Marvel Universe and superheroes like Iron Man, Hulk, or Spider-Man, this park is a dream come true. It offers thrilling roller coasters, shows, and stunning visual effects. It's not conveniently located, so it's worth getting a ticket with transfers ($110).
4. Discover lesser-known places
The UAE is not just Dubai and Abu Dhabi with their focus on impressing tourists with everything extravagant, expensive, and cutting-edge. There are also lesser-known but interesting places away from the cities. Here are the ones that won our hearts:
Bab al-Shams desert resort — for those who seek tranquility and safe adventures in the Arab Desert.
Terra Solis glamping — a less luxurious version of a desert adventure.
An abandoned village in the desert Al Madam — for those that love ghost stories and mysterious landscapes.
Jebel Jais mountains towards Ras Al Khaimah that are home to the world's longest zipline. In this altitude, the temperatures are surprisingly cooler than in the rest of the area.
The best way to get to your out-of-the-city discoveries in the Emirates is to rent a car. In the UAE, there's a fantastic service that we recommend to everyone — Localrent. They are all about customer comfort and offer great prices: In October, rental costs start from $25 per day.
5. Fill your day with tours
Excursions in Dubai deserve a separate section to avoid getting lost in the general recommendations. Here, you can enjoy tours in convertible cars, thrilling helicopter rides, and nostalgic journeys in old-fashioned buses with guides who can immerse you in the intricacies of life in the Emirates in just a few hours.
The best way to book a tour is to look for it on GetYourGuide or Viator. Alongside group tours, there are also private excursions available for a limited number of people, often with more intriguing custom itineraries. The city offers tons of exciting excursions, but here are some definite highlights to enrich your stay in Dubai in October 2023:
Where to eat in Dubai?
Dubai offers a wide variety of food options, so every foodie will find something they enjoy here. Whether you're a meat lover or a vegetarian, there are plenty of choices. Here are some of the places we love to come back to time and time again:
☕Al Ustadi Special Kebab — a definite must-visit. It is located in the historic neighborhood of Bur Dubai and has been serving locals and tourists for decades. It's known for its kebabs and traditional Middle Eastern cuisine.
Meal for one is $13–15.
☕Mythos Kouzina & Grill — a great place to enjoy some Mediterranean food. It's conveniently located right in the heart of Dubai.
Dinner for one is about $60 with drinks.
☕Ruya — a quite unique restaurant from the Michelin Guide. The menu here changes seasonally and features the freshest ingredients (some just caught by fishermen that same day and some foraged from the desert).
Dinner for one is about $70 with drinks.
☕The Sum of Us — a cool coffee shop with truly delicious coffee and a jungle-like interior. Another reason to come here is to observe the crowd — you'd be amazed at how diverse Dubai is.
A cup of cappuccino is $5.
☕Caffè Nero — this popular chain has several locations throughout Dubai. It's simple and easy and their coffee won't disappoint you.
A cup of cappuccino is $5.
☕Wild & The Moon — an ideal option for those tired of meat. The place has a wide variety of vegan and gluten-free dishes.
An acai bowl is $14.
Is going to Dubai in October worth it? Our review
Is October a good time to visit Dubai? It's hard to imagine negative reviews about visiting Dubai in October unless we count the usual subjective impressions like "everything is artificial." The only things one might complain about are the weather, crowds, and on-site prices — after all, paying 25–30 AED ($7–$8) for a cup of coffee can feel like an overcharge.
In October 2023, the UAE promises to be an incredibly popular destination. But don't you worry: There are so many resorts, hotels, and activities here that you will not feel trapped as an ant in an ant farm. Tourists have varied interests, so the crowds are usually evenly spread out. However, the beaches might be a tad packed, especially in Dubai.
Considering everything, we believe October is a great time for your Emirate vacation. Travel costs have risen in many places, but in Dubai, you know what to expect — excellent value for money with its abundance of luxury comforts and top-notch service.