Our Dubai Frame experience is what sparked our fascination with the city: Given the budget-friendly cost of entry, this attraction has everything a tourist can possibly want! A look into the emirate's past, panoramic views, and science-based predictions of the city's future. You simply cannot get a more all-encompassing overview anywhere else in Dubai!
Personally, our expectations for the Frame were low: How can such a blunt structure (even though it's beautifully adorned) be of any interest to a traveler? Why does one need to pay a visit to the Dubai Frame and not simply gaze at it from afar? These and plenty of other questions get their answers in our findings below!
Article contents
What is so special about Dubai Frame?
Every Dubai Frame review ponders at the question of what is so special about this particular tourist attraction in Dubai, and we're not straying off course.
Although, how can anybody even be asking this question? It's the world's largest picture frame, for crying out loud! While the competition might be sparse, it's still a super impressive structure, looking at which (granted you don't suffer from megalophobia) is an experience like no other.
It's huge, it's gold, it provides you with spectacular views of Dubai — this, to us, is pretty special.
How tall is Dubai Frame?
Before we dive into all the amazing and exciting things this iconic structure has, let's start with the Dubai Frame information that's general and available to the public. This way, you'll have the idea of what to expect from your visit.
As you first lay your eyes on the construction, it gives you exactly what's advertised: A giant picture frame looming over the neighborhood.
The structure's height is 150 meters, and the length of the bridge connecting the frame's two only supporting towers is 93 meters (a frame fit for a giant's nightstand, that's for sure).
One of the more interesting facts about the Dubai Frame is the fact that its only purpose is to be an outstanding public attraction for both Dubai visitors and locals. No practical forethought was put in before the beginning of construction: You would expect the building to double as a unique shopping center or an art gallery, but to no avail.
Actually, we take that back: The Dubai Frame is an extremely viable piece of the city skyline! We imagine it's pretty hard to nail down the right calculations for the structure to withstand the infamous Dubai winds and also be a recipient of thousands of tourists each day. Plus, apart from looking spectacular from the outside, the Dubai Frame is home to a museum and a viewing platform (keep reading for more deets).
As for the boring but essential information, we've got you covered here as well.
What is the Dubai Frame ticket price? Tickets cost 50 AED ($13,6) per adult and 20 AED ($5,5) per kid (3–12 years). As with other Dubai tourist attractions, babies, People of Determination, and senior Emirate residents get a free pass.
Pro tip: To ensure you enter the Dubai Frame at the time of your planned visit (or at least not stand an obnoxious amount of time in line, as you'll still have to wait a little with a pre-paid ticket), purchase your tickets in advance on GetYourGuide.
What are the Dubai Frame opening hours? The Dubai Frame is open every day (even during holidays), from 9 a.m. to 9 p.m.
Pro tip: We advise you make use of the "early bird special" and get here as early as 9 a.m. No, you won't receive any discounts, but you will get the viewing platform practically all to yourself, which is exactly what you want here.
How to get to Dubai Frame?
There are a few options of how to get to the Dubai Frame, since the attraction's location is pretty central in the emirate layout scheme:
By metro. It would be a shame to come to Dubai and not experience its metro system — the most advanced subway network in the world! Since metro in Dubai is extremely convenient, most tourists opt to use this mode of transportation to get to the Dubai Frame. Dubai Frame nearest metro station is Max Metro Station on the Red Line.
As you leave the station, you will be greeted by a sight of a giant frame glistening in the sun. Don't be fooled though: It will still take you around half an hour to reach this landmark. Partly, because you're bound to run into one construction site or another (a common problem in the emirate), but also because you'll have to circle all the way over Zabeel Park's jogging track (the distances here only look small, given the grand size of all the surrounding structures).
If walking isn't something you enjoy (especially in sweltering heat), then you can get on a bus coming from the metro station all the way down to the Frame.
By bus. The closest bus stop is called Department of Health; it's located on the Sheikh Khalifa Bin Zayed Street. And yes, this option still requires you to do a fair bit of walking.
By taxi. Our preferred method of transportation when in Dubai: The last time we went to the Dubai Frame from our hotel (4* Wyndham Dubai Deira), we called an Uber and the swift 15-minute ride cost us around $8. After all, Dubai is infamous for not really being a pedestrian-friendly city. You'll eventually conclude that it's best to drive: Whether catch a ride in a taxi, or splurge on renting your own vehicle.
By car. We will never stop praising the wonderful service of Localrent — every time we need a car to explore the country freely, we can count on Localrent to find us the best (and most affordable) car that's a perfect fit for our needs. Dubai Frame has ample parking space, so no need to worry about finding a vacant slot. So, rent a car, put the Dubai Frame address (Zabeel Park Jogging Track – Za'abeel – Al Kifaf – Dubai – United Arab Emirates) into your GPS and you're good to go!
Dubai Frame location inside the Zabeel Park is perfect for families with kids who want to make the most out of their outings, especially considering the fact that the ticket to Dubai Frame gets you free access to the park. The park covers a lot of ground, and all the premises are always neat and tidy: Here, you can watch the sunset over a picnic on the grass or take your kids to the playground.
Dubai Frame interior — what to expect?
Looking at the structure from the outside, it's hard to imagine what's the inside of the Dubai Frame going to look like. Is it completely bare, apart from the elevators bringing the easily impressed tourists to the top and then back down? Is it awfully ornate and boasting the same gold hue throughout the entire interior design? Both of these statements are wrong, in some capacity. So, what can you actually expect when you plan your visit to the Dubai Frame?
Before we get into all the ins and outs of the structure, here's our personal warning! After you've passed security, there's a small area with a green screen right by the entrance. Here, every visitor is encouraged to have their picture taken by the on-site photographer. What the unassuming tourists don't know though is that one picture here will cost you around $20! Unless you want to spend that kind of money, confidently walk past the photographer and onwards, to your first stop of the Dubai Frame itinerary.
Observation deck in Dubai Frame
Now, Sky Deck (the observation deck in the top "bridge" portion of the Dubai Frame) isn't the first space you'll find yourself in during your visit. It is, however, the very thing that brings thousands of tourists to the Dubai Frame every day, so obviously we will highlight it first. A narrow space with windows on both sides (and even on the floor), the deck boasts 360-degree views of the neighborhoods surrounding it. It's an only observation deck in Dubai that lets you look straight down to its base through the transparent section of the floor.
Actually, the "floor windows" are our favorite feature of the Sky Deck (we're not alone in this sentiment, since you'll have to elbow your way towards it during peak visiting hours). A narrow patch of smart glass windows has a frosted look from the sides, but as soon as you step on any section, it becomes clear, revealing the base of the Dubai Frame, together with a fountain and neat landscaping surrounding it. The whole experience is thrilling, but, as we've stated before, be ready to fight for a chance to take a coveted picture of yourself standing on the glass 150 meters up in the air.
They also say that you shouldn't jump when standing on the glass. We're pretty sure they're joking… Are they?
Apart from that, other Sky Deck's features include:
informational media stands on both sides (so you can actually learn what you're looking at),
a colorful wavy ceiling (pretty trippy if you've already got your head spinning from being up that high),
a small coffee stand, where you can get a beverage and a snack to sustain your exciting day of exploring the city. Breakfast with this view will never disappoint!
Museum of Dubai's Past, Present and Future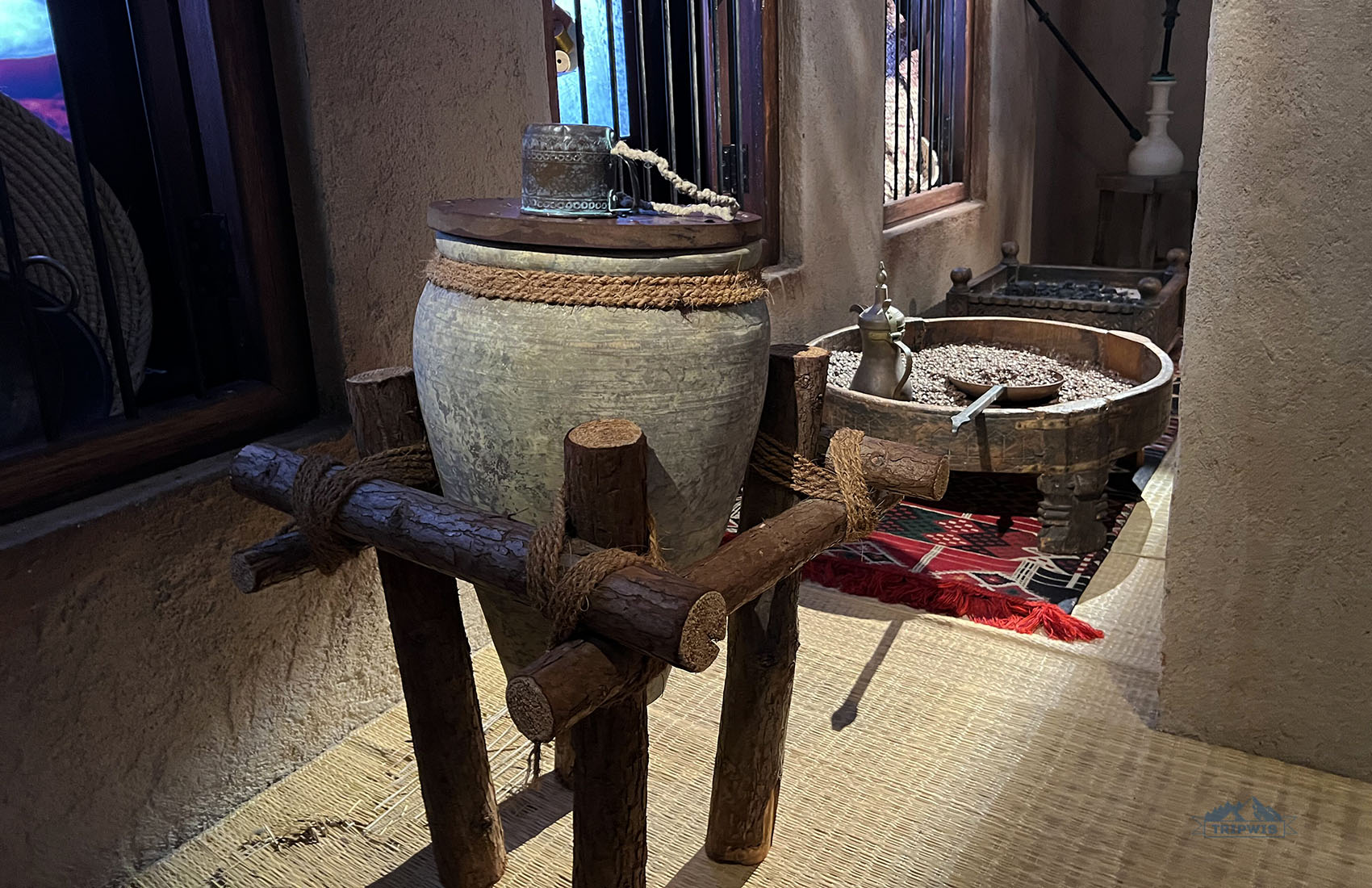 If you think that the Dubai Frame's only interesting feature is its Sky Deck, you could not be more wrong. In fact, the structure takes you on a journey of the emirate's Yesterday, Today, and Tomorrow. How? Let us elaborate a little:
Old Dubai Gallery is the space that first welcomes the Dubai Frame visitors: Presented as a multimedia exhibition, it's done in a medina-like style, letting you peak inside the many "windows" into the history of the emirate through the lives of its residents. If you ever wondered what life was like during the time when Dubai was a fishing village, this is the place to explore your curiosity. After being immersed (and dare we say, entranced) by Dubai of the past, you go towards the light — the elevators that take you to the top of the Dubai Frame, otherwise referred to as Present Dubai.
It's pretty obvious why Sky Deck is associated with "Present" Dubai — after all, you're looking at the city in real time, without imagining what it was like 50 years ago or peering into the centuries to come. However, the distinction of New Dubai and Old Dubai is somehow still prevalent: Two sides look out on vastly different city neighborhoods. On one side, it's metropolitan downtown, with Burj Khalifa as its crown jewel; on the other side, it's the old Deira district, characterized by low level sand colored buildings all grouped super close to each other.
Fack on the lower level, as you've returned to Earth (in this case, literally, and not figuratively), you get a final (though ever-evolving) taste of the Dubai story: the Future Dubai Gallery shows you what life is thought to be like years into the future. Flying cars, lots of renewable energy sources, highly developed field of medicine (biohacking 2.0 — grow your own limbs at home!), — all of these things and more are projected on mostly large-scale video installations, creating the ultimate futuristic atmosphere.
Trust us, coming out of the Dubai Frame is a weird experience: You feel like you've lived through centuries in just under an hour. Try and pace yourself if you get overwhelmed easily — thankfully, the tranquility of the green oasis that is the Zabeel Park is everything you need to collect your thoughts and chill out in nature.
Is Dubai Frame worth visiting? Our review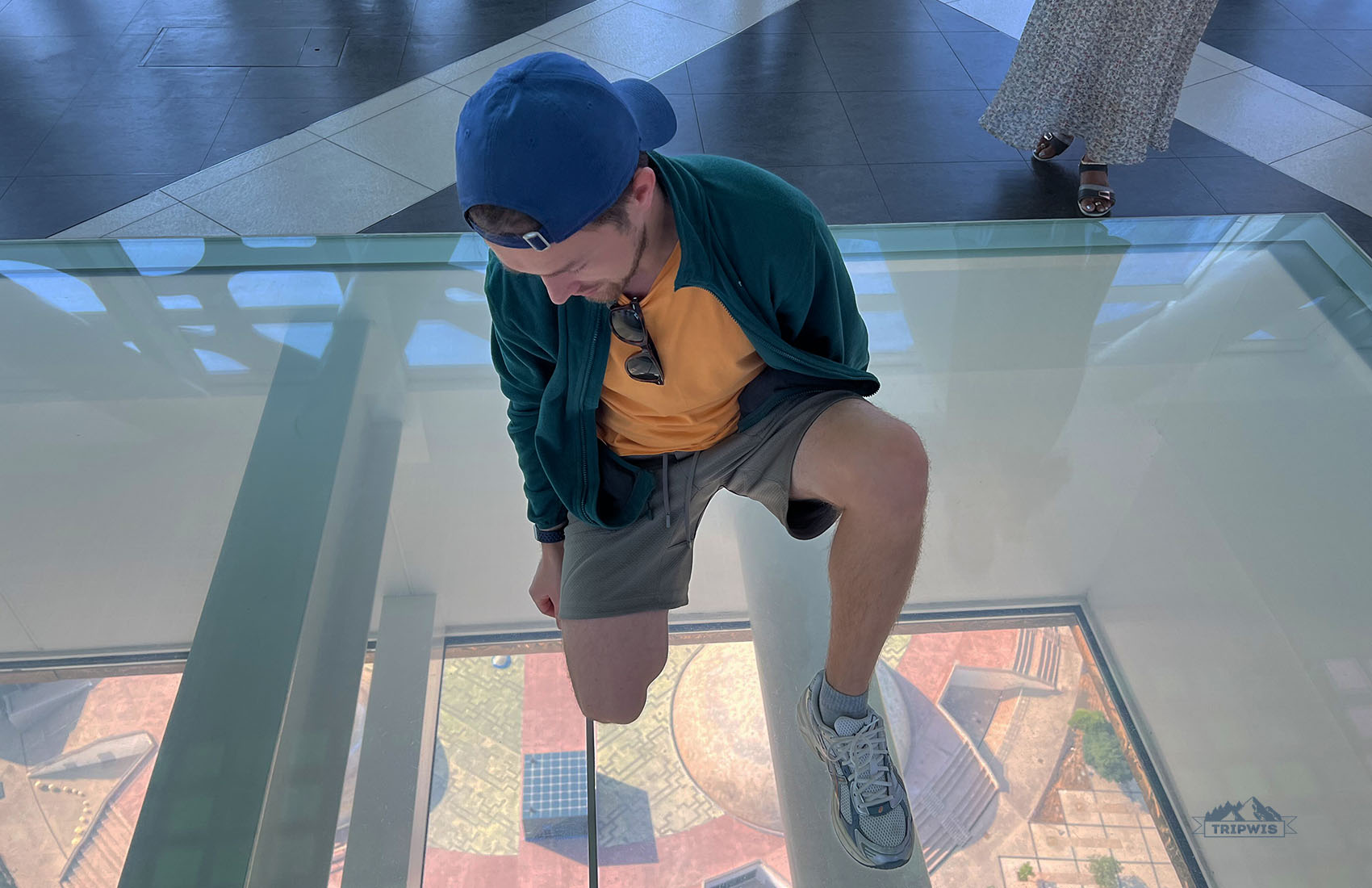 While the Dubai Frame doesn't usually top the leaderboards of the best viewpoints in Dubai, we believe that this attraction shouldn't be glossed over because of its hidden gem status. Yes, it's not as widely celebrated as Burj Khalifa or the View at the Palm, but Dubai Frame has the best ROI out of all of them.
When choosing whether to pay a visit Burj Khalifa or Dubai Frame, remember two things:
Burj Khalifa observation deck ticket starts at $46, while Dubai Frame's entry price is around $14 (!);
The view from over 500 meters up is much more spectacular, it's true. But: You cannot see Burj Khalifa from the viewpoint inside Burj Khalifa. Mic drop.
When visiting the Dubai Frame, you get a completely unique experience, tailored to an inquisitive tourist. For a small price, you get the general synopsis of two other Dubai museums:
Dubai Frame is in no way a substitute for these two establishments, but it's good to have a crash course first, before getting into the nitty gritty details of either era. In fact, we recommend you plan your itinerary in such a way that you hit both the Dubai Frame and the Museum of the Future in one day. They're located not that far from one another, and, in our minds, compliment each other beautifully!
Pro tip: If you love to be taken to places as opposed to planning your day yourself, Dubai frame can also be experienced as part of this tour.
Our Dubai Frame review can be summed up by the phrase "Life can only be understood backwards; but it must be lived forwards": Dubai Frame lets you explore both parts of the saying, and that's reason enough to pay this place a visit when in the emirate.
What else do we recommend to visit in Dubai?
City of Gold, Wealth Capital, Frontrunner of Progress, The Safest City in the World — Dubai encapsulates all the traits humans find valuable in a place they want to inhabit. Even though you, as a traveler, are just passing through, it's still fun to explore as much of what the emirate has to offer as possible. While we already mentioned the world-renowned Burj Khalifa, the View at the Palm, and the Museum of the Future, Dubai still has so much more cool places for you to explore!
What are our personal recommendations for things to do in Dubai, even if you only have a limited time in the city?
Go on a desert safari! Duh, the city is literally surrounded by nothing but sand dunes, when else are you going to have the opportunity to feel like a character from Lawrence of Arabia (for gals-friendly reference, remember the time Carrie, Miranda, Charlotte, and Samantha went to Abu Dhabi in Sex and the City 2)?
Pro tip: Go for tours that offer something extra, like a camel ride, or lunch served Bedouin-style, with added pizzazz!
Since Dubai has recently become the ultimate mecca for the world's well-to-do crowd, yachting is somewhat of a rite of passage in these parts. Don't worry if you don't have a few thousand bucks lying around for a private yacht, you can still very much enjoy going out to the Dubai Marina with one of the many tour operators working in the area. We always say that the views are better from the water, and Dubai's skyline is no exception!
If you're travelling with kids and have a day-sized hole in your itinerary, confidently head to the Dubai Mall. No, not to shop (we know kids simply adore shopping…), but to visit one of the largest indoor aquariums in the world — Dubai Aquarium and Underwater Zoo. Trust us, the little ones will stay entertained for hours: From silly penguins to scary large Croc, — there's simply so much to see here.
Since Dubai's more official sibling — Abu Dhabi — is located just a stone's throw away from the emirate, it would be a shame not to venture out on a little day trip to the UAE capital. Thankfully, there are lots of tours that cover all the main tourist attractions of Abu Dhabi: From the blindingly white Sheikh Zayed Mosque to luxurious presidential palace Qasr Al Watan.

We hope that our incessant ramblings about the multitude of things to see inside the Dubai Frame have made you reconsider your Dubai itinerary, squeezing this attraction somewhere between a visit to the Museum of the Future and a sunset party at the Jumeirah Beach. If you want more detailed articles like this Dubai Frame review, leave the places you want us to explore down below! As always, we're happy to answer any questions on the topic. Stay safe and come to Dubai!