What can you do in Dubai in 24 hours, you ask? Well, we're the right people to answer this question. Based on our vast experience of seven trips to the United Arab Emirates (UAE) — two of which were layovers, as well as two all-inclusive packages, and three trips we've planned ourselves top to bottom — we know our way around the Dubai's most notable sights.
Keep in mind that this article can also work if you have a two or three day stay in Dubai. Combine a few itineraries we're going to mention and you have yourself a fabulous stopover in Dubai!
Article contents
Is 1 day enough for Dubai? Important things to know
In all honesty, is one day enough when you're traveling somewhere new? Obviously not! Even if it's some remote village with a post office and a dirty puddle for a lake, you cannot get the vibe of the place right if you only spend 24 hours here.
And then there's Dubai — the city where almost every attraction is fighting for the place in the Guinness World Records and where new spots are popping up faster than mushrooms after the rain. A great one day trip here can seem downright impossible to plan!
With all this in mind, you can try, however, to see as much of the notable sights as you can in Dubai and make every hour count. To do that, you have to have a clear itinerary to avoid disappointment of coming all the way to the place only to find out it's closed or simply not worth it.
When traveling to the Emirates, you have to first and foremost choose the right time for your trip. We covered this topic to the best of our abilities in our article here. But if you want to get the gist of it, here it is:
Months from October till April are the best for a comfortable vacation in the Emirates: It's not that hot, and you can spend time outside without the danger of dying from exposure.
Months from May to September are literal hell in Dubai, and the only fun you'll have will be within the limits of air-conditioned spaces. Thankfully, there are a ton of those in the Emirate (don't forget about the largest mall where you can spend days in, literally).
So, the question remains: What to do in Dubai in one day in 2023? You definitely wouldn't want to travel far, which means desert safari and the Miracle Garden (world's largest natural flower garden) are irrelevant to the plan.
The obvious choice tends to be a city tour, where a guide takes all the stress from creating your own itinerary and provides you with a great tried-and-tested one. You'll find an endless array of the best Dubai's tours as well as the admission tickets on the GetYourGuide or Viator tour services.
Obviously, there are a few tours that you can choose from, depending on your needs:
🚶 A walking tour (perfect for young couples),
🚌 a bus tour (great if you're traveling with children or people who don't appreciate walking a lot),
🚤 and even a speedboat tour (wonderful for adrenaline-seekers).
Do you want to have a little more freedom when it comes to your one day trip to Dubai? Well, you're in luck: We're here to give you a list of places most worth your time, energy, and money, and the way to combine them into one cohesive itinerary that you won't regret following!
A perfect day in Dubai — what to see?
Before we give our planned out itineraries, we feel like it's important to know a little about the places that are worth visiting. It's true that Dubai is perfect for a quick layover, so we feel like you shouldn't waste you precious hours on attractions that are subpar or in any way not live up to the hype around them.
Here are a few places that you can look into when planning your trip to Dubai: Plenty of them complement each other beautifully, so feel free to mix and match each spot according to your previous experience and hopes for the emotions you want to get out of your stay here.
Burj Khalifa
A crown jewel of Dubai — Burj Khalifa — is known world-wide as the tallest building and free-standing structure. It's an obvious choice for Emirates visitors when met with a question of what to do in Dubai in one day in 2023.
Why? Well, apart from the impressive accolades and must-see landmark status, the tower's highest ranking (both literally and figuratively) can soon be challenged by one of the many current projects that "shoot for the stars" as well.
Thankfully, no matter the heights those future buildings are planning to reach, Burj Khalifa is guaranteed to stay one of the most popular attractions in Dubai (and, who are we kidding, in the world in general). If you only have 24 hours in Dubai and want to get the most all-encompassing views of the Emirate, then choosing one of the many of Burj Khalifa's viewpoints should be your top priority for the day.
While the tower spans over more than 800 meters, not all of the floors can be accessed by the ordinary folk. Don't get discouraged though, there are still a few amazing options here to enjoy stunning 360-degree views of Dubai:
The "At the Top" viewing deck, located on two floors of Burj Khalifa (124 and 125), is the most obvious choice for a traveler who wants to get crazy views while still somewhat sticking to a budget (even though you'll still have to shell out almost $50 for the experience).
"Sky" deck, set a few levels higher (148 floor) is an option that is perfect for the people who crave all of their experience to have a "premium" flair to them. Even though the views do not differ that much (and you also get access to lower levels), it's worth splurging out on if you want to have less people in your shots of Dubai's grand skyline.
If you're not exactly prone to vertiginousness and crave the ultimate bird's-eye views of Downtown Dubai, paired nicely with a high-scale dinner experience, then The Lounge (located on level 152 through 154) is just what the doctor ordered! Uninterrupted views and scrumptious food — does it get more VIP than that? Well, when it comes to spending funds in Dubai, the sky is the limit: You can get a simple Lounge access with a light lunch for $200, or you can add a Porsche transfer and foie gras (and eclairs) as gourmet menu items to the mix and spend a whopping $800 for the experience.
Choose your own Burj Khalifa adventure on GetYourGuide which is an authorized seller. And don't forget to catch one more mandatory (in our mind) thing — a Dubai Fountain show. Depending on the viewing point, this stunning music, water, and light performance can be one of the best things to do in Dubai for free. Would you believe us that tons of tourists flock to the closest Apple store (!) to get their front-row "seats" for the show? While there are a few mid-day sessions, most of the fun happens at nighttime. Dubai Fountain evening show is on every 30 minutes, from 6 p.m. to 11 p.m. If you ask us, it's the perfect way to end your Dubai one day itinerary.
Whew, we're getting too ahead of ourselves: There's so many things to do in Dubai in just one day, so let's focus on those, before actually choosing the day's end activity!
Dubai Mall
If you're traveling to Dubai with an extra large suitcase half-empty "just in case", then beeline straight to Dubai Mall as soon as your feet hit the Emirate ground. Conveniently located not too far from Burj Khalifa, this absolute mammoth of a structure is a heaven for shopaholics! Dubai Mall is considered to be the largest mall in the world, and how can you not a pay a visit to the place of this position?
One might wonder why to put going to a mall on your one day in Dubai itinerary, but the answer is simple. Especially in summer months, the temperatures outside can reach completely unbearable levels, leaving you to stick to large air-conditioned spaces, which Dubai Mall definitely is. What's more, there are so many things to do here besides shopping! Yes, the retail therapy part is a prominent one, with stores like Bloomingdale's and Galeries Lafayette begging you to spend the last of your hard-earned cash on a new Balenciaga bag or Chanel ballet flats while you're here, but that's not all.
Dubai Mall is the ultimate family destination where Dubai Aquarium (one of the largest indoor aquariums in the world; tickets cost 150 AED / $41) and Underwater Zoo provide ample entertainment options for both kids and adults. If your little ones aren't big fans of "looking at things" (although we highly doubt that the aquarium's very own King Croc can leave them unimpressed for long), the mall also houses an indoor ice rink (90–110 AED / $24.5–$30), which is perfect for every active rugrat in need of burning off extra energy. Trust us, after a day at Dubai Mall, both you and your children will sleep like logs!
Palm Jumeirah
Palm Jumeirah is the obvious choice for tourists who want a humble mix of unique luxury and easy-on-the-pocket attractions (although the island isn't at all budget-friendly in general). Even if it's your first time in the Emirate, you've probably seen snippets of the island online. The unforgettable date palm-shaped construction with a circular frame around, it has long been the talk of the town online.
There's no entry fee to the island itself (hello, there are people residing in the homes on the branches), but if you want to get the best views of the Palm, you'll have to pay to up a little. The View at the Palm observation deck ($…), located by the base of the island's "trunk", inside the tall Palm Tower, is the ultimate destination for sprawling views of the island (and also the stunning Dubai Marina skyline on the other side). All in all, it covers the bulk of places in the question of what to see in Dubai in one day, as you can witness them from the 52th floor of the tower.
Side note: Keep in mind that you can always get even higher over the Palm Jumeirah. The majority of Dubai's helicopter tours have their base here, and the first thing you get to see as you soar into the air is the elaborate structure of the island.
But what if you want to go to the very end of the Palm, its top part? Well, there's always an option to book a suite at the world-famous Atlantis Hotel. But it's otherworldly expensive, and not something accessible to an average Joe. So, another alternative would be going all the way to the end of the palm's tree trunk, to the Pointe, set right across the bay from the Atlantis Hotel. What is the Pointe, exactly? It's an up-and-coming area of the Palm, full of high-end boutiques, world-class restaurants and ample entertainment options.
Souk Madinat Jumeirah

Another iconic spot close to Dubai's coastline, Souk Madinat Jumeirah, is a place that combines old atmosphere of the traditional Arabic souk with a new and upgraded experience of a modern mall. This market is a one-stop-shop for all of your general tourist needs: The exorbitant amount of souvenirs and other precious things to remember your trip (and yes, that includes a couple of rugs, a few terracotta pots, and a pound of fragrant turmeric — if only airline companies didn't have those weight limits!).
Meandering around the souk proves to be a worthy endeavor, both in a matter of buying presents for your loved ones back home (a short stay in Dubai doesn't excuse the lack of souvenirs, we all know that) and also in having the absolute best time of your life!
Despite the look and feel of a traditional souk, the space seems to be leisurely and unhurried. Take in the wonderful Arabic architecture (earth-toned everything with multi-level clusters of constructions), the palm-lined net of canals (that could give Venice a run for its money in no time) and, drumroll please…. The views of the iconic sail-shaped hotel, the pearl of Dubai coast — Burj Al Arab!
If you're tired of all the walking among the peacock-colored stalls filled to the brim with goods and trinkets, you can either:
Pop into one of more than 50 (!) restaurants and cafes scattered around the premises.
Or rest your feet in a more elaborately entertaining way by going on a boat ride on the canal. Traditional abra boats (imagine Arabic-style gondolas) will take you on a picturesque ride on serene waterways that will open you up to new views on every turn. Sit back, relax, and take in as much sights as you can!
Dubai Marina
Our personal favorite Dubai neighborhood! Located right on the coast, it is a wonderful mix of urban sights and a beach getaway. Always fun, always teeming with tourists and residents, and practically overflowing with entertainment options, this is the mecca for both the Bohemian crowd and the laid-back traveler types.
Get a taste of the UAE beaches here without actually committing to a full-on beach day in one of a couple spots we will put on the list next (keep reading, they're a treat)! Apart from the lively shoreline, another part of Dubai Marina is super modern and metropolitan. This doesn't mean, however, that you won't see anything but high-rise buildings as you stroll among Dubai Marina streets. Turn your gaze to Bluewaters Island, for example — another Dubai's man-made island created just off-shore of the Marina. The star of the area is the gigantic Ain Dubai — world's biggest Ferris wheel that can be seen from virtually every point in the neighborhood. More on this peculiar island later!
Side note: Ain Dubai is temporarily closed, so even though you won't get to experience the ride to the top (we wouldn't advice you taking it anyway: It's way too slow, and you don't have that much time if you only have 24 hours in Dubai!), you can still marvel at its sheer magnitude as you stand below it.
To get the full taste of Dubai Marina, you will have to carve out a little more time for your Emirate vacation. The majority of entertainment options here are pretty time-consuming. Take yacht tours, for example — you don't want to rush the experience of looking out on Dubai Marina coastline from the water! Who are we to deprive you of this joy, however? Try and fit in a breakfast rendezvous on a luxury yacht, and let the whole world wait!
Get sea-sick easily but still want to grab a bite of something scrumptious to eat? Not a problem! No matter what time of day it is, you can easily find a place that serves delicious food in Dubai Marina (after all, we can't think of a place in the Emirate with such high concentration of food establishments as Dubai Marina). It's easy to get lost in the head-spinning variety of choices, so we narrowed them down to three spots you have to try out first if you have a limited time in Dubai. Here they are:
Angel Cakes (Bluewaters Island) — trendy, all-organic, wellness-inspired café. What does it mean? Think healthy brunches, refined sugar-free and gluten-free desserts (49 AED / $13), tasty coffee (25–35 AED / $6.8–$9.5) and angel superfood bar (which, as we've come to find out, is a selection of marzipan bars mixed with supplements). Even if you're not a GOOP-centric person and if Gwyneth Paltrow would 100% judge your diet choices, this place is still worth a shot — get their carrot cake and thank us later!
Roasters Specialty Coffee House (Dubai Marina) — mecca for coffee connoisseurs, their pure grade high-quality coffee blends (30 AED / $8) are guaranteed to blow your socks off! Their cold brew is simply out of this world, especially when paired with one of their delectable breakfast options: Whether you're a berry loaded acai bowl or a simple cheesy omelet kinda guy or gal, you will find something that will rock your tastebuds (in the best way possible).
Operation: Falafel (Dubai Marina) — self-proclaimed best casual dining experience, and we're not here to challenge this title. Their falafels, hummus, labneh, manaaesh, as well as all kinds of wraps and platters deserve all possible awards! Grab yourself a refreshing Laban Ayran and build-your-own sliders or wraps box (20–25 AED / $5–$6.8) and you'll be all set for the day!
La Mer
When the question of what should I not miss in Dubai arises during October through May, then heading to one of the best beaches of Dubai — La Mer — seems like an obviously great idea. When the sun rays are finally not trying to kill you (or at least make you all red and peely all over), then getting an authentic Dubai beach experience should be at the top of your day agenda!
Currently under a massive reconstruction, the beach itself and its coastal areas are getting pampered to the max. To see the destination in all its prime and glory though, you will have to wait until the end of 2023. While some businesses get a much needed makeover, others, sadly, seem to be shut down completely: The crowd favorite Laguna Waterpark has closed its doors in March.
Side note: Wild Wadi Waterpark, located in Jumeirah, can be a great alternative to the now closed Laguna Waterpark.
The South part of La Mer is almost done with the renovations. You can already go out and explore the premises, see what's new the area has to offer. If you get hungry in the process, we suggest popping in either one of these wonderful establishments:
Comptoir 102 — what the kids these days are calling a concept store, this healthy café is set on bringing you the ultimate wellness experience: You can kick back with a … no, not beer, obviously, but a "vitality" shot of apple cider vinegar (18 AED / $5), chased with some detoxifying water (29 AED / $8) and a bite of something protein-rich and healthy (60–80 AED / $16–$22). Take in the rustic surroundings, and then stroll around the small adjacent boutique. There's everything, starting from home goods, to jewelry and cleaning supplies. You can even stock up on sunscreen, before heading back out under the unforgiven Dubai sun.
11 Woodfire — a Michelin-star restaurant well-loved for all things grilled. Their open kitchen and outdoor grill bring the guests in and don't let them leave without eating their weight in Woodfire's mouth-watering dishes. Seafood, meat cuts, vegetables — everything is cooked over open fire, with different kinds of wood (be it oak, chicory, or some other sort) adding a distinctive taste to the dishes (from 80 AED to 400 AED / $22–$110). This is the place to be if you're simply ravenous after a full day of walking and swimming. Don't come here too early, otherwise you'll be too full to keep exploring the area!
Kite Beach
Kite Beach has lots of bragging rights in contrast with other beaches in Dubai — it has a super long (and wide) stretch of white pristine sand, a nice boardwalk running alongside the beach area, and a pretty developed infrastructure (don't forget tons of cafes and restaurants nearby).
A perfect spot to start your one day in Dubai right: Get up at the crack of dawn (before the sun actually has a chance to get all riled up and relentlessly hot), and head on over to Kite Beach. What does one do here this early in the morning? Well, it's the place to squeeze in some physical activity to get your body ready for the day ahead. Swim, run, bike, work out at the designated gym area — whatever floats your boat.
If, however, you like to start your day with something more adrenaline-inducing (so that you can skip your morning coffee altogether), Kite Beach is the mecca of all kinds of extreme-ish sports: Kite surfing, paddleboarding, water skiing, you name it — they got it!
Now, obviously such a strenuous physical activity requires a substantial amount of fuel. Thankfully, Kite Beach has a lot of great food options to choose from. To make your life easier, we've narrowed the list down to two places you absolutely must check out when spending time at Kite Beach:
SALT Burger — iconic burger bar right by the beach, it combines indoor and outdoor seating with a touch of the restaurant's humble beginnings as a take-out food truck. Our advice: Forget your diet and get as much food as you can. Their original juicy sliders (30–45 AED / $8–$12) are total flavor bombs, and soft-serve ice cream (25 AED / $7) will cool you off in no time. You can take care of your cholesterol levels somewhere else, this is the place for indulgence!
HEAL — the name of the place paired with the restaurant's interior can be summed up in one word: Bliss. Here, you can let all your troubles go as you're comforted by clean white lines and terracotta details. Their menu is overflowing with the mouth-watering healthier takes of traditional dishes — starting from a simple coconut milk porridge (50 AED / $13.5) or a breakfast avo toasty (57 AED / $15.5), going all the way to grilled salmon and cooked-to-perfection seabass (75 AED / $20.5), your tastebuds are guaranteed to have a field day, while your body is also getting proper nutrition. Don't forget to grab something from the HEAL Home collection before you leave: We're sure your suitcase can fit a couple of candles; their scent is simply too good to pass up!
Al Fahidi Historical district
Located within historical Bur Dubai neighborhood, Al Fahidi district is what you would imagine Dubai to look like dozens of years ago: Low-built structures, narrow streets (reminiscent of a medina), and, of course, important historical landmarks.
The usual destinations that call the name of Al Fahidi visitors are Dubai Museum (currently closed for restoration) and Al Farooq Mosque (one of the few mosques of the Emirate that are open to visitors).
Of course, you can simply walk along the Dubai Creek and call it a night: The vast boardwalk and calm creek waters are worthy of simple and content appreciation. But if your mind is in dire need of some exercise and you have a couple of hours to spare, head on over to the newest addition to Dubai's Heritage Village: Al Shindagha Museum (50 AED / $13.5). Trust us, being not huge history fans ourselves, we still managed to have a good time here. We believe that it's partly because of the mix of outside and inside spaces, and partly because the installations entertain all of your senses. Don't believe us? Peek inside the museum's Perfume House for a chance to "sniff your way" through the Emirate history.
Side note: Among other notable Al Shindagha's pavilions, we can highlight the former home of the Emirate's ruling family — Al Maktoum Residence. Built in a shape of a riad, with a big courtyard in the middle, it's a fascinating spot to learn all about the choices the Arabic royals made to develop such a future-forward sprawling megapolis out of a tiny fishing village.
Alserkal Avenue
Modern art lovers unite! Alserkal Avenue is the area that combines dozens of art spaces and businesses under one roof. Well, technically, not one roof: The Avenue is located in a former industrial compound and is spread across three rows of warehouses (90 buildings in total). What was once a marble factory has been converted to a net of galleries, restaurants, community areas, shops, artist studios, and other spots that can be pretty hard to define.
A hub of all things creative, there's always something happening within its walls. Workshops, exhibitions, pop-ups, movie screenings, festivals and the like. It's good to know that Alserkal Avenue is free to enter, but some activities may require a fee (it's best to figure that out beforehand).
Our favorite destination in all the wide variety of Alserkal Avenue spaces is Leila Heller Gallery — its curators always have a great mix of works by both Western and Middle Eastern artists. Originating from the Land of the Free, the exhibition schedule of the gallery is very dynamic. Every time you come here you are guaranteed to witness some new unique contemporary works by artists from all over the world.
You can spend hours popping in and out of the complex's spaces, grabbing a bite to eat from the many diversely unique eateries, or browsing the shelves of the shops. Home goods, jewelry, and even chocolate treats are bound to find their way into your hands, no matter how much you resist the temptation! While it's highly unlikely that you'll have the time to watch a movie if you only have 24 hours in Dubai, you can put this activity on the list of things to do in the Emirate next time you visit!
Bluewaters Island
As we've probably mentioned before, Bluewaters Island is another man-made island sitting by the coast of the Emirate. Most people know of the island because of Ain Dubai (the largest Ferris wheel in the world) that crowns the area. While it's true that this attraction is one of the most notable ones on the island, this area hasn't become the ultimate residential and tourist destination thanks to the Ferris wheel only. There are hundreds of retail and entertainment spaces on the island, as well as sought-after dining establishments and welcoming community spaces.
If time permits, pop into Madame Tussauds wax museum located on Bluewaters Island. It's a fun experience for both adults and children. Imagine you're singing a duet with a wax figure of Lady Gaga or shaking the hand of David Beckham — an all-around wonderful time!
The main activity on the island, however, is simply strolling along its perimeter, taking in awe-striking views of water panoramas and grandiose JBR wall of high-rises. Bluewaters Island is a great little detour that you can do while in the general Dubai Marina area: It doesn't take much time to explore it but the experiences you get are one-of-a-kind!
The Green Planet
Located in one of Dubai's busiest areas — City Walk — The Green Planet (140 AED / $38) is an essential stop for every Emirate visitor traveling with family. You can't miss the building even if you wanted to: It looks like some elaborate art object, square in shape, with circular holes and geometrical lines all over; the core of the structure is a glass, see-through cylinder.
What is the Green Planet, exactly? It's an educational and recreational facility that is focused on bringing knowledge about the natural world closer to an average person. A so-called biodome contains a completely enclosed ecosystem, full of more than 3,000 species of animals, birds, and plants. Walking inside the building, you feel like you're transported thousands of miles away from the surrounding Arabian desert — deep into a rainforest. A giant artificial tree sits at the center of the attraction, with its many branches almost supporting the entire structure.
There are so many levels to this bio-diverse ecosystem: Each set with multimedia installations, but more importantly, the unique live inhabitants. Snakes, parrots, all sorts of fish families, and even a free-roaming sloth are the creatures you're bound to run into once inside.
Side note: To get a proper look of the whole attraction, go up to the suspension bridge and enjoy the bird's-eye view of the jungle.
As for other attractions, kids will be ecstatic to learn that there are plenty of one-on-one encounters with the animals, as well as performances, educational programs, and a unique chance to play zookeeper for a day. Keep in mind your time constraints though, as it is easy to get lost inside for hours on end.
Dubai Frame
Taking the time to go up and enjoy city views should always be at the top of the list of things to do in Dubai in 1 day. While Burj Khalifa might not be everybody's cup of tea (the tickets tend to be quite pricey), the panorama is no less spectacular from one of another Dubai's mammoth structures — Dubai Frame.
It looks like a giant knocked his colossal picture frame straight off the nightstand. The exterior's elaborately carved golden sheen glistens under the sun at its peak, and the see-through blue-hued strips where the elevators go up and down to the viewing deck add a nice touch to the structure's overall appearance.
Dubai Frame entry fee is mere 50 AED ($13.6) per adult and 20 AED ($5.5) per kid (3–12 years). For this humble price, you get a myriad of fun experiences! Among them are two exhibitions: One showcasing Dubai's past, the other lifting the veil into the Emirate's future.
Dubai Frame is one of the last (but definitely not least) of the Dubai's attractions that we visited, and we cannot believe it took us so long to discover this wonderful gem!
Side note: A visit here works especially well with a combo visit to another attraction on our list — the world-famous Museum of the Future.
Museum of the Future
Museum of the Future is one of the best places to visit in Dubai in 1 day if you love learning about the latest advancements and the ways we as humans technologically plan to shape the years to come.
Side note: It's important to mention that you have to buy tickets to the museum (149 AED / $41) well beforehand, at least three weeks in advance, as the demand stays high year-round.
Why all the commotion around a simple museum? Well, Museum of the Future in Dubai is nothing but simple. Look at the building itself, for example — is it an eye? An egg? Who knows! The unique shape is accentuated with carved out Arabic writings, and the top-of-the-hill location plays a role of a pedestal.
But don't you worry, the fun doesn't stop once inside:
The lobby (together with the giant spiral staircase) adds to the overall vibe of grandeur; and the flying (yes, literally flying) robo penguins and jellyfish (as well as a friendly, albeit earth-bound, robodog) help you spend your time waiting in line more cheerfully.
The elevator, which is made to look like a rocket ship, takes you to the OSS Hope Station (in space, sort of).
Once back on solid ground, you're led into entrancing multimedia exhibitions: Some of them concerned with the preservation of species, some with the time we need to spend disconnected from technology, some with the latest technological gadgets and gizmos… It's hard to sum up all the experiences, but if you want to learn more before going, we suggest you consult with our Museum of the Future article.
As always, don't forget about the time: After all, even a simple viewing deck located inside the "hole" part of the structure can mesmerize you for hours on end. Keep to the schedule, people, we only have one day in Dubai!
La Perle by Dragone
In all seriousness, do you ever wonder why the answers to the question of how to spend 1 day in Dubai rarely include catching an evening show? During our first visits to the Emirate we were puzzled by the lack of answers of how to finish the day if you only have 24 hours in the city. Think about it: You're exhausted from walking around all day, and you need to squeeze in something wildly entertaining for a couple of hours before finally hitting pause on the day. In our mind, getting tickets to La Perle by Dragone seems like a good touch to end the day on a high note (tickets from 209 AED / $57).
It's a live show playing inside theatre in Al Habtoor City, and can only be described as an explosion of flamboyance and artistry. Not to spoil or give anything away, but you're guaranteed to be hypnotized by the talented acrobats, tightrope walkers, and other artists all taking part in a one-of-a-kind massive production. Imagine Middle Eastern-style performance reminiscent of Cirque du Soleil, but with the addition of the water element. It's a sight that you definitely shouldn't miss if you have the opportunity to witness it firsthand!
Tickets to La Perle by Dragon show >>
Beach clubs
Of course, there are always tourists craving something more than an ordinary beach outing (especially in Dubai, the Emirate that has the word "luxury" as its synonym). For this exact reason, might we present a couple of spots that take leisuring on the beach to a whole new level — Dubai's very best beach clubs:
Summersalt (admission ticket is 500 AED / $135) — one of the more exclusive spots in Dubai, this beach club is one of the best places to admire the iconic Burj Al Arab. The uninterrupted views of the hotel are worth every penny you spend here, in our opinion. The overall experience here is highlighted by the utmost best quality of food. We know that a strong menu isn't something people usually base their beach club experiences on, but if you do decide to spend time inside Summersalt, make sure you're hungry! A strong Japanese influence can be seen coursing throughout their menu options, but whatever you order, a food coma is guaranteed!
| | |
| --- | --- |
| | |
Side note: Keep in mind that if you want to spend your 1-day Dubai itinerary in style, Dubai's beach clubs can often be seen partnering up with high-fashion brands. Summersalt is no exception: It has recently held a Jimmy Choo pop-up that enhanced the otherwise muted and nautical-hued amenities of the club with bright pops of fuchsia pink and bright orange, bringing a whole new vibe to both outdoor beachfront area and also indoor spaces. Pumps and high heels aren't usually beach appropriate footwear, but this designer pop-up might say otherwise: In any case, keep your hand on the pulse of what Summersalt is going to do next. It's all very exciting!
Twiggy by La Cantine (sunbed is 200 AED / $55) — usually considered the best beach club in Dubai, Twiggy by La Cantine takes a unique approach to garnering the holidaymakers' attention: The club's location on Dubai Creek is a choice that can be most attributed to this spot's fame and glory. While all the other beach clubs mostly set in Dubai Marina and Jumeirah neighborhoods have to fight for the beachgoers' time, Twiggy sits back and lets the crowds found the space on their own accord. After all, it's one of the only high-end beach clubs in the Deira district of Dubai. Upscale lounging amenities paired well with stunning views of the creek and a giant infinity pool are exactly the things that attract tourists by the handful. Try and make reservations in advance, this club is a slice of heaven that tons of people want to experience annually.
Side note: Since we've already brought up the topic of high fashion, we can't help but mention the club's recent collaboration with Ralph Lauren — who knew that the brand's usually countryside- and horse riding-inspired vibe can be translated so beautifully into the heart of beach activities in Dubai? Twiggy's visitors had a unique opportunity to see the brand's newest collection and experience the nice touches that Ralph Lauren team brought to the club: Starting from the customized chaises and cabanas and passing over all the way to the food, with American classics being a huge hit!
Dubai itineraries for you to choose from
Now that you're familiar with the elements you can fill your 1-day Dubai itinerary with, we've gone ahead and compiled five pre-planned guides (with a bonus one) that can help you spend a perfect day in Dubai without having to stop and think about your next destination.
Side note: If you cherish freedom in your travel days, feel free to mix and match the attractions in a way that best fits your agenda.
1. Classic "One-Day-In-Dubai" itinerary:
Burj Khalifa and Dubai Mall (observation deck is optional)
Souk Madinat Jumeirah
Palm Jumeirah (the View at the Palm and the Pointe)
Dubai Marina
Al Fahidi district (if you still have time and energy)
Dubai Fountain show
🏨Accommodation option: 3* Citymax Al Barsha (from $95 per night)
2. Kid-friendly itinerary:
Dubai Aquarium and Underwater Zoo
The Green Planet
Wild Wadi Waterpark
La Perle by Dragone
🏨Accommodation option: 4* Mercure Hotel Apartments Dubai Barsha Heights (from $100 per night)
3. A luxury itinerary:
Summersalt/Twiggy by La Cantine beach club
Burj Khalifa VIP experience (with dinner)
🏨Accommodation option: 5* Atlantis The Royal (from $850 per night)
4. Museum Day in Dubai:
🏨Accommodation option: 4* Metropolitan Hotel Dubai (from $185 per night)
5. For people who believe they've already seen everything in Dubai:
Bluewaters Island
The View at the Palm or the newest viewpoint of SkyDeck Observatory
Kite Beach Walk
Dubai Design District
Alserkal Avenue
🏨Accommodation option: 5* Address Beach Resort (from $685 per night)
Where to eat?
While we've already mentioned a few food spots that you can check out while near any of the beaches on our list, we couldn't leave you hanging without adding a few more of our favorite city-bound establishments. After all, it wouldn't be an article about things to do in one day in Dubai without the call to eat at as many cafes and restaurants as possible: Dubai's food culture is clearly off-the-charts here!
Side note: For your convenience (we know how hard it is to navigate in a new foreign city), we've divided the places based on the landmarks that can be found nearby. You're welcome!
Places near Burj Khalifa:
Time Out Market — a tried-and-tested hotspot for top-notch culinary experiences, Time Out Market is set smack dab in the center of Downtown Dubai, covering a huge space inside the Souk Al Bahar. Apart from a rich and diverse program of shows and events, this place offers the best food Dubai has to offer, no matter the season: 20 food concepts provide a ton of choices to feel your plate with. Be it Greek, Portuguese, or Italian cuisine; a vine bar or a coffee shop that you're looking for — you're guaranteed to find it here.
Wild & the Moon — in particular LA-like fashion, this vegan/vegetarian restaurant covers all the buzz words: Plant-based, gluten-free, local, organic, no additives, and even mylks… The food here is supposed to be good for both yourself and the planet: The ultimate guilt-free indulgence. In short, we recommend popping inside and getting one of their cold-pressed juices: They're wonderfully refreshing in hot Emirate climate.
Hoof café — the ultimate destination for coffee aficionados: Their single origin coffee is worth the entire trip to Dubai to begin with! But don't stop there: Pair their signature coffee drinks with some of their delectable menu items. Depending what you're in the mood for: Something simple, like banana bread or french toast, or something a little bit more experimental, like wagyu sandwich or baked Alaska dessert — you're in for a treat!
Places near Burj Al Arab:
21grams Urban Balkan Bistro — an absolute gem of great food in Dubai, 21grams bistro brings all the delicacies of the Balkan region straight to the Emirates. You can expect giant sharing platters, as well as crazy delicious mains, like lamb shank or kebabs. Your sweet tooth will also be satisfied: You should always leave some room for Turkish coffee and baklava, that's the rule!
Your Address Coffee — we've been dreaming about this place's toffee date cake ever since we've tried it! Your Address Coffee is a perfect spot to kick your heels and relax a little with a cup of freshly brewed coffee and a small sweet treat, recollecting the memories you've made in your day in Dubai so far.
Places on Palm Jumeirah:
The Byron Bathers Club — Dubai's very own Australian oasis, the Byron Bathers Club is a popular destination among the Palm Jumeirah visitors. The freshest seafood and the booziest cocktails await those stumbling upon this highly coveted spot. Their regular Oyster & Mussels days prove to be a total hit, so try to book a table beforehand! Sitting under the shade of palm trees while on "the" Palm is a one-of-a-kind experience, that's for sure!
%Arabica — baguettes, soft-serve ice-cream, and, most importantly, coffee, — the ultimate lunch date combo, in our opinion. Join the army of tourists walking around the Palm with a cup marked "%" in the middle: The epitome of IYKYK talk.
Places by Alserkal Avenue:
FOMO Burger — who needs McDonald's when there's FOMO Burger in Dubai? One look at their trendy holographic food packaging intrigues you to take a peek inside, where you see every American's dinner classic — the BURGER. The name of the joint suggest you run here as fast as you can to avoid getting that fear of missing out on this iconic spot!
Pekoe tea & bread bar — a lovely small-batch Asian bakery that serves treats worthy of any Studio Ghibli movie. Being huge coffee drinkers, we still love this spot's dedication to all things tea: There's matcha, iced tea, cold brew tea, all the works! P.S.: Don't forget to snag a loaf of bread for a walk back home: It'll be gone before you reach your hotel!
We know that the most important activity in a new place is exploring its culinary scene, so we went ahead and added all the spots mentioned throughout the article into one map: That way, you can always look up the closest food joint any time you get hungry during your one day in Dubai.
Where to stay in Dubai?
Even if you only have 24 hours in Dubai, you still need to find a place to crash and shut your eyes (preferably in a nice bed, since your weary tourist body has been through a lot).
What are the characteristics we usually look for when choosing a hotel in Dubai perfect for a short stay in the Emirate? Well, besides the usual standards of cleanliness and service, we shoot for the hotels that are located close to a metro station. No matter how far from the proverbial Dubai "city center" the hotel is situated, we know we'll get to Downtown Dubai in record time.
We've gone through the trouble of testing out a few of the hotels that we believe are just what you need if you have only one day to spend in Dubai. Here's the short (albeit completely fleshed out) list:
5* Atlantis The Royal (from $850 per night) — in stark contrast with the hotel counterpart above, Atlantis The Royal is one of the more lavish and extravagant accommodation options you can shoot for while in Dubai! While not exactly being metro-adjacent, this hotel is not really about being easily accessible, in every sense of the world. Staying here presupposes you using helicopters to get around Dubai, and while it can be arranged for some, the majority of tourists can only dream about staying here. The hotel's Tetris-like shape is definitely intriguing, and their wonderful pool area and pristine white beach with crystal-clear water can definitely be a source of envy, even if only through social media.
How to get around Dubai in one day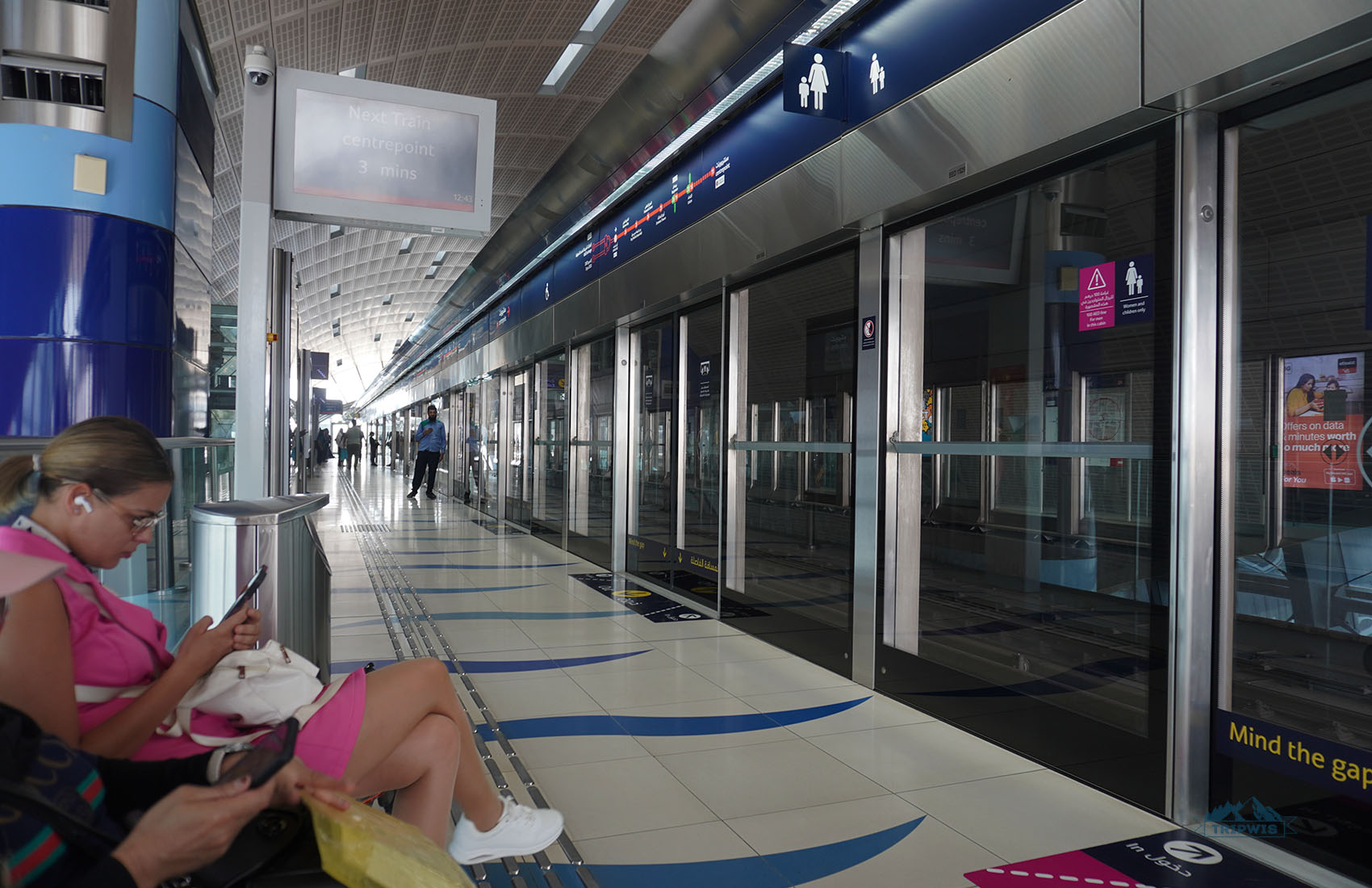 Since Dubai is as far from the label of a walkable city as we are from being royal descendants (definitely not), then the question of getting around Dubai is a pretty important one to figure out beforehand. What are your main options?
Hail a cab in the street (a 15–20 minute ride will cost you around 25–35 AED / $7–$10); but if you aren't a fan of being all spontaneous, you can call an Uber (it can sometimes be a little more expensive though, so keep that in mind).
Take a metro: Since you only have one day in Dubai, you can avoid getting a Nol Card and simply get single-ride tickets each time (4–8.5 AED / $1–$2.3). Public transport in Dubai is pretty developed, and even though metro stations are few and far between, you can catch a tram or a bus right to your destination.
Use the service of a hop-on hop-off bus (from 280 AED / $76) and explore the most famous Dubai attractions at your own pace, although on a pre-planned route.
Tips for visiting Dubai in one day
Now that your day in Dubai is planned and ready to be conquered, there are some things to know before you go on your adventure of a lifetime:
✔️ Because you only have one day in the city, we'd advise you splurge on taking exclusively taxi rides from attraction to attraction. It saves you a ton of time, and the chances of you getting lost are now close to zero. Efficiency over everything!
✔️ Like a true scout, always be prepared: That means wearing modest clothing (the men should also avoid wearing short shorts to a mosque), bringing a head cover with you (ladies-only), and having enough water to last you between places (to avoid dehydration in hot weather).
✔️ Adhere to local traditions: Even though more than half of Dubai's population are expats, there are still laws that can be enforced (and often are enforced, to a varying degree). So, do not express any PDA in public (no kissing, even if it's your partner), don't dance or sing in the streets, don't be publicly intoxicated or take your beer bottle out of the restaurant and into the street.
✔️ Also, in the age of Instagram and bloggers, don't take pictures of the Emiratees (especially women) without asking them first. It should be common knowledge, but tourists tend to let this one slide at times.
✔️ Don't spend too much time in one place! If you've decided on a schedule, stick to it: There's always next time, and Dubai will be waiting for you, in all of its magnificent and ever-evolving glory!
Well, here it is, folks! We hope that our Dubai in one day guide eased a little bit of your travel planning stress, leaving you with more energy to actually enjoy and appreciate the amazing Dubai landmarks. If you have any questions regarding the topic of short trips to Dubai, feel free to leave them in the comments below!