How much money are you gonna spend in the city which is «extra» almost at everything? It has the tallest building, the most advanced metro, the biggest mall… Seems like prices in Dubai can't be low by definition!
We have visited the Arab capital of wealth and luxury SIX times and can tell you all the ins and outs of having an awesome time in Dubai on a budget.
Content
When to visit? High season in Dubai
From our experience, the best time to visit Dubai is in November and December (up to 25th), right after a peak season.
The water is still warm (73°F…75°F)
No crowds
Great weather (77°F…83°F) without sweltering heat
Best prices for flights and hotels
January and February are not too bad either, despite people complaining about the strong wind and cold water. We have been to the UAE four times, and we had a great time, even got to swim.
The peak season in Dubai falls on the months of March, April, May, and October. Temperatures outside are usually between 77°F and 104°F. While the weather is perfect for a beach vacation, be prepared for increased prices and tons of people flooding Dubai.
The worst time to go to Dubai is in summer and at the beginning of September! Temperatures can skyrocket to 140°F and it's not worth it being in that boiling hell even if plane ticket prices are low due to the off-season. Another bad timing is Ramadan. A lot of public places (water parks and shops, along with cafés and restaurants) are closed until the evening. Eating out and having a drink is discouraged. Ramadan 2023 in Dubai lasts from March 23d till April 21st.
Cost of Flight Tickets to Dubai in 2023
Good news! Visa to the UAE for US citizens is not required. You will get a stamp at the airport upon arrival – it's free and valid up to 30 days.
Now, let's compare flight ticket prices for US travelers in October through December:
You can find a non-stop round-trip flight from NYC for about $1,000 per person, but if you don't mind having a 12-15-hour layover you can find tickets as cheap as $600.
If you're flying from LA the cheapest round-trip tickets will cost about $800 and the non-stop flight will be around $1,000 per person.
European countries are lucky: WizzAir, a well-known low cost airline, has a hub in Abu Dhabi (which is 2 hours and 25 dirhams, or $7, away from Dubai by bus.)
Check this calendar from WayAway flight aggregator to see the price of your possible trip to Dubai:
Accommodation in Dubai: hotel prices
All cheap hotels in Dubai are located in the Deira district. These are usually one or two-star hotels with an okay-ish service. The most expensive hotels you will find in Downtown and Palm Jumeirah, where prices can get to a couple of thousand bucks per night. For example, the standard room in Burj al-Arab — a famous sailboat-shaped hotel — starts from $1,300 per night in the peak season!
Note #1: There is a mandatory tourist tax which is not included in the booking. It has to be paid upon arrival and it will depend on the hotel's star rating. Normally, it will cost somewhat between 7 and 20 AED for the room per night.
Note #2: The hotel prices depend heavily on the seasons and skyrocket significantly in December. My jaw dropped when I'd found out that 4* Hilton Garden Inn, which cost us $80 (tax included) per night in September, is priced at $350 in the beginning of December!
Dubai hotel prices in May (peak of the season)
| | |
| --- | --- |
| Hostels | From $20 for 2 people |
| The cheapest hotel | From $40 |
| 4 stars | From $50 |
| 5 stars | From $80 |
| Apartments | From $50 |
Where to look for the best hotel deals: Booking.com or Agoda.com.
Top-10 Recommended Hotels in Dubai 2023
You can find all sorts of accommodation on Booking.com — the biggest and the most trusted hotels booking service.
Airbnb is a great option, too! Here is all you need to know about booking a place through Airbnb >>
Where to eat in Dubai? What to try?
Local Cuisine
You simply cannot go to a different country and not have a taste of its local cuisine! Emirates are perfect for picky eaters – you will have plenty of choices no matter if you're a self-proclaimed carnivore or a passionate vegetarian. Here are a few dishes that you have to try while traveling in Dubai:
Manakish, also manaqish, or manakeesh – a popular specialty made out of dough topped with thyme, cheese, or ground meat. Usually served as a side dish.
Shawarma – must-try when you are in UAE!
Nuts and dates – try this and forget about your trail-mix from Target
Falafel – deep-fried chickpea balls.
And of course, if you eat meat fully indulge yourself with lamb kebabs and even with a stuffed camel (!).
Restaurants and coffee shops
Here are few places that we found during our visits, and what we think is worth trying in every one of them:
Mythos Kouzina & Grill – amazing Mediterranean food with a little twist
Urban – super fresh seafood right near the beach
Golden Fork – seafood, a very touristic place
Al Ustad Special Kabab – a popular place for locals, they serve mostly lamb, chicken, and rice
Salt – burger food truck parked near Kite Beach, they even have their own following – "Salters"
Magnolia Bakery – coffee shop and bakery with creamy cheesecakes and cupcakes
Caffe Nero – great coffee
Five Guys – Ultimate American comfort food (yup, burgers and fries) with a spectacular Dubai view. It's located in Dubai Mall, overlooking the famous Singing Fountains.
If you are starving and a little short on cash, McDonald's is the way to go here in Dubai, you can find it in every mall.
Price cheat sheet
Shawarma – 6-10 AED
Chicken with rice in a local hole-in-the-wall cafe – 20-30 AED
McDonald's combo meal – 25-30 AED
Cappuccino to go, 12 oz – 15-20 AED
Pizza for 2 – 60-70 AED
Seafood mix – 90-100 AED
Friday brunch – 150-300 AED
Dinner in a luxurious restaurant with a good view – 500-700 AED for two (alcohol included)
Dinner in a fancy local cuisine restaurant – 300-500 AED
Tip: If you are not ready to pay 11 dollars for two cups of coffee (like us), check out the Entertainer app! There's a "lite" free version of the app, and if you enjoy the experience you can get an upgrade — it costs around $130 but it can save you lots of money as it offers «buy one get one free» deals. The Entertainer works not only for restaurants but also for attractions like Ferrari Park, Legoland and much more!
Grocery store prices in Dubai – 2023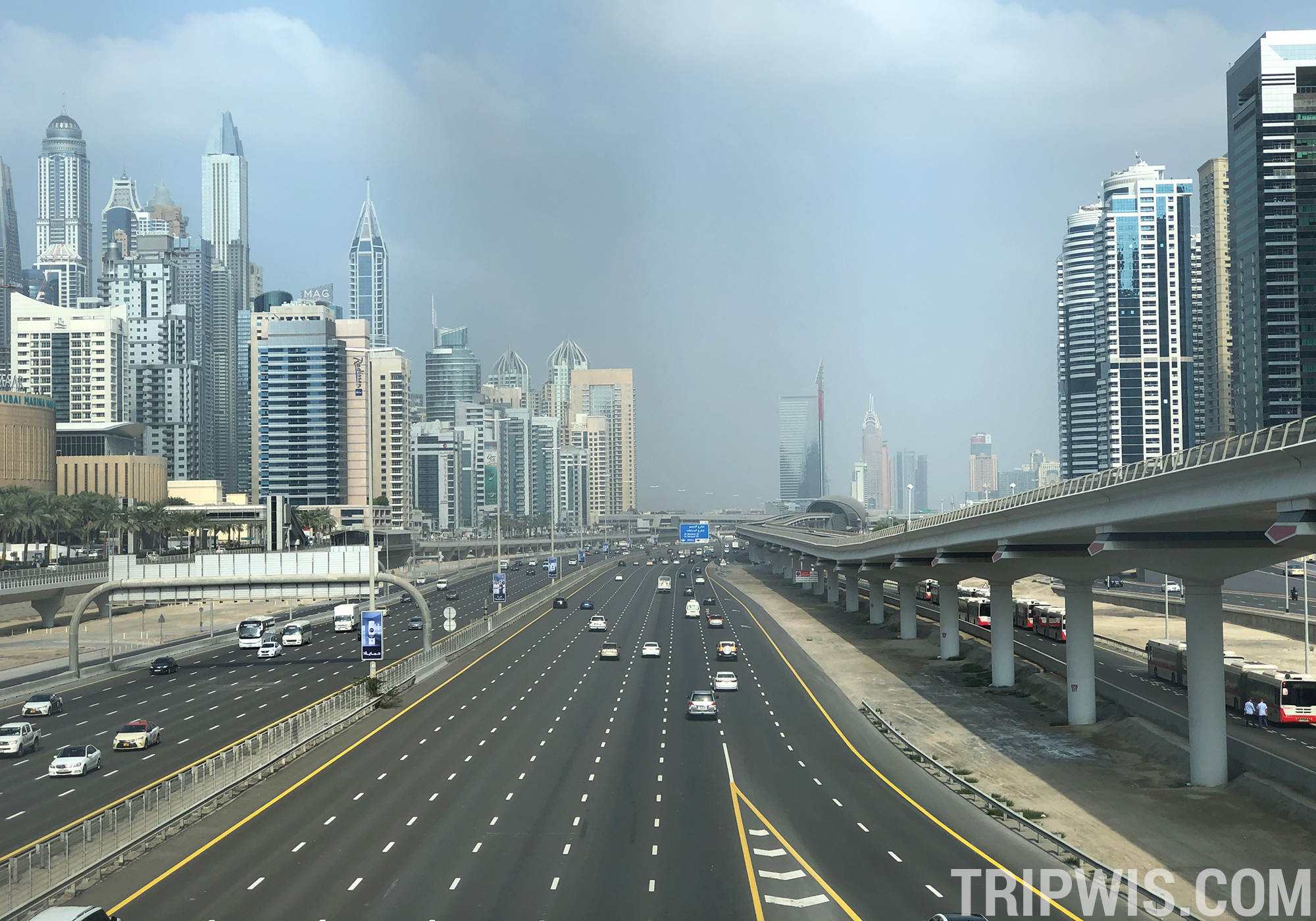 Note: 1 USD = 3,67 AED (the Emirati dirham).
Carrefour shopping mall is one of the most convenient and affordable grocery stores in Dubai (way cheaper than Pakistani stores).
Here are the prices in Dubai for basic food selection:
Lamb, lb – from 15 AED
Chicken, lb – 8-10 AED
Eggs, 6 pcs – from 6 AED
Cheese slices, 5 oz – from 10 AED
Mango, lb – 10 AED
Tomatoes, lb – from 3 AED
Cow milk, gal – 18-24 AED
Bread – 5-7 AED
Ritter Sport chocolate bar – 9 AED
Water bottle – 1 AED
Note: you won't find alcohol in grocery stores in Dubai. There are some specialized stores, but you can't buy anything in there without a license which only local immigrants have (Emiratis don't drink alcohol, remember?).
There are two ways of getting alcohol in UAE:
1) to buy in duty-free store at the airport
2) to find bars or restaurants where alcohol is allowed
We recommend Level 43 Sky Lounge – a rooftop bar with a terrific view of the night city!
Beaches in Dubai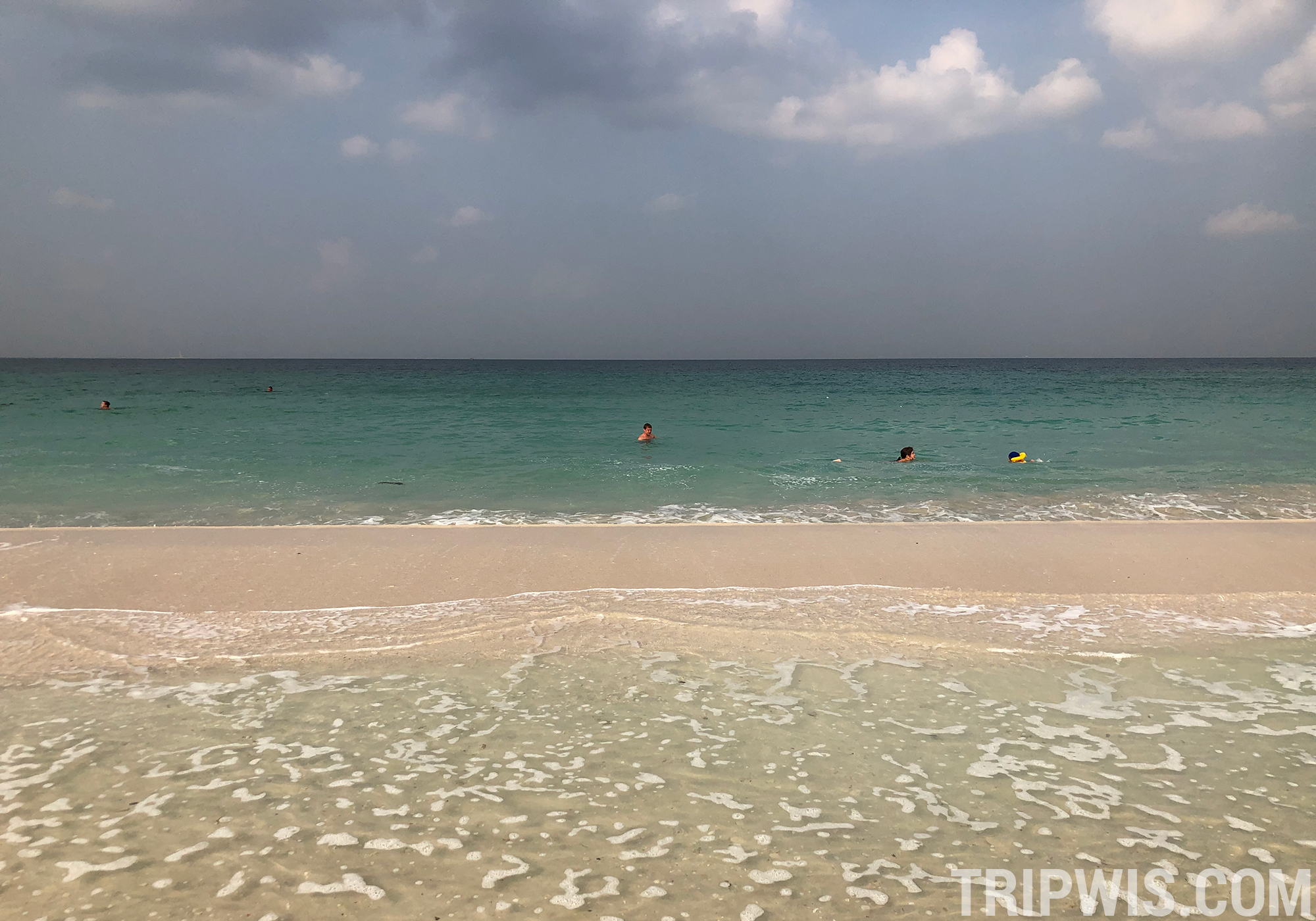 Beaches in Dubai are divided into two groups: public (usually free), and private (as part of a hotel).
The best beaches in the UAE are public. So even when you travel on a budget, and the hotel is 5 miles away from the sea, you still can save your vacation with an awesome beach experience!
Our favorite public beaches in Dubai:
La Mer – one of the best beaches! Free of charge, very modern, and clean!
Al Mamzar – three beaches combined into a big park territory. Not so impressive as La Mer, and the entrance fee is 5 AED per person.
Jumeirah Open Beach – popular among tourists because of the location near Burj Al Arab.
Marina Beach – located in the Dubai Marina district. Pretty convenient, but usually is crowded, and the water is not very clear.
Kite Beach – is a famous place for surfers.
Prices in Dubai Public Beaches 2023
| | |
| --- | --- |
| Private shower | 10 AED |
| A sun lounger | 60 AED |
| A sunshade and a sun lounger | 80 AED |
| A sunshade, a lounger and a towel | 100 AED |
Group tours + Burj Khalifa tickets
Is Dubai expensive when it comes to attractions? Well, on one hand, if you're on a budget, the city has plenty of free things to do — from tanning at the beaches to window-shopping at the countless malls. On the other hand, attractions in Dubai are pricey, with ticket to one-and-only Burj Khalifa starting at $46 per person. The good thing is that during these hard times (because, inflation) Dubai doesn't drastically jack up the cost of having fun.
Safari
The usual price for an evening safari tour with a dinner in the desert is around $70-80 per person.
Here is a "travelhack": you can book the same on GetYourGuide for just $55! But the cheapest way to experience the safari is the morning tour from Airbnb — we paid $54 for two of us.
Tour to Abu Dhabi
One of the most popular tours in the UAE is a one-day trip to Abu Dhabi to explore the city, visit the Sheikh Zayed Mosque, and Ferrari Museum. The price depends on what places you want to go, but usually, group tours are around $100-200 per person.
Again, you can find this tour online on GetYourGuide for under $80.
Dubai City Tour
Do not forget about Dubai city tours! It is the best option if you want to learn about the city and its history. The cost is around $50 per person.
Boat Tours
The boat tours in Dubai are worth doing as well. Prices for boat tours in Dubai in 2023 start from $40, including dinner, and you can book it here >>
The cost of new attractions in Dubai that pop up every half a year can be exorbitant or rather reasonable. In the end, it all depends on the uniqueness of a place. For example:
Al Shindagha Museum, which tells you a story of Dubai's past and future, is priced at 50 AED ($13,5) per person.
In comparison, Museum of the Future is a big-ticket item, with admission starting at 149 AED ($40,5)
The latest addition to the viewpoints' scene in Dubai — Sky Views observation deck with gorgeous panorama of Downtown Dubai — costs 80 AED ($22).
Burj Khalifa
Burj Khalifa – the tallest skyscraper in Dubai – is one of the main tourist attractions. Somehow, we still haven't visited it, so we will share our friends' experience instead.
Ticket price is fixed – 170 AED (about $46). Tickets can be bought on the Burj Khalifa website, but it's cheaper to buy it at GetYourGuide.
Also, there is a combo-offer, which includes Burj Khalifa + Aquarium + the Underwater Zoo for 246 AED (about $67).
It's breathtaking up there – other skyscrapers seem very small, and the whole world around looks like a diorama. Sunset views are even more impressive, and more expensive as well ($62 from 3 pm to 7 pm), but extra $$$ will grant you lifetime memories!
Where to go in Dubai? Attractions and Leisure
In Dubai entertainment is endless, especially if you have loads of money to spend.
There are many waterparks, but the biggest and the most exciting is Aquaventure (345 AED), located on Palm Island.
Tickets >>
You probably heard about the Musical Fountain. It's located next to Dubai Mall, and you can visit it for free, every day, starting at 6pm.
For a family experience, the Legoland theme park will be perfect (295 AED)!
Tickets >>
It's worth taking a walk in Zabeel Park. It's full of entertainment for children, there are places for a barbeque and a picnic. It's a wonderful spot to take a breather while surrounded by lush greenery.
Hop-on Hop-off bus Dubai (270 AED) – red double-decker buses which will take you to a city tour in Dubai.
Tickets >>
In Dubai, even winter sports fans can find something to do. In Ski Dubai, you can try tubing, sledding, bobsleigh, etc. Prices for a day ticket with rent of clothes start from $71.
Tickets >>
Nightlife in Dubai
Despite the non-drinking policy in the country, night clubs are a great loophole for drinking purposes. Entrance fee is $14 – $41 on average. A glass of beer or a cocktail will cost you $5.50 – $8
Dubai clubs:
Red Square – entrance fee is 150 AED
White Dubai – a rooftop club, recently reopened after months-long hiatus, with a revamped space and an impressive celebrity line-up. No entrance fee, cocktail prices will be about $27
Zero Gravity – a club and a beach in one. You can swim in the morning and dance at night (just not in your swimsuit!). Entrance fee is $41, $14 of it goes to a deposit
Float – a free to enter open-air nightclub experience onboard the Queen Elizabeth 2 (the world's largest floating nightlife). Book a table in advance, and get ready to drop some cash on bottle service!
Storm – a newly opened multi-storied nightclub got its rightful place among the very best clubs in Dubai. Free entry, rooftop terrace, and a VIP karaoke room, — what more could you possibly want?
Transport in Dubai
Public transport in Dubai includes buses, metro (fully automatic and charged by solar panels!) or taxis.
✓ A bus ticket costs $0.50
✓ Metro tickets are from 1.50 to 17 AED
✓ Taxis in Dubai are expensive: pick-up charge is $1.50, the distance charge is $0.50 for half a mile. The minimum price for the ride is fixed – $3.50
Car Rental in Dubai
Car rentals in Dubai are very convenient. Prices start from $30 per day. You can check the service RentalCars. Always rent a car with insurance, if you don't want to ruin your vacation because of a potential silly accident! Prices for gas are similar to the USA prices (around 13 AED/gallon) starting from 10 AED for a gallon.
Attention: it is necessary to have an international driving license to rent a car!
Shopping in Dubai
The UAE is made for shopping! You can tell it even by Dubai Mall, which is so big, it can take you more than three days to explore all the shops (and even then, you might not check out all of them). Aside from Dubai Mall, there are a lot of other shopping malls, including outlets, where you can buy brand clothes cheaper than in boutiques.
For example, Dubai Outlet Mall is considered to be a medium price range outlet, while the Outlet Village provides a more upscale designer shopping experience. You will hardly find "American" sales here, the prices are going to be higher, but shopping will still cost you less than in official brand stores.
Local markets also can provide a great shopping experience with quality authentic apparel and sophisticated jewelry. Just don't leave your belongings unattended; the market is always busy and pickpockets use that to their advantage.
What to bring back from Dubai? Souvenirs & Duty-Free
As a souvenir, we recommend buying camel milk based products – cheese, cottage cheese or milk (don't forget about storing conditions and expiration date); as well as oriental sweets – Turkish delight, sherbet, halva, date cookies (20 AED), and spices.
Duty-Free in Dubai is one of the biggest in the world. You can buy anything you like here: watches, makeup, jewelry, hookah and small souvenirs.
What is the cost of holidays in Dubai, UAE?
It depends on what you want. You can choose a non-stop flight and a luxurious hotel or you can go for China Airlines cheap flight and a hostel in Deira district. That's why we'll count only the basic expenses that fit all the travelers.
Basic expenses for a week for two:
| | | |
| --- | --- | --- |
| Food and Drink | $180 | It's hard to find a dish that will cost less than 20 AED + 1 AED per water bottle; add a rooftop bar cocktail for 50 AED |
| Group Tours | $90 and $100 | Jeep safari and Burj Khalifa tickets |
| Transportation | $60 | 2 metro tickets and 1 taxi drive per day |
| Souvenirs and shopping | $50 | |
Total budget: $480 for the whole trip or $68 per day for 2 people without flight tickets and accommodations.