Before we spent an unforgettable week in Boracay in December, we were anxious and (quite seriously) stressed out about the question of accommodation on the island.
Turns out, we aren't the only ones who can get this worked up — since our trip, our close friends and you, our dear readers, have been nagging us (in a good way) about where to stay in Boracay. So, the idea of this article came to life — a pleasantly organized list of places worth looking into for a first-time visitor of Boracay.
Article contents
Which area in Boracay should you choose for the first time?
So, you've landed in Caticlan Airport (remember that there's no Boracay Airport, so Caticlan is as close as you can get to the island), what now? Well, for starters, you're about to embark on a journey full of switching different types of transportation and paying several fees (for our step-by-step guide, be sure to consult with the article here).
Once you've actually arrived on Boracay Island and your feet touched the warm sand and gentle ocean waves, it's time to head straight to the hotel you've (hopefully) already picked out in one of the many beautiful areas of Boracay.
While we do hope that our recommendations will make you stick with us till the end of the article, we've decided to give you a short rundown of the best areas to stay in Boracay.
Where to stay in Boracay for your first visit?
White Beach is the center of Boracay in every sense of the word; it's where most of life happens on the island — entertainment, relaxation, and partying-wise. The beach is divided into three stations, which we will cover more in the next part, but for now, here are some of our lodging recommendations on White Beach, Boracay:
3* Zuzuni Boutique Hotel — located in a serene and quaint Station 1 of White Beach, this boutique hotel offers an intimate getaway into a world-class level of relaxation and pure bliss. The accommodations are light and airy, you will feel on cloud nine the moment you walk into your room! Prices start at about $70 a night.
4* Coast Boracay — beachfront hotel situated in the bustling Station 2 seems like a dream vacation place. After all, their motto is "Feel Free to Coast Along!", which we are totally on board with! Rooms start at $145 a night.
4* Ferra Hotel and Garden Suites — our personal pick for the week- vacation on the island; the hotel got us sold with their impeccable service (and price)! Rooms start at $55 per night.
Where to stay in Boracay beachfront?
Bulabog Beach (or the back beach, as some people call it) seems to be the most rational choice of lodging super close to the beach without the extra cash that White Beach resorts pocket just because of their popularity. But we have to warn you: You can't take a dip in the waters of Bulabog as this beach is kitesurfers' hotspot. Bulabog beachfront hotels include, but are not limited to, the following gems:
2* Levantin Boracay — on the quieter (and cheaper) side of Bulabog Beach, Levantin Hotel is perfect for those who want to roll out of bed and straight into the ocean (not quite, but you get the idea). Rooms here start at $25 per night, which is a bargain for Boracay.
4* 7Stones Boracay — a perfect resort for watching the sun rise over the water from the comfort of your room (which starts at around $100 per night).
Where to stay in Boracay on a budget?
Station 3 of Boracay's White Beach is where most of the seasoned backpackers choose to stay during their time on the island. It's true that the area provides cheaper accommodation options; the particular ones that come to mind are these properties:
Kommons by Kamino — great budget hostel, it's hard to believe that you get this level of service and room quality for just $25 per night!
Surfside Boracay Resort — perfect place to stay for travelers on a budget, this resort offers great accommodation in a quieter area of the island. Rooms start at $50 per night (don't forget to pop into their amazing spa center!)
Where to stay in Boracay for nightlife?
Station 2 of White Beach is where the party never ends, with music blasting from bars and clubs into the wee hours of the night. We wouldn't recommend the area for travelers with family (should you still find yourself in Station 2, be sure to bring some good noise-cancelling headphones or earplugs). Just to give you a taste of what Station 2 has to offer:
5* Henann Palm Beach Resort — amazing world-class resort, with more than adequate prices of rooms (while having a spectacular outdoor pool with a pool bar). Rooms start at $110 a night.
White Beach — Station 1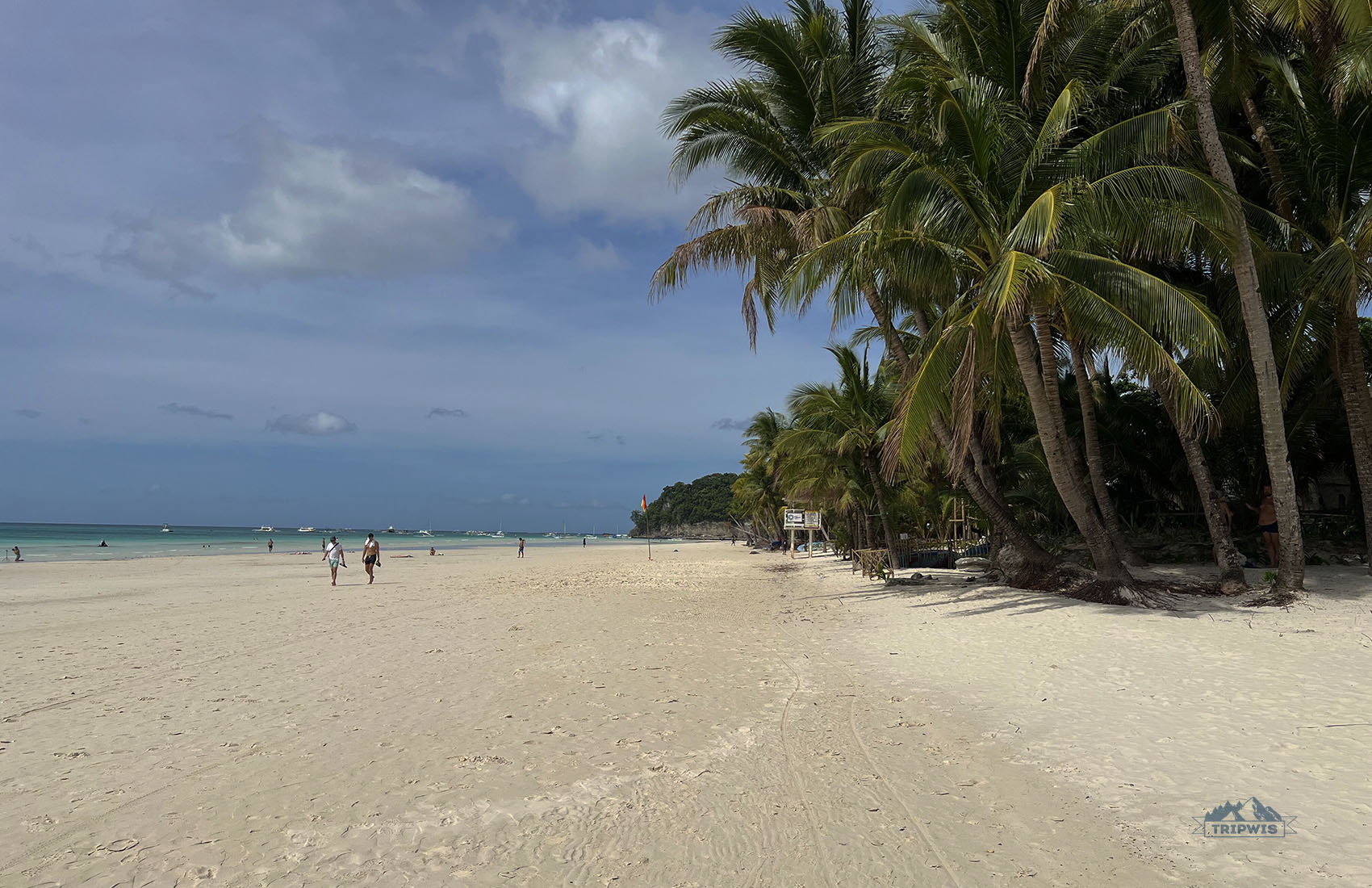 As we've already mentioned in one of our previous articles, Boracay isn't just White Beach. But chances are it's where you'll stay if it's your first time on the island.
White Beach is divided into three stations, with each of them having certain unique features that make them standout. Walking along the coastline of White Beach is a wonderful experience: You get to witness the atmosphere of the stations which virtually melt into each other (even though most island guests don't reach Station 3, but more on this later).
Station 1, in our opinion, is the best stretch of sand on White Beach. The area is serene and quiet, there aren't many cafes or bars near the beach itself (which is super wide here, by the way), so you won't be bothered by locals trying to sell their services and other vacationers disturbing your personal space. Although we can't promise anything about paddleboarding newbies, who might accidentally hit you over the head with their paddle, but chances of that happening in Station 1 are lower than in other parts of White Beach.
Things to see and do in Station 1:
Do a little sightseeing and go out to Willy's Rock during low tide. One of the most popular tourist attractions of the area, Willy's Rock is a volcanic rock formation with a shrine dedicated to the Blessed Virgin Mary sitting on top of it. The statue glows in the dark, so don't freak out when you see something glowing in the water after having one too many drinks at the beachfront bar.
Explore the adjacent Diniwid Beach, which you can access by taking a tricycle ride, or like a true adventurous spirit by taking a winding footpath over limestone from the end of Station 1. The beach is a hidden gem of Boracay and is filled with local pups waiting to be petted (or rather, waiting for a piece of whatever you're snacking on).
Watch the sunset from The Sunny Side Cafe's terrace, while having a delicious dinner (probably mainly centered around fish, which is super fresh here) — a wonderful experience through and through!
Make use out of the gentle descent into the water (especially if you're not an experienced swimmer).
Lay down on the sand and work on that tan!
If you're sold on the idea of making home for yourself in this part of White Beach, there's only one question left: "Where is Boracay Station 1 located?". You see, we always look at the map of Boracay and pick a point in the middle of White Beach (there's a map a few scrolls below for easy understanding), and that would be Station 2. The north-western chunk of the beach is Station 1, which you can usually guess by the wider stretch of sand.
Here's a list of some of our handpicked Boracay accommodations in Station 1, which we found to be the best Station on Boracay Island for first-timers:
White Beach — Station 2: Is it the best station to stay in Boracay?
Based purely on our personal experience of two young people traveling to this paradise on earth to simply have a good time, we feel that Station 2 of White Beach is where you need to stay in Boracay, especially if it's your first time on the island.
Station 2 is where it's at: All the best clubs, bars, restaurants, and other forms of entertainment are condensed into this stretch of land. Station 2 is also the loudest part of White Beach — there are tons of tourists excitedly talking over each other at beachfront hotels, the locals are competing who can yell louder to get your attention to buy their services, the constant construction noises, and the booming beats of music coming virtually from every corner. We definitely don't think that Station 2 should be your first choice if you're traveling with children.
Things to see and do in Station 2:
Buy your way through (or dine your way through) D'Mall — a unique Boracay mall experience
Get a fruit shake from the best on the island — Jonah's Fruit Shake (we found ourselves taking the long way from our hotel just to pop in here and order one of their delicious shakes)
If you find beauty in simple pleasures and aren't feeling adventurous when it comes to food and drink, Station 2 can help you out — there's a Starbucks and a McDonald's here, so you can get caffeinated the way you're used to
The descent into the water is still gentle here, so if you have younglings with you, it's a perfect place for a first swimming lesson!
Station 2 is widely known as the best area for Boracay nightlife, so get your party clothes on and go out!
Get a massage! We were lucky enough to have our hotel (Ferra Hotel and Garden Suites) get us a professional massage specialist to the premises, without us having to go anywhere!
A crowned party scene area, Station 2 still has some quiet little spaces where nightlife won't be such a problem. With most of the hotels here including some sort of soundproofing systems, you can rest easy and sleep soundly (just don't open the window). Some of these oasis-like hotels (and some located in the belly of the action) are the following:
Where to stay in Boracay — Station 1 or 2? Our opinion
To sum up all of our findings, we make an obvious distinction you should keep in mind when deciding where to stay in Boracay — Station 1 or 2: Station 1 is the best area for a relaxing getaway where your main concern is tan lines. Station 2 is perfect for nightlife. The beach itself is great in both stations, with little to no waves, crystal clear water and fine white sand, but Station 1's part of the beach is not as crowded as the one of Station 2.
White Beach — Station 3: Where to stay in Boracay on a budget
Station 3 of White Beach is where the nature takes back a little more of its rights, without the cleanliness and perfectionism of the previous two stations. The sand is coarser and not that blinding white color, the descent into the water is steeper, and the water can get a little choppy at times. Plus, the overall look of the beach gets muddied up by tons of boats by the boat station not so far off.
Don't get us wrong, we still loved exploring the station! For the most part, we enjoyed the lack of crowds, since the majority of tourists usually don't wander off further Station 2. The thicker line of palm trees also added a certain allure — you feel like a character in The Blue Lagoon!
Things to see and do in Station 3:
Enjoy the laid-back atmosphere of the station, talk to the interesting crowd that usually gathers here: Backpackers, new-age hippies, nomads, and the like. There are plenty of interesting life stories to be discovered in such community!
Swim your heart out! The water gets deep pretty fast, which is perfect for experienced swimmers!
Set your breakfast needs met at the Sunny Side Café — their morning coffee was amazing, gave us the energy to explore the whole of Boracay!
Speaking of breakfast — no matter how late you woke up, 8 by the Beach has you covered with their all-day breakfast. A godsend after a night out!
Since Station 3 is the best station on Boracay Island for travelers on a budget, go explore other stations and spend the money you saved with cheaper accommodation on souvenirs!
Most of the hotels in Station 3 are located very close to the beach (again, driving that Blue Lagoon comparison home). What's more, the lodging options are smaller and cheaper: In our heads, it's a perfect combo for tourists with restless feet who cannot stay in their room for long, no matter how lavish and luxurious it is. Some of the hotels we recommend you look into are the following:
Which Station — 1,2 or 3 — is better in Boracay?
Ultimately, after our week in Boracay, we came to the conclusion that there is no one "best" station on the island. Boracay stations differences are exactly what make each of them so unique and inviting to the island's many visitors.
The slight changes of the sand's overall look and quality, the number of beachfront properties, and the quantity of people lining the said beach at the same time is what Boracay's Stations 1, 2 and 3 differences are all about.
If you're more of a visual person, here are Stations 1, 2 and 3 of White Beach in Boracay on the map:
To sum up our findings:
Which station in Boracay is best for a first-time visitor? — Station 1
Which station in Boracay is best for nightlife? — Station 2
Which station in Boracay is cheaper? — Station 3
We strongly advice you walk along the coast and see the Boracay stations differences for yourself — get a feel of each area and decide which one speaks to your soul better than others. While we did stay in Station 2, Station 1's incredibly wide and beautiful stretch of the beach called our name the entire duration of our trip!
3 hotels with private beaches in Boracay

Credits: wikimedia.org
Boracay is no stranger to luxury accommodation, and who's surprised? This ultimate paradise, with sights straight out of a Bounty commercial, makes you want to spend your last hard-earned dime just to experience all the island has to offer to its full extent.
Let's think what you consider to be an indicator of a lavish lodging experience — is it huge rooms? spa center on-site? Michelin-star restaurant? breakfast buffet? Yes, those are all the things that are a given for a top-notch vacation. But in our opinion, having a private beach is what makes one establishment stand out in front of the others. Because, as we've probably mentioned, the famous White Beach is a public beach with zero amenities allowed.
So, what are the best hotels with a private beach in Boracay?
4* Fairways & Bluewater Boracay — covering an astounding 80-hectare piece of land, the resort is located on the eastern part of Boracay. The property has more than 850 rooms which start as low as $66! The resort has a huge golf course and its own private white sand beach, so you can relax after scoring a hole in one imagining you're on a deserted island (with beach clubs and cooling drinks though). Talk about a top wish on your bucket list!
5* Crimson Resort and Spa Boracay — one of the greatest Boracay beachfront hotels with an infinity pool overlooking the sea. The property is fronted by Punta Bunga Beach, which has lately been coined as Station Zero. Sounds fancy and futuristic, but that's the power of marketing for you! The beautiful area of station Zero makes for a once-in-a-lifetime vacation experience — whether you're traveling with family in hopes of adventures or with your partner with romance in mind. Rooms start at $287 a night.
5* Shangri-La Boracay — a whole complex hiding in lush greenery, which provides a simply luxurious experience for your Boracay vacation. The resort actually opens up on two beaches: Punta Bunga Beach (which it shares with Crimson Resort and Movenpick Resort) and Banyugan Beach. Both of the options feel secluded enough to enjoy your tanning sessions in private, but with comfortable beach amenities. We aren't usually easily impressed by the prices, since anything can be unfairly highly priced. But in this case, we feel that the substantial pricing clearly corresponds with the property being one of the best hotels with private beach(es) in Boracay. Rooms start at $428 a night.
The hotels we've listed here are not cheap (unless you're a Rockefeller descendant), but the ability to spend your hours by the water in a relative isolation is what makes us suggest you stay in one of the properties while on Boracay, even if only for one night.
Bulabog Beach
Various water activities in general (and kite surfing in particular) seem to be the most sought-after things to do on Boracay Island. If you're an experienced kite surfing enthusiast, you probably already know where to stay in Boracay to practice the sport. If you're a newbie, we've got you!
Bulabog Beach is the way to go if you want to live and breathe kite surfing without spending the precious time on getting to and from the beach.
If you don't participate in surfing yourself, Bulabog Beach is still a worthy destination to sit back and "watch from the bleachers" all the action happening on the water. It's not the best idea to come to Bulabog Beach for a tanning session or a short swim as the beach is littered with seaweed and the water is quite choppy due to strong winds. The waves can get pretty big, so much so that experienced swimmers can have a hard time fighting the currents.
Thinking about making Bulabog Beach your second home while on Boracay (most people do it to save the money on accommodation), but still want to enjoy the best beach of the island? Don't worry — White Beach with its soft sand and clear waters is just 10 minutes away!
So, here are some of the lodging options near Bulabog Beach (we mainly considered beachfront properties, as they're more interesting than those that are further inland):
Puka Beach
When you're looking up the information on where to stay in Boracay, Puka Beach is definitely not the first option that comes up in your search. The beach is located on the farthest northern tip of Boracay island, with seemingly no appropriate lodging in sight. While it's true that hotel options are quite limited here, the best natural areas around the beach are a substantial selling point (at least in our minds).
Puka Beach (or Puka Shell Beach) is one of the last parts of Boracay that still retained its beauty untouched by humans. The whole vibe of the area is super laid-back, which you get as soon as you enter the beach — you are greeted with a Puka sign made out of driftwood!
There are a few places where you can get food and souvenirs (mostly grouped together near the entrance), but other than that, the beach is in its preserved natural glory. To enjoy the peace and serenity of the area, we recommend driving out here during sunset, when most of the island's guests are fighting for a front-row seat on White Beach.
To get to Puka Beach from D'Mall, you'll have to pay 40 pesos per person or 200 pesos to rent a whole vehicle. To get back to White Beach, it's usually 100 pesos for two passengers.
There aren't many hotels that are located close to Puka Beach itself, we found this one to be the most up-to-standard in the walkable vicinity:
3* Alta Vista de Boracay — located on a hillside in Yapak area of Boracay, this hotel provides top-tier service to make your stay on the island as convenient and relaxing as it can be. Puka Beach is just 5 minutes away, and there is a free shuttle service that can take you to the center of the island. Rooms start at $106 per night.
Best Airbnb in Yapak area of Boracay:
Both of the rooms are actually located within Alta Vista de Boracay's resort, but are put on Airbnb's website by separate hosts. We're not sure on what this deal is, but we do know that the reviews are great and the rooms are cheaper when booked in advance through Airbnb's website.
Things you need to know before traveling to Boracay
Now that you skimmed through our makeshift Boracay Island neighborhood guide, hopefully narrowing down on the area you want to stay in for your upcoming trip, it's time to explore the other important questions concerning Boracay.
How do you get to Boracay? — This part seems scary for most travelers, since it implies lots of steps, receipts, and a substantial amount of paperwork (well, not THAT much, but there are more than three pieces of paper you'll be required to fill out). To make the journey easier for you, we created our step-by-step guide on how to get to Boracay from Caticlan Airport (there are lots of pictures and even a video detailing this crucial part of your travels). Check it out and save yourself a headache!
What do you need to know before traveling to Boracay? — We have an extremely informative article on 15 things to know before your trip to Boracay Island, Philippines in 2023, which is a must read, in our opinion. Click on the link and find out why you can't come to the island without a figured-out lodging situation and why you can't work as a fire dancer on White Beach (we know, what a bummer!).
What are the most interesting things to do in Boracay? — It's true that the island is small and has a limited array of entertainment, but it still has some peculiar things to fill your time with. Check out our article on best things to do in Boracay to learn why you need to avoid the sneaky monkeys on your way to the top of Mount Luho and figure out whether there are actual crocodiles on Crocodile island.
We feel that these articles will set you up with a pretty extensive guide for tourists going to Boracay, so make sure to read every single one!
7 best hotels to stay in Boracay
Even though we feel like we've already given you plenty of hotel options to choose from for your stay in Boracay, we decided to round up the best lodging situations (no matter the area — West, South, North of the island) we could think of, sorted by price:
And there you have it! We hope that you managed to find a hotel that suits your needs the best before your trip to Boracay in 2023. If you have any questions, leave them in the comments below!