We recently spent a week in the Philippines' famous resort and ended up with a bunch of tips in our phones we'd love to know before going to Boracay island. Sharing it with you now!
When you set out on a journey to plan the perfect visit to Boracay, the island's "paradise" status makes up for all the little things that otherwise would've bothered a seasoned traveler.
Article contents
What should you know before traveling to Boracay?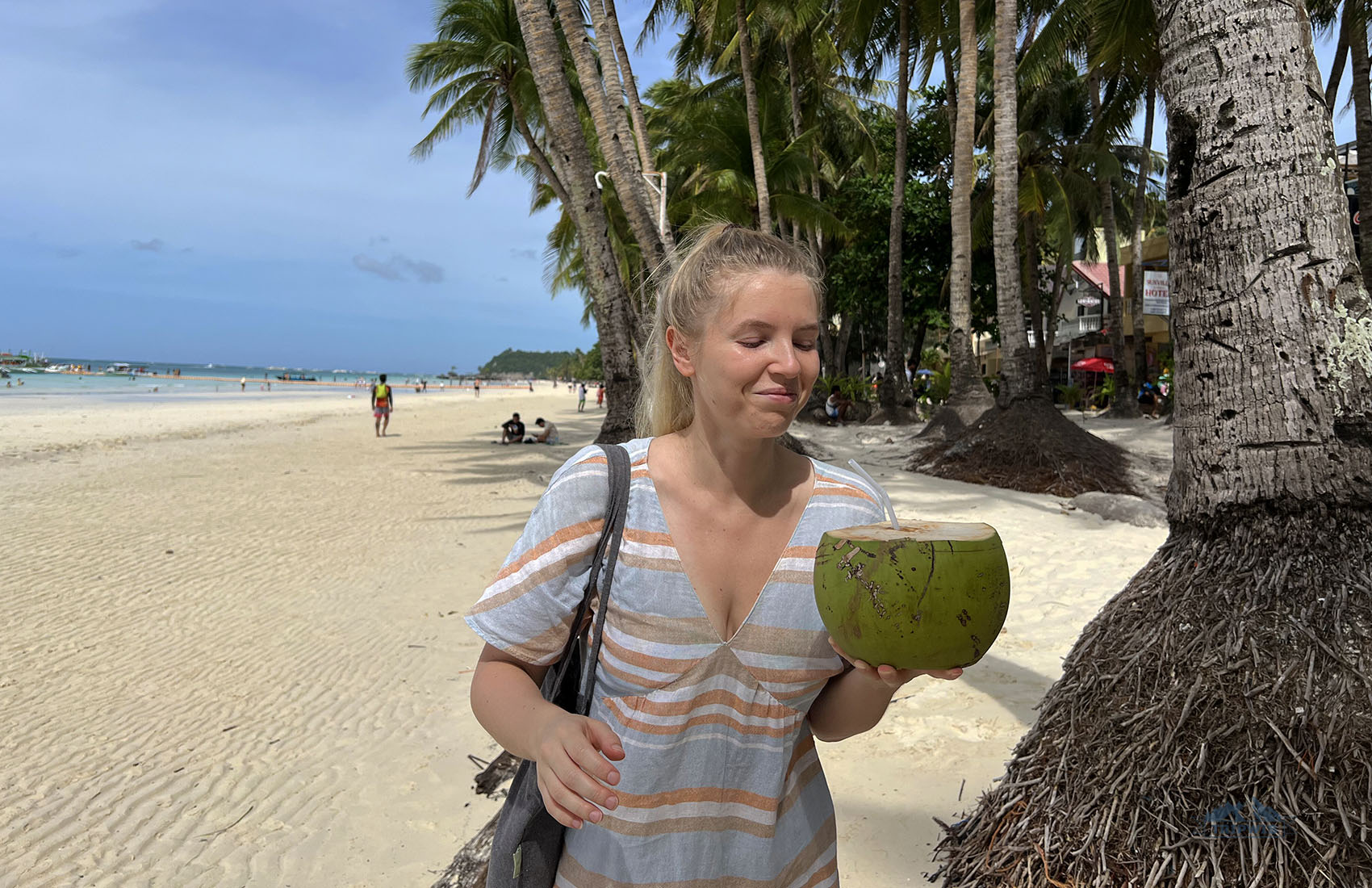 Visiting Boracay should definitely be on every tourist's bucket list and here's why:
This heaven on earth was just recently reopened after being closed off for the course of the pandemic, and the island is bursting with new energy and desire to make all of your travel destination dreams come true.
To help you navigate this freshly revamped space, we've compiled a short but invaluable list of things to know before traveling to Boracay island. Here it comes, read closely so as not to miss a thing!
Getting here can be tricky
Google Maps is not your friend when it comes to getting to the island, so set your trusted helper aside for this one.
First of all, there's no so called "Boracay airport," so you have to plan your route starting from Caticlan airport — the nearest to the island. Second of all, after arriving to Caticlan airport, your arduous journey to Boracay has only just begun. What follows next (ferries, minibuses, tricycles, and the like) is a topic in itself, so make sure to check our comprehensive step-by-step guide to getting to Boracay from Caticlan airport.
Pay up if you don't want to square up
Okay, so the port employees won't actually fight you (we're pretty sure about that), but there are still some fees that you can't get out of paying if you want to enter the island.
Your dreamy vacation in Boracay can start after you pay:
An environmental fee (in Boracay in 2023 the fee is 300 pesos ($5.5))
And a terminal fee (or Boracay entrance fee as it is sometimes called, which is 150 pesos ($2.7))
On the upside of having a slightly thinner wallet is that you can actually see where your environmental fee is spent on once you step foot on the island (see the point below).
One of the most famous beaches can be found here
The main beach of the island — the White Beach — is what Boracay is known for. It's the place you absolutely have to visit one day!
The beach is something out of this world: The sand is as white as it can get (one of the interesting facts about Boracay island is that the color of the sand looks this way because of the dead particles of corals found near its shore), its dense, which makes it super nice to walk on. Plus, the sand doesn't get hot — a dream come true as barefoot holidays are the best holidays, in our opinion. Let the photos speak for themselves!
The waterfront of the White Beach is one of the most child-friendly experiences we've seen so far in our travels. There are no water creatures you might step on, there's no seaweed that is unpleasant to accidentally touch while you're swimming, and the sea floor can be seen at all times. The gentle descent into the sea is what sells the beach to people traveling with small children. You can walk 20 meters into the water and still have it at your knee level.
No room — no entry here
One example of the crucial things to know before visiting Boracay is that they won't let you in unless you have a valid hotel booking confirmation. This is the rule, so don't try to take your chances and try to pop into Boracay for a day to see the white beaches and then skedaddle. You will be denied entry to the island right at the sea port.
We suggest using Booking.com for finding the best deals on rooms in Boracay island. Our personal picks are:
Ferra Hotel and Garden Suites (Station 2) — a mid-level hotel with a rooftop pool (!) and excellent massage service; rooms go for $50 per night.
Surfside Boracay Resort (Station 3) — a budget-friendly option with perfect spa treatment and location in a quieter area of the island; $30–$40 per night.
Shangri-La Boracay (Station 1) — luxury stay, a secluded experience with a private beachfront; rooms start at $450 a night.
What are Stations in Boracay?
On the more practical side of Boracay tourist information, it's good to know that the White Beach is divided into three Stations, named Station 1, Station 2, and Station 3 respectively.
This division is keeping alive the memory of when the island's guests were dropped off at different parts of the beach, not in one port. The stations aren't actually separated by any physical border, it's more linked to the overall vibes of the different areas of the beach. To learn more about each station, keep on reading this article!
It's a "paradise reborn"
Perhaps you're familiar with the story of Boracay island: Once it closed its doors to visitors in 2018 due to the increasing trash problem and overall ruin of the island's environment.
The six-months-long break was just the thing needed to take Boracay back to its untouched beachfront version and improved infrastructure. New Boracay views speak for themselves. If you visited the island before 2018, you wouldn't recognize it now.
It's like night and day: The level of work completed in Boracay is admirable. The beaches are pristine and the Sibuyan Sea beachfront stopped actively blooming. It's also partly thanks to the environmentally-conscious efforts of the locals and the island's visitors. You simply cannot find anything plastic on the island as your groceries are put in paper bags, to-go cups in cafes are biodegradable and paired nicely with metallic or rice straws (the latter are edible, by the way). Even the tricycles here are electric (unlike their motor counterparts in Caticlan airport).
After its reopening, Boracay has become famous for being among the world's most sustainable destinations, and it's not planning to lose its rightful place in this category in a foreseeable future. Be mindful and respectful of the environmentally-friendly laws set in place on the island, it's all done with the tourists in mind anyway!
It's more of a "lets-get-down-to-our-roots" experience
Among all the things to know before visiting Boracay, this one is critical to learn to avoid disappointment.
Let's paint a pretty picture of you laying on the beach in Boracay. The sun is shining, the turquoise waves are splashing and lulling you to sleep. You tan on the beach chair, swim a little, then wash off the salt off your skin in the beach shower.
The sun is high in the sky, so you hide from the heat under the umbrella with a book in one hand and a cooling freshly cracked coconut in the other.
Out of all the things we just mentioned… White Beach has only white sand and blue water. All the other amenities (even restrooms) are prohibited on the beach!
Can you imagine our faces when we first came here and couldn't find a single sunlounger or an umbrella? Turns out, it's the new reality of White Beach that started after its reopening in 2018. The whole beach "infrastructure" was removed due to the role it played in the pollution of the area. Since then, there are no chairs, showers, changing rooms, vendors, and even fire dancers here.
Now, the beach is in its most perfect condition: The wide stretch of land that meets the crystal-clear waters, made by the people for the people. Get down to your roots and lie straight on the sand (if you don't mind finding it later in all the wrong places)!
You know, Boracay isn't just White Beach
There are many other beaches in Boracay that you need to pay attention to if you want to explore some less-touristy (but still amazingly beautiful) areas of the island.
We can point out two out of a dozen or so beaches we explored in Boracay:
First, Bullabog Beach — the windiest place on the island, a perfect spot for windsurfing and kitesurfing. The waves are a tad too unpredictable here for Bullabog Beach to be a comfortable swimming area.
The second beach that is worth visiting is Puka Shell Beach located on the north side of Boracay. The tides here are also bigger than those on White Beach, and the descent is quite steep, but the actual beach makes up for all of it. The sand here is part crushed shells, and part pieces of coral, which gives it a unique feel and look. It's good to know that both of the beaches have free entrance — a nice touch for a holiday getaway.
Boracay is famed for having the best beaches in the Philippines, so we suggest you explore a couple of them to see if you agree (we're pretty sure you will).
Moving around the island
Most popular modes of transportation on the island are tricycles, minibuses, and — surprise — your feet.
Boracay is a relatively compact island and you can get to all the places you need by walking, but if the heat from the sun made you too tired, there's always the option to hail a tricycle or a minibus. Here you can see the price range of their services:
You can stop any moving minibus on the main road simply by waving, but here's a tip: Try to hail the vehicle that already has passengers on board, otherwise the driver will be more than happy to turn his usual public transport into a private rental (200–250 pesos for the whole car). This and other travel tips for first-time Boracay visitors is what will help you have the time of your life on the island and not get scammed in the process.
A plethora of activities
Wondering what to do in Boracay island other than swimming and tanning? We're here to help you spice up your plans of lounging around doing nothing in particular.
What is so special about Boracay? Our answer is sunsets. The island gets the most spectacular looking sunsets we have ever seen, anywhere. It's even a sort of tradition — locals and tourists alike come together to the beach during golden hour and watch the sky turn red. The sky was literally on fire with all shades of reds, pinks, and oranges. To make the tradition even better, many companies provide a traditional local "paraw" boat, kayaks or a double decker yacht for you to admire the sunset on the water.
Fruit shakes on this island are the yummiest. The most popular one is the mango shake, and you should definitely try mango lassi from Little Taj (I'm sure, it's the best one in Boracay). We suggest you try a couple different ones from different places to pick your favorite (thank god the shake joints are everywhere on the island), with the average price being quite comfortable — 150–200 pesos ($2.7–$3.5) per drink.
Getting a massage is also the thing you should not miss while in Boracay. It's highly professional and ridiculously cheap here (sounds too good to be true, but it's not!). You pay around 400–500 pesos ($7–$9) for an hour of Swedish massage. We would recommend you the actual places to get a massage at, but we couldn't pass up our hotel's offer: Ferra Hotel pays the masseurs for "in-house" calls, which is extremely convenient (we recommend this hotel for your future trips to Boracay, the service here is so good you won't want to leave!)
There are so many water activities on the island that it's easy to get overwhelmed by choices. Our favorite entertainment while on the Philippines island include but are not limited to: Paddle boarding, parasailing, scuba diving, and island hopping. The experience of sailing in a crystal kayak in Boracay is on the top of the list, that's for sure — you can see everything floating in the water beneath you, it's so uniquely magical (and highly instagrammable, if we say so ourselves)!
Sun's out, buns out!
While the saying rings true to the realities of vacationing in Boracay, be aware of the potential sun damage. When the sun is at its highest, take cover in one of the cafes or go to your hotel room for a little afternoon siesta. As little as ten minutes of sun exposure at noon can get you burned real good (we learned this the hard way).
Vacationers here seem to be more cautious than we were, with the majority of people being on the beach in the early mornings and then later in the day, after three o'clock, when the sun isn't that harsh. Besides, the White Beach doesn't have a lot of shady areas.
Our advice: Keep your white after-pandemic buns covered in the afternoon and you'll be okay.
What's a D'Mall?
D'Mall is the main mall of Boracay, but it's not the "mall" in the traditional sense. It's an outdoor shopping experience, with little avenues lined with different shops. It's convenient location in Station 2 makes the mall a perfect place to meet up with your travel buddies and spend a couple of hours in.
D'Mall is a one-stop shop for all of your vacation needs, be it withdrawing cash from an ATM, buying souvenirs, getting groceries, eating out, treating yourself to a mango shake, purchasing a SIM card, getting a massage, or entertaining the kids with its mini amusement park (it even has its own Ferris wheel).
No smoking, no drinking
In order to avoid misunderstanding, remember these things to know before visiting Boracay: There is absolutely no smoking and no alcohol drinking allowed on the beach. If you are a long-term avid smoker, there's a designated smoking area in D'Mall.
On top of these restrictions, guests of the island are not supposed to bring their pets with them. This rule doesn't seem to be vigorously enforced, since we saw plenty of tourists walking their dogs around (maybe it has something to do with the fact that dogs are the most common service animals, but we're not sure about the logistics of bringing your pup to Boracay).
Easy on the pocket
After spending a wonderful time in Boracay, we came to the conclusion that the island is not that expensive as it may seem.
The hotels range from $20–$60 a night (mostly depending on the location; excluding the luxury hotels with rooms starting from $100 a night); food from vendors along the main road costs around 100–200 pesos ($2–$3.5), eating out at a café near the beach is 400–600 pesos ($7–$11).
Average grocery store prices are:
Bottle of water — 36 pesos ($0.6)
Pack of banana chips — 36 pesos ($0.6)
Can of beer — 65 pesos ($1.2)
Bottle of beer — 75 pesos ($1.3)
While we're on the topic of money, the answer to your question "Should you bring cash to Boracay Island" is yes, a hundred percent. Carrying only a credit card around won't help you when it's time to pay for your parasailing lessons or buy groceries at the store (you can use your card for purchases over 500 pesos). To make the experience easier for you, there are tons of ATMs and changers on every corner, so don't worry about not physically bringing cash with you.
Is Boracay "it" as far as destinations go?
What's better — Boracay or other beach resorts of Southeast Asia? From our extensive travel experience, with plenty of destinations of the area under our belt, we can assure you that Boracay is the best place in terms of its "paradise" qualities.
There's no other spot that has the same white pristine beaches and crystal-clear waters, and (after its 2018 closure) the purest natural environment. Boracay can be characterized as "Maldives for the people" but much more moderately priced and more accessible.
It's no wonder that Boracay is constantly being praised as one of the top world's destinations. It's especially popular now, after being fully reopened, and will only continue to grow in its recognition in 2023.
The island is a real heaven on earth, but it lacks a wide variety of entertainment. Boracay is a pretty small island and it doesn't take much time for a tourist to exhaust every activity it has to offer. For a more diverse experience, we recommend you turn your gaze to other parts of Southeast Asia — be it Bali (Indonesia) or Phuket (Thailand).
Boracay is the place for short and restorative trips, when your body and soul fully relax from the so-perfect-you-can-cry views of the island. For longer trips, we suggest you travel around the area a little and choose what calls to you. Who knows, maybe the most fun experience is waiting for you somewhere in Vietnam, Thailand or Cambodia.
What are the do's and don'ts in Boracay?
Boracay is the island with the chilliest vibes and the most laid-back atmosphere, so if it's your first trip to Boracay and Philippines in general, you might feel a little out of place for a while.
There are some rules (like the ones mentioned above), but other than those, you're pretty much left to your own devices in Boracay. You can lay near the pool with a book in hand for six straight hours or go island hopping at the break of dawn — it's all good here. Other than "do whatever you like, however you like, whenever you like," the most crucial "do" we can think of is to use spf (please, don't repeat our mistakes).
As for the "don'ts" of Boracay… do not come here with an attitude. Be mindful of the Philippines culture and cut the island some slack. Remember that Boracay's financial situation depends solely on tourism, and the locals haven't been able to fully support their families while the island was closed during the pandemic. Boracay is just beginning to build up momentum, so don't get all judgy when you come across some not-so-pretty ruins in the heart of the island.
As for more practical requirements you should know before going to Boracay in 2023 (apart from the mandatory hotel booking), these are the following:
Tourists are no longer obligated to have a vaccine card/QR Code to enter the island.
Remember the mandatory environmental fee that lets you enter the island and enjoy its restored glory.
Follow our tried-and-tested guide on how to travel to Boracay in Philippines.
Overall, do enjoy your time here — you deserve it!
How many days is enough for Boracay? How many days did we spend on the island?
Our answer to your inquiry about how many days is enough for Boracay is pretty straightforward: From our experience, 3 days on the island is more than enough if you're not a big fan of lying in the sun all day doing nothing (or if Boracay is just a stop on your grand tour around Philippines).
However, if you've been waiting a whole year to finally relax and isolate yourself from the "real world" of tasks and responsibilities, staying on the island for a week might be just what you need. Chilling under the umbrella and moving just enough to grab a quick bite to eat or drink some coconut water is pure bliss for the overworked traveler.
As for the best time to visit Boracay, dry season (which is high tourist season) starts in November and ends in late April. The wettest month on the island is October, so booking a trip during this time wouldn't be our first option.
How much money do I need for 3 days in Boracay, Philippines?
Let's talk money. To be exact, budgeting and being smart with it, even if you're on holiday.
To start with hotels, we've mentioned before that it's possible to book a room for as cheap as $15–$20 a night. Personally, we splurged a little, and got a room for $50 a night, but the price included breakfasts and there was a rooftop pool (which was a big selling point for us, even though we didn't actually swim in it, just took a few pics and that was it). For three days, our hotel cost us $150, but you can get a more budget-friendly option for around $100.
Now, let's look at food in Boracay.To be honest, we still have no idea what is Boracay famous for in terms of food, since it's not a big selling point of the island. There are some nice places here, like I Love Backyard BBQ (you absolutely must try their amazing pork belly) in D'Mall and two locations of The Sunny Side Café in Station 1 and Station 2 (perfect for a slow breakfast), among others. We've listed more eating options in this article.
If your room comes with breakfast, that means that you have to seek out two other meals of the day. Lunch (or dinner), on average, costs 1200 pesos for two ($22, that includes two main dishes, drinks, a coffee or a smoothie). You can eat out at less fancy places for 700–800 pesos for a meal for two. The fruit shakes, for the most part, cost around 180 pesos ($3.2). If we were less health-conscious, we would have a fruit shake for every meal while in Boracay (we don't think it's a good idea, but they're just so good!)
As for the entertainment, you can't leave the island without getting a massage (400–500 pesos or $7–$9). Water activities are priced pretty much the same (rent of a crystal kayak per person is 250–300 pesos), so you need to take these costs into consideration.
If you add transportation into the equation, you might count on spending around 3000–3500 pesos a day for everything for two people ($55–$65). Some rough numbers we've compiled look something about from 10 000 to 12 000 pesos for two people for three days ($180–$215 not including the hotel price).
If you're wondering "How can I save money in Boracay?", there are some tricks you can learn to accomplish this mission:
Bargain! Locals speak English perfectly, and they can shave off some of the final cost of whatever it is you want to buy.
Even though officials say that you can drink tap water in Boracay, we still suggest you be cautious and buy bottled water — it's pretty cheap.
Your list of things to buy before going to Boracay should include sunscreen, sunglasses, and a hat. It's cheaper to bring your own stuff then buying it on location, where all these necessities cost more due to high demand.
Do not forget about street food vendors. Their dishes are cheaper and even though they're usually not that healthy, they taste pretty fricking good!
Make use of free activities on the island — nobody here will charge you for lying on the sand like a seal for hours at a time.
Which station to choose in Boracay?
When it comes to the "divisions" of the White Beach in Boracay, all three stations have some unique qualities that set them apart from the other two.
Station 1 is the widest stretch of the beach, and the most luxurious one. The hotels start at $80 a night, and the whitest sand of Boracay here called our name the entire duration of our trip. This is where you can vacation in style! The area is quieter than the rest, with less people disturbing your morning nap on the beach. There are less beachfront cafes, and while it does make for a more serene experience, it also means you have to walk longer to grab some lunch. Overall, we believe that Station 1 is the one to choose for some needed beach relaxation.
We chose Station 2 as our home for our last stay on the island, particularly the Ferra Hotel ($50 a night). This station is the most happening place of Boracay — this is where the mall, all the cafes, restaurants, and other forms of entertainment can be found. Due to this fact, Station 2 is also the most crowded, so don't expect tranquility and calm when staying here. The noise levels of Station 2 can sometimes reach the threshold of uncomfortable, with people vigorously (and loudly) trying to sell you guided tours, the music blasting from the cafes, and an occasional drill going off from the nearby construction site. This can lead some people to believe the area is not really child-friendly, but Station 2 has the gentlest descent into the water, which is great for swimming with kids.
Station 3 is the most budget-friendly part of the beach, and that shows a little in the quality and cleanliness of the waterfront area. The descent into the sea is quite steep, plus there is a boathouse right next to the beach — all of this converges into less-than-ideal swimming situation.
The cafes here are much more affordable than in other stations, and there are more beachfront guesthouses. These guesthouses and local hostels provide rooms for as low as $20–$30 a night, which is a steal in these parts! The vibe of the area is very cool and hippie-like, where most of the laid-back crowd gathers to hang out on a sunny day (which is practically every day).
These are all the useful tips and activities you should know about before traveling to Boracay. We hope that your trip will go smoother with all the knowledge you got after reading our article. Have fun and don't get sunburned!