Traveling to Istanbul and having no idea how to fill your itinerary? Based on our experience, we compiled this travel guide to the top 15 places to visit in Istanbul, so let's get into it!
Istanbul is a unique city sitting at the intersection of Western and Oriental cultures that coexist in a beautiful balance with each other. It is recognized as 'that city', with the aroma of spices traveling from the Grand Bazaar, seagulls' crying bouncing off the buildings near the Bosphorus, multiple languages meeting and interacting in Istiklal Street, and daily calls to prayer vibrating in the air.
Plus, it's a relatively cheap city, especially lately, with a normal price of 50 liras (or around $3 USD) for a latte from a good coffee shop.
We recommend using HotelsCombined.com when looking for a place to stay in Istanbul—there are tons of choices of hotels and hostels that can sometimes be cheaper than the ones on Booking.com.
If you're looking to book an unforgettable tour of the city, we suggest using GetYourGuide.com for a wide variety of options
Article contents
Speaking from Experience—Istanbul Travel Tips
Planning a trip to Istanbul, Turkey brings up some usual questions—how to find cheaper flights and reasonably priced accommodation. More often than not, the tickets are cheaper if bought in advance, with prices being lower in early spring.
When you decide on the area to stay in Istanbul, keep in mind your trip's duration and intention: if you don't have much time and want to see the top attractions, we suggest staying in Sultanahmet, the historical center of the city. If you have more time and want to live in a neighborhood with lots of nightclubs, shops, and restaurants around, you should consider finding a place in Beyoğlu. If your trip is more than a week long and you want to find some hidden gems of Istanbul—try the Asian side of the city, which, as a bonus, is also much cheaper than the European side. As for us, we picked a really nice place, close to Istiklal Avenue and with beautifully styled interiors, called Lina Pera Hotel in Beyouğlu district.
It's best to travel to Istanbul in spring or fall, when the weather is perfect for exploring the city. It gets really cold and windy in winter months, and in summer it gets pretty hot—the usual temperature is +28°C/82°F. There are tons of things to do in Istanbul in March and April, with the International Tulip Festival being one of them.
If it's your first trip to Istanbul, three days is enough to explore the dazzling array of its main historical sites. It's obviously not enough to learn about the city in-depth, but there's always next time.
If you want to get the most out of your stay, I suggest booking a tour of the city—it's always better to experience a place with a knowledgeable person who knows their way around the usual Istanbul hustle and bustle!
GetYourGuide.com has incredible themed tours on the slightly offbeat routes of the city, i.e. Turkish coffee tasting tours, street food tours with local guides, sunset cruises on the Bosphorus—you name it, they have it. You can read the reviews and decide on things worth seeing or experiencing during your stay.
Bosphorus
As you might have guessed by now, there are plenty of things to do in Istanbul in 2023, so I took the liberty of including links to some tours throughout this article. Use them at your convenience.
1 USD = 19 TRY
1 EUR = 20 TRY
Istanbul is located on both sides of the Bosphorus and has its European and Asian shores, respectively. The sides are connected by four bridges and the Marmaray Tunnel, which is a long undersea railway tunnel.
Taking a ferry across the Bosphorus is a must-have experience in Istanbul. The gorgeous views of the city give you a whole new perspective of Istanbul, leaving you amazed at its enormous size and scenic cityscape.
The most budget-friendly way to enjoy the boat trip is taking the Bosphorus commuter ferry, like a true local.
When boarding a ferry, you have to move fast to snag a prized seat on the upper deck, where the views are undoubtedly better. There are many seats but even more passengers since Turks use ferries as another means of public transportation. A ferry ride costs the same as taking a bus or tram.
While sitting outdoors on the deck, you'll want to take part in a local tradition of feeding seagulls with pieces of simit (a type of sesame seed bread) by lifting your hand with a piece of bread up in the air and watching the birds nosedive for the food.
A ferry ride can be the most relaxing experience: the sun is gently warming you with its rays, the water splashes refreshing mist in the air, and the sound of young people playing the guitar makes a perfect environment to take a nap and recharge your batteries to continue your Istanbul's adventures. The atmosphere of the city and the local culture find their way on the ferry deck, ready to be taken in by an impressionable tourist.
📍 A good spot for looking out on the Bosphorus is Rumelihisari, or the Rumeli Castle (entrance fee is 50 lira).
Mosques

One unexpected turn and one of the most popular mosques is open to view
Mosques are considered to be some of the top tourist attractions of Istanbul. There are a lot of them dotted around the city and every time I came across one, I wondered, if it was the famed Blue Mosque, also known as Sultanahmet Camii. You can understand my confusion as many of them resemble from the outside; their differences are more prominent upon entering.
One of the easiest tips that you can use to distinguish one mosque from another is counting the minarets, e.g. the Blue Mosque has six. Fun fact about it, the architect was supposed to build only one minaret made of gold, but he misheard the word gold for the word six, which sound close in Turkish, thus leading to the popular mosque having six spearing minarets. It's called the Blue Mosque because of the cobalt-blue İznik tiles covering its interior. The mosque is being renovated at the moment, so it doesn't look as grandiose as usual, but it's still worth visiting.
The Süleymaniye Mosque is the second most magnificent mosque of Istanbul. Aside from its interior, I was particularly blown away by its courtyard and the terrace offering nice views of the Golden Horn and the Bosphorus. By the way, Istanbul is famous for mesmerizing you by its panoramic views when you least expect them!
The venerable Hagia Sophia, sticking with tradition of other mosques of Istanbul, is not an eye-catch from the outside. But the interior makes your heart flutter when looking at Christian mosaics and Arabic inscriptions. This variety of décor is explained by the building's rich history. Hagia Sophia started as a Christian church, then was turned into a mosque, then a museum, and since July 2020 it regained its mosque status. Now, you can enter this architectural wonder for free.
When visiting mosques in Istanbul, always be aware of the "working hours", since they close five times a day for prayer. Be sure to check out this site, as the times are changing throughout the year according to the Sun's movement across the sky.
📍 Local tip: Zeyrek Camii is an often overlooked mosque, which makes it a pleasant experience to have without crowds of tourists and with a nice view of the Golden Horn, Galata and Süleymaniye. You can treat yourself to a 10-lira coffee at a nearby Fatih Beledyesi Zeyrek Café and enjoy the panorama.
Basilica Cistern
The Basilica Cistern is an ancient reservoir that has been preserved since the times when Istanbul was named Constantinople. It may not sound very intriguing to you, and the outside of the Cistern is not that remarkable either. But, believe us, being inside the Basilica Cistern is an interesting experience! Besides, it's one of the best places to visit in Istanbul during the summer heat.
Let me help you picture the scene as we don't have any decent photos. Imagine a huge underground space with dimmed lights and rows of antique columns looking like a trail in a gloomy fairytale forest leading you into the witch's house. The place is so mysterious and cinematic that one of the James Bond movies was filmed here.
The entrance fee is 300 lira which is pretty expensive, just as any other tourist attraction in Istanbul.
📍 You can enjoy the panoramic views of Istanbul at night from the Sapphire building, which is the highest skyscraper in the city. The 53th floor is all yours for 250 lira fee.
Topkapi Palace
Topkapi Palace was the residence of the Ottoman sultans. It consists of not just one building, but a whole complex that served the Sultan: the government, the treasury, the armory, the stables, and the harem, of course.
Now it is a museum. Walking around the beautiful interior of the palace, you can easily imagine what life would be like if you happened to be a sultan.
Working hours: Everyday from 10 a.m. to 4 p.m. except Tuesday.
Price: 500 lira (650 lira for combined Palace+Harem ticket).
📍 If you are looking for a shopping center like Dubai Mall, you gotta go to the Zorlu Center shopping mall or the Istinye Park!
Gulhane Park
Right next to Topkapi Palace, there is Gulhane Park which is one of the largest parks in Istanbul. It isn't 'Central-Park-large', but still a perfect place to hide from the heat in the shade of the trees.
The name of the park comes from the Persian word "gülhane", which means "a house of roses". Indeed, you can enjoy beautiful flowers at any time of the year—forget-me-nots sit at every corner of the park in winter and early spring; roses and tulips bloom in April and May.
Gulhane Park is popular with both tourists and locals. Follow the example of the latter and have a picnic with simits, olives, and döner kebab from a nearby restaurant.
Grand Bazaar
Grand Bazaar isn't necessarily just meant for shopping, but rather for immersing into the local culture. It is one of the largest indoor markets in the world, quite literally a city within a city. Therefore, it is a great place to go in case it's gloomy outside. Besides hundreds of shops, there are cafes, fountains, several mosques, a bathhouse, and even a school scattered there.
Frankly speaking, I wouldn't say that Grand Bazaar is a good place for shopping because the prices are pretty high due to the tourist attraction. Although if you enjoy haggling, then why not? Turkish people love it, too.
📍 One of the best things to do in Istanbul is to browse the bazaars searching for (and trying) as many varieties of Turkish delight (lokum) as you can!
Sirkeci railway station
This is how the railway station looks on the inside and out
Sirceci railway station was the arrival destination for the famous "Orient Express". The station itself, built in the 19th century, was quite luxurious and strategically important for its time. Today, it serves domestic trains and occasional international trains. The building has lost its former chic but is nevertheless interesting for its architecture, carved and stained-glass windows. There is also a cafe with traditional Turkish cuisine and a museum of the station's history inside.
You might find it surprising but this place is not overcrowded, so not typical for such a beautiful place. This hidden gem is definitely worth visiting once you're in Istanbul!
The Galata Bridge
Exploring Istanbul's countless sights always leads a wandering tourist to the Galata Bridge. It's a crucial construction, connecting the historical Eminönü area to the modern Beyoğlu. The bridge has two levels—with the upper level being home to fishermen and seagulls trying to catch fish in their buckets, and the lower level containing all kinds of different cafes offering fish sandwiches.
If you get a chance, try to catch the view of the Golden Horn opening up from the lower deck, particularly at sunset—it's a magical experience. The Galata Bridge seemed to us as if the entire Istanbul has been condensed to a two-way stretch of the road over the water, and I think that's already quite a reason to experience it firsthand.
Galata Tower

Unfortunately, there was no time to get to the top of the Galata Tower, so we looked at it from one of the streets of Istanbul
The Galata Tower can be seen from any part of the city as it is located on a hill. Built in the Middle Ages, Galata Tower has been a lighthouse, an observatory, and a fire tower throughout the years of its existence. Everyone tries to get to the top of the tower, which now is a restaurant, a nightclub, and an observation deck.
Working hours: Everyday from 8:30 a.m. to midnight.
Price: 175 lira.
📍 Speaking of the rooftops, the most popular roof to get to in Istanbul is Kubbe Istanbul (you can look it up on Instagram). It has to be on anyone's Istanbul to-do list for sure!
İstiklal Avenue
This famous pedestrian street is the best spot if you are looking for some things to do in Istanbul at night. A popular tourist route from Taksim Square almost all the way to the Galata Tower knows no peace all day long. A meeting point of East and West, of old and modern is set here as historic buildings share the space with international chain stores.
İstiklal Avenue is home to a number of tourist attractions: the Çiçek Pasajı, Galatasaray Square, St. Antoine of Padua Church, Galata Mevlevihanesi Müzesi, Madame Tussauds Wax Museum, and many others.
You won't get bored as there are dozens of entertainment facilities, including cinemas, theaters, museums, art galleries, and nightclubs with live music. A fun ride on a vintage red tram is available, but keep in mind that Istanbulkart is needed for the payment and that the tram is often fully packed late in the day. If you are not a fan of crowded places, look for some coffee shops on the numerous side streets (Kitabevi Café or EspressoLab) so you can observe people flowing on İstiklal from afar. Staying at the hotels here is also a bad idea because of the noise.
📍 Tip: You better start walking from the top of the street, starting from the Galata Tower would require quite a hiking effort.
Flower's Passage (the Çiçek Pasajı)
Flower Passage is a historic building on Istiklal Street. The passage owes its name to Russian immigrants. The story dates back to 1917 after the revolution when impoverished Russian noblewomen started to sell flowers on Istiklal Street to feed their families. Soon enough, they moved to the passage itself, which, since then, was named "Flower's Passage".
However, nowadays this place is known primarily for its patio with restaurants, shops, and a breathtaking glass dome. The building is made in the neoclassical style, decorated with gold stucco and stained-glass windows. The locals are so proud of the eclectic building, they call it "the Turkish epitome of Paris".
Working hours: Most restaurants are open daily from 11 a.m. to midnight.
Taksim Square
At some point you WILL find yourself in the famous Taksim Square. You want to walk all the way down the Istiklal Street? You'll end up in Taksim Square. You're planning to take a bus to the airport? You'll start from Taksim Square. In other words, you can get to just about any corner of Istanbul from here and witness all the major events—the New Year's celebration, movie shooting, and sometimes protests.
A huge variety of shops, luxury hotels, and expensive places are concentrated in Taksim as well, so everyone can find something for themselves to enjoy. At night, life in Taksim not even a tiny bit less intense than during the day. The architecture of this area, together with Istiklal Street, will certainly impress you. Ancient buildings coexist with modern ones here, which gives the square its uniqueness and charm.
📍 Although Taksim is meant only for pedestrians, an exception has been made for one mean of transportation—a red nostalgic tram that you can take a ride on for just about 9.9 lira (if you use Istanbulkart).
Dolmabahçe Palace
In a 20-minute walking distance from Taksim Square you can find the most opulent and lavish building of Istanbul—the Dolmabahçe Palace. No matter how much time you spend inside, your eyes never get used to the pure luxury that is the interior of the palace. It's a mixture of Turkish and European decorative styles with spectacular pieces of art sprinkled on top of everything.
One of the most striking objects of the palace is the crystal chandelier, weighing a humble four and a half tons, which was a present from Queen Victoria. Apart from the beautiful garden outside the palace, visitors can check out the Crystal Pavilion and the Clock Museum—both providing extravagant collections for your enjoyment.
Working hours: Everyday from 9 a.m. to 4 p.m. except Wednesday.
Price: 450 lira.
The Maiden's Tower
If you decide to take a ferry ride on the Bosphorus, be sure not to miss a tiny white tower situated on the islet off the shore of Istanbul's Asian side. This tower has many names: Kiz Kulesi in Turkish, the Maiden's Tower, etc. There are also a lot of legends surrounding its names, one more enchanting than the other, with the most popular being that of a Princess confined within its walls.
The building went through many incarnations: it was used as a ship control point, a quarantine center, and a lighthouse. The tower is currently home to a restaurant and a museum. The restaurant prices are a little out there, but remember that you're paying not only for the food, but also for a unique location and experience. The museum entrance is free, so you can also satisfy your intellectual hunger if needed.
Miniaturk
Visiting Miniaturk is one of the most mentioned things to do in Istanbul with kids. It's kind of "Turkey in a nutshell" experience as this huge outdoor space has over 100 models of the country's landmarks performed in tiny forms. There are also some models of the buildings that were destroyed a long time ago.
The park is entertaining for children as well as for their parents—this is a great opportunity to see all the iconic places in details and in one day.
Working hours: Everyday from 9 a.m. to 6 p.m.
Price: 150 lira.
Cats

Apart from cats, their shaggy fellows can be seen on the streets of Turkey
Yes, they are a landmark! Kitties strive to get into your lens as they flood the streets of Istanbul. They are a strong contender for the man's best friend title in Turkey. Turks don't disturb them; on the contrary, they feed them and they pet them. While some locals love cats out of kindness, others do so for religious reasons. Muslims have treated them with the utmost respect since a cat saved Prophet Muhammad from a snake according to the legend.
The first time I wanted to go to Istanbul was after I watched Kedi, which is a Turkish documentary about the life of cats in the city. Just for the record, you can find hundreds of these wonderful animals in Maçka Park, Nişantaşı area.
The Chora Church
As of March 2023, the church is closed for renovation.
Overshadowed by Hagia Sophia and the Blue Mosque, the Chora Church is often overlooked by tourists. It is a unique site that throughout its existence was a part of a monastery, a church, a mosque, and a museum. The interior includes the finest collection of ancient frescoes and mosaics. Every peace has its own plot giving insight into Byzantine history and art.
In 2020, the church was reconverted into a mosque, which means that entrance is free now. However, the frescoes and mosaics are covered with automated curtains before the prayers. You can look up the prayers schedule on the Internet.
It might be a real challenge to find the place as it is a hidden gem tucked away in a residential area of Edirnekapı, but the stunning works of art are worth the trip. You can get there by bus, but avoid traffic during peak hours.
Rumeli Fortress
A huge castle on the European shore of Bosporus is perfect for a little romantic getaway. Though the interiors of the fortress are closed for renovation, just the breathtaking views of Bosporus alone make this place a must-visit. Don't be upset by towers being off-limits; you can get an impressive panorama from the hill in the fortress garden. After, take a walk on the waterfront and have a picnic with your loved one enjoying the wonderful scenery.
The entrance fee is 50 lira. Working hours depend on the season, but you won't miss it if you show up between 9 a.m. and 6 p.m. Monday is a day off. You can get there either by ferry from the Eminönü pier or by bus from Taksim square.
📍 Tip: Good footwear and a bottle of water are essential as this location involves some hiking to do.
The Princes' Islands
Few know there is a cluster of nine islands in the Sea of Marmara on the outskirts of Istanbul. Four of them are open to visitors.
It is a 1.5–2 hour ferry ride to get there, departing from either Eminönü and Kabataş on the European side or Kadıköy and Bostancı on the Asian side. The schedule can be found on the Sehir Hatlari website. Pay for a ride at the ticket office, the one-way fare is 22 lira.
The islands are car-free; you can explore them on foot or in a horse carriage. There are hotels and perfect beaches, but accommodation is more expensive than in Istanbul. You better visit on weekdays as city locals tend to come here on weekends to get some fresh air.
The largest island is Büyükada, where one can find a mixture of various religious buildings. A less crowded choice would be Kınalıada island. That's where I went, hoping for some peace, but tourists swarm even this small and cozy island in summer.
Some Places to Add to Your Itinerary
What to see on the Asian side? Kadikoy district can be called a commercial center. Though it might not impress classic sight-seers, it allows one to dive into the atmosphere of multicultural architecture, narrow streets, and lifestyles of middle-class locals. It is also a popular shopping district, bursting with cafes, street food locations, bookstores, and malls.
Moda district is another prominent neighborhood in the Asian part of Istanbul. If you google its main attractions, you are 99% likely to be directed to Moda Tea Garden, which is a combination of greenery and endless tea tables. Pour yourself a cup (or a dozen) of Turkish tea, find a person to talk to, and enjoy the waterfront view.
As for the museums, we recommend these:
Istanbul Museum of Modern Art has both permanent and temporary exhibitions, covering art pieces from the 20th century and most recent works. Many installations belong to a famous Turkish family who established the museum. As of March 2023, museum is temporarily closed.
Istanbul Archaeological Museum is divided into three units, displaying artifacts from various cultures and periods in Ottoman Empire history. The building itself presents a significant architectural sight, constructed as a museum at the end of the 19th century. You can purchase tickets for 100 lira.
Rahmi Koc Museum collects and preserves industrial and engineering objects. As its chairman says, his interest in such objects started with an electronic toy train his father gave him. Now, the collection has hundreds of objects related to different spheres, and the company is looking for new collaborations. The ticket costs 300 lira.
Museum of Turkish and Islamic Arts claims to have the world's richest Islamic art collection. For example, majestic artworks made of glass, stone, or terracotta would be particularly interesting to visitors. The entrance fee is 100 lira.
Things to Do in Istanbul in 1 to 3 days

Waiting for our dessert at the cafe as the city plunges into the night
In one day you've got to make the most of such a short period. Top tourist attractions are located on the European side of Istanbul. These are the places worth visiting in one day:
Topkapı Palace
Hagia Sophia
Blue Mosque
Basilica Cistern
Grand Bazaar
Süleymaniye Mosque
Galata Bridge and the Galata Tower
Time is running out, but you want to get as much as you can? Check out the most popular guided tour in Istanbul on GetYourGuide.com.
If you have two days, you can get a more complete picture of the city. These are the best things to do in Istanbul on the Asian side:
Take a walk through the old district of Kadıköy. Haydarpaşa railway station, which looks like a medieval castle, is worth seeing there;
Visit the local food market to buy Turkish candy at favorable prices;
Head to the aristocratic area of Üsküdar for the beauty of Ahmed Pasha Palace and Beylerbeyi Palace;
Right on the Asian shore of Bosporus, close to Üsküdar pier, there is the Şemsi Pasha Mosque, which stands out for its moderate style in contrast to its luxurious counterparts on the Europian side.
You can spend the third day exploring the aforementioned Princes' Islands.
What about a layover/stopover in Istanbul? We have been to Istanbul on a layover recently. Here is some advice (find more in our related article).
Before we start, I recommend going to the city if you have more than six hours. You need at least two hours to make it back and forth and you need to arrive at the airport two hours before departure. For how to get to the city from the airport, check out the next section. It's also good to know that passengers with more than a six-hour layover can get a free tour in Istanbul if both of their flights are international and operated by Turkish Airlines (find out the details at the Hotel Desk in the airport).
Let's get to the point: this is Istanbul to-do-list if you have a layover. The short route for 1.5–2 hours (you get to the city on a shuttle from the airport to Sultanahmet):
The Blue Mosque and Hagia Sophia
Topkapı Palace and Gülhane Park
The Eminönü Pier and the view at Bosporus, the Galata Bridge and the Asian side
Coffee break (50 lira) with cheesecake dessert (70 lira) in Coffeetopia Eminönü
Back to Sultanahmet
The long route for 3–5 hours (the same shuttle):
The Blue Mosque and Hagia Sophia
Topkapı Palace and Gülhane Park
The Eminönü Pier
The Galata Bridge—try balik ekmek (grilled fish sandwich) in one of the cafes under the bridge. We picked the first one we saw called Cansin Balik Ekmek (60 lira)
On foot across the Galata Bridge
Funicular from Karaköy to Beyoglu (15 lira)
On foot along the İstiklal Avenue to Taksim Square
Tram to Sultanahmet from the Findikli Mimar Sinan Universitesi stop (15 lira)
What else to see in Istanbul if you have plenty of time? In case you have a 5–7 day vacation, you will be able to visit not only major tourist attractions but also various museums of Istanbul and hidden gems like the underground Sancaklar Mosque.
For hikers, a large Belgrad Forest park 15 km away from the city with a wide variety of plants, birds, and animals is worth visiting. Another perfect spot for nature lovers is Bird Paradise National Park, which is 38 km away from Istanbul. It is a paradise for bird-watchers indeed, as you can come across numerous birds, including ducks, pelicans, and even flamingos.
Prices on Food in Istanbul—Gastronomic To-Do-List
Waiting for some good coffee and a dessert
Turkish cuisine is quite versatile, so even the fussiest taste buds would be happy! Istanbul can boast a variety of yummy and, importantly, safe street food, such as:
simit (a.k.a. bagel) — 4 lira
chestnuts — from 30 lira
signature balik ekmek (a.k.a. fish wrapped in pita or bread) — 70 lira
corn — 15 lira
fresh pomegranate juice — 20–40 lira
For all fish and seafood fans, Akin Balik is a must-visit. This is a small restaurant around the fish market at Kadikoy Pier. A dinner for two would cost you around 400–500 lira. Note that this place is always packed.
Sehzade Cag Kebab in Sultanahmet offers popular local kebabs for 110 lira. Honestly, I couldn't work up any enthusiasm for their food as it contains only meat and thin bread. Better try TomTom Kebab to get the real taste (and ingredients) of Turkish kebab.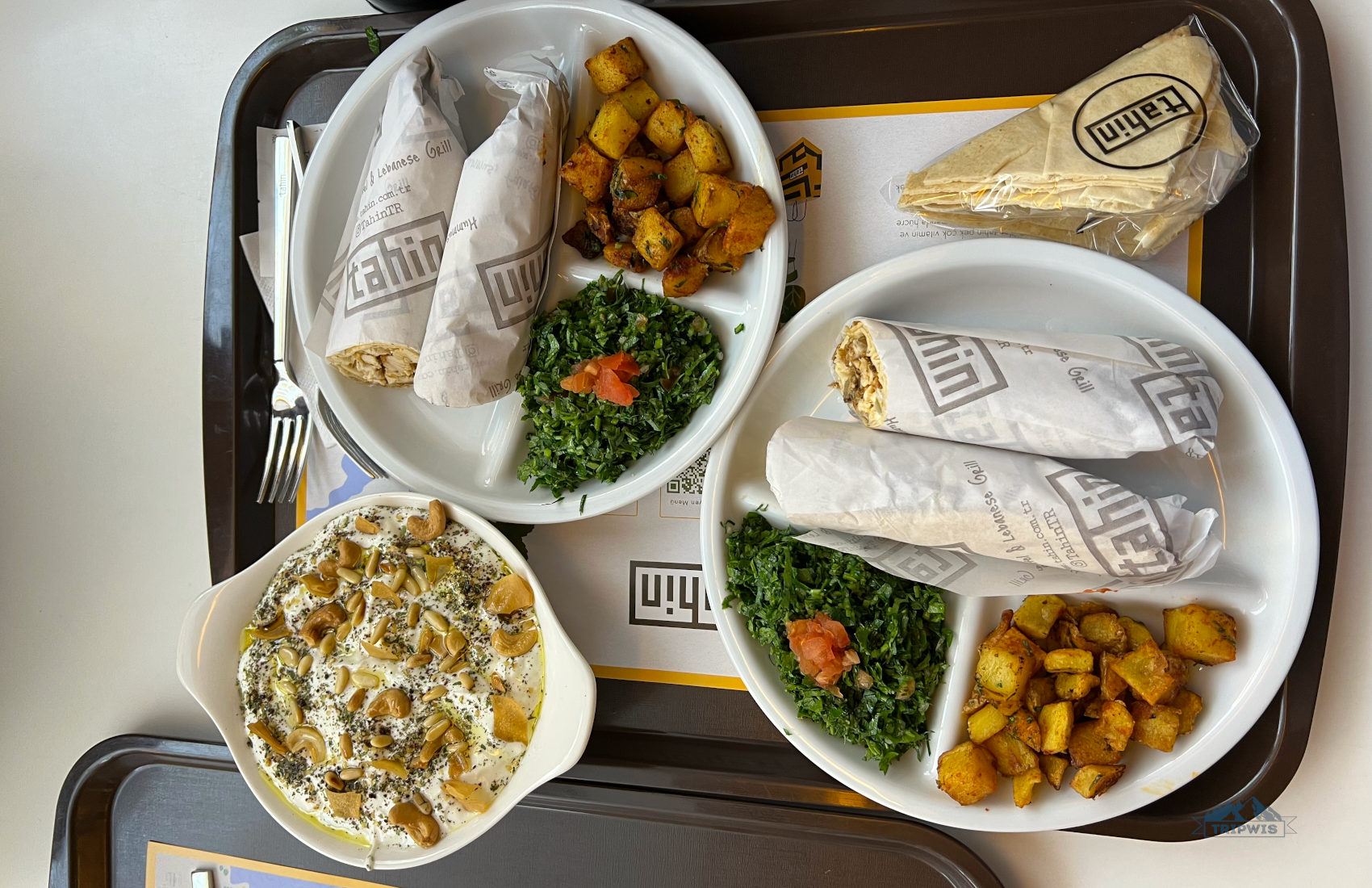 If you have a sweet tooth, wait no longer and head to Hafiz Mustafa 1864, the most famous baklava cafè. But be warned, you will want to try everything, so don't get too greedy. The place is crowded, so you might have to wait in line (we stood for around 10 minutes). It is also not the most economical spot (from 360 lira for a small box of freshly made baklava), but so delicious that it is totally worth visiting.
If drinking is also on your agenda, do not go to the restaurants near mosques, as they are not likely to have any alcohol. We recommend you barhopping in Karaköy neighborhood on Mumhane street as it is loaded with late-night bars. And be sure to visit this really nice and fun Irish pub called U2 in Taksim which we regret not visiting this time!
Vegans should check out Vegan Istanbul, located in Beyoglu district. The menu includes all traditional Turkish dishes, but vegan-friendly!
📍 Cuppa Istanbul is another good restaurant, appealing with its delicious breakfast options (including both Turkish and European cuisine!). It is quite affordable, too—breakfast for two cost us 300 lira which is about $15.
A Few More Things to Know About Istanbul
So, to every traveler who believes that Turkey can be boiled down to a singular "all-inclusive" hotel experience, we suggest coming to Istanbul—it will prove you wrong in no time.
Istanbul is believed to be a city full of contrasts, and I would totally agree with that statement. I can't claim I lost my head over it, but I was most certainly impressed (in all ways possible).
Trash on the streets is revolting. The city is cleaned every morning, yet by the evening it gets untidy, to say the least.
Huge crowds of locals toil up or down the ferry, unbothered by the fact that they push everybody around. Excuse you, people!
Sometimes, you are basically forced to buy stuff. That's why I decided to avoid the Grand Bazaar—it can get too wild.
At the same time, locals are extremely friendly, sincere, and joyful. They can help you or navigate you around the city if you ask. After all, those who love cats so much (and there are plenty of them) are, by definition, good people!
Moreover, Istanbul is very vibrant, to the point of tacky. Having got used to its brightness, I thought that my hometown is somewhat gray and plain.
Here are a few more travel tips for Istanbul:
1. Install maps.me—this navigation app works offline as well. You can tag your hotel and all the sights from this itinerary, so you have fewer chances of getting lost.
2. It is wise to buy an Istanbulkart, which works for the metro, trams, and ferries. Otherwise, you will not manage all destinations on your own. The card costs 50 lira and can be returned when it is time to depart.
3. Note that in the Istanbul metro, you pay for every line change. Istanbulkart makes each ticket cheaper.
4. You can visit all the mosques for free, but make sure to follow the dress code—men can't wear shorts, and women should cover their head, shoulders, and legs. Every mosque has some scarves and skirts at the entrance, but there are tons of tourists on the weekend. To avoid queues, you'd better dress accordingly and bring your scarf.
5. If you are not looking forward to waking up with a 5 a.m. prayer, you might want to get yourself a pair of earplugs.
6. Hamam is probably the number one thing to do in Istanbul. The selection is wide, and locals know how to make the experience perfect.
7. Istanbul is by no means a small city. In addition, it is divided into two parts by Bosphorus, so choose your accommodation wisely. The European part would be perfect if you visit the city for the first time or plan on a short stay. Fatih district, namely Sultanahmet and Sirceci neighborhoods, have all the main tourist attractions. Beyoglu, with Istiklal and Taksim streets, is made for night-life enthusiasts. Experienced travelers who seek more authentic locations might consider the Asian side of the city. The influx of tourists and, therefore, prices are lower. Kadikoy is full of cafès and stores, low-price markets, and big parks. Uskudar has a very fine embankment, perfect for a long walk.