As we were about to board our plane from Singapore to Sydney, the airport staff took our water bottle away. This minor detail prompted us to wonder about all the things we didn't know about traveling to Australia. Thankfully, we pride ourselves on being good students of life, so we not only figured out our way around the complicated Aussie culture, but also took quite a bit of notes to share with you.
So, after spending two months in the Land Down Under, experiencing the Australian Open in Melbourne, settling down in Sydney for a whole month, and taking a detour to New Zealand, we are more than happy to present you with our complete Australia travel guide of things we wish we knew before our trip. Enjoy!
Article contents
What should you know before traveling to Australia?
Traveling to Australia for the first time can be daunting even for an experienced traveler. You don't know what to expect from this enchanting and mysterious country located seemingly so far from all the action. So, what do you do? You turn to the Internet to help you get to the bottom of every little detail of the trip, starting from how to travel to Australia and ending with how to fight a kangaroo (our advice: Just don't).
The bulk of answers is repetitive at most, and we can briefly touch on them, just for the record.
What are the most generally accepted things Australia is famous for?
Australia is HUGE. We met people who had been traveling around the Aussieland for six (!) months.
Australian wildlife is constantly out to get you. It's not exactly true, keep reading to learn our more nuanced take on the subject.
Aussies are incredibly sarcastic and their dry humor can go right over your head if you don't pay enough attention.
Australia is located south of the equator, hence the unforgiving sun that can lead to sunburn.
Swim Between the Flags is a mantra even a four-year-old Aussie kid can recite to you upon request. The truth is, beach safety is no joke, and you should definitely stay in direct line of sight of lifeguards which is between the red and yellow flags. That way you'll avoid dangerous rip currents, deep water, and life-threatening marine life.
Coming back to our bottled water incident, there is an extensive list of items you cannot bring into the country, since it can impose risk on native wildlife. Among some of those things are whole eggs, wild plants (and seeds), rice, dried fruit, pepper spray, and many others. Make sure to check with the Australian Border Force website if you're not sure you can bring a particular item.
What is the best month to visit Australia? Pick any month either between December and February, and you'll be golden! Or consider something between March and May or September and November to save money. There are fewer crowds, and overall the prices of basic things are quite affordable.
These tips for visiting Australia are what you'll find looking through the first few Google pages. Not to toot our own horn, but we went a little deeper in our field research of interesting facts about Australia. Let's get right into it.
Australia is bloody expensive, right?
It costs a staggering $1,200 just to get here (from Europe). At best!
If you're traveling from somewhere that's not super close to the continent, get ready to have a thinner wallet after you reach the good ol' Straya.
From here on out, note that we use this symbol "AU$" for Australian dollars, and this symbol "$" for American dollars.
Based on our two-months stay in the Land Down Under together with our past experience of 42 countries visited, we came to a surprising conclusion. While it's true that Australia is not cheap, it's in many ways still cheaper than the big cities of the USA or some of Europe's most visited cities, like Paris, Amsterdam, Copenhagen, or Stockholm.
Let us show you an approximate breakdown of our spending in Australia:
An apartment in the center of Sydney/Melbourne — AU$150 ($100)
A room 20–30 minutes away from the city center — AU$75 ($50)
Prepaid SIM card with 60GB of data for 30 days — AU$30– AU$50 ($20–$33)
Public transport fees — from AU$3.2 ($2.2) in Sydney; AU$4.6 ($3.1) in Melbourne
Flat white (invented by either Australia or New Zealand, the never-ending debate) or batch brew — AU$5–AU$6 ($3.4–$4)
For such superb quality of coffee, the price was a surprise for us: We instantly remembered the price of coffee in Paris (€5) and the rip-off that is coffee in Los-Angeles ($6–$7, come on!)
Breakfast (or brekkie, as a true Aussie would say) and coffee at a coffee shop or a café — AU$20–AU$25 ($13.5–$17)
Groceries for a day — AU$40 ($27)
Vegan shake from Joe & The Juice (Australia truly has it all!) — AU$11.5 ($8)
Car rental — AU$100 ($70)/per day
Gas — AU$1.65 ($1.1) for a liter or AU$6.2 ($4.2) for a gallon
See? It's not as bad as people make it out to be. Plus, Australia is famous for having tons of free stuff you can check out: Starting from Melbourne's amazing museum and gallery scene to breathtaking beaches and coastal walks of Sydney.
Is surfing cool?
In iconic "down under" fashion, summer in Australia lasts from December to March. What do you imagine any time you think of summer in Australia? Scorching hot sun, temperatures reaching the astonishing 40°C (104°F), golden sanded coast, and overall beach vibes, right? Oh yeah, and how could we forget surfing — people's favorite pastime on Australia's coast, together with just lying on the beach.
Would you be so surprised if we told you the water on the southern coast is actually quite cold, reaching the temperature of 21°C (70°F), tops. So, is surfing cool in Australia? In both senses of the word, it really is. Thank god for wetsuits!
Will I survive my trip here?
As we already mentioned, you don't need to be constantly stressed about something willing to kill you in Australia. The majority of wildlife scurried off away from big cities so unless you decide to stop somewhere on the highway and explore the nearest bushes, you'll be fine.
In fact, during our entire stay in Sydney we didn't encounter anything that was particularly dangerous or life-threatening. Yes, we saw some spiders (not the extra huge kind), lizards, and flying roaches (okay, these things really are nasty, but not at all murderous). And that's it!
No venomous spiders hiding under a toilet seat, no big snakes breaking into the room through a window or an alligator waiting for you under your car. Most of these stories that you see online are too rare for you to be aware of the supposed constant threat. You can sleep soundly in your bed at a hotel somewhere in Australia knowing you're more likely to die from the hands (or rather hooves) of a cow than from a gator attack.
You should try and keep your mouth closed while you sleep though, since they say an average person swallows eight spiders in their sleep. With the average size of an Australian spider, you'll be too full to have your avo toast for brekkie!
If you want to learn more about the whole dangerous and venomous Australian creatures drama, check out "Surviving Australia" exhibition at the Australian Museum in Sydney. It's free and an absolute must-see!
Are Aussies riding kangaroos to work?
As absurd as it sounds, this question has been googled thousands of times in search for a true answer. Thankfully, Aussies use their iconic sarcasm to the max: You won't find the answer you're looking for, but something much better. Try it yourself and read the first few search results, they'll surely make your day!
Even though there's more kangaroos in Australia than people (true story), you won't find them roaming the streets of Sydney or visiting the Melbourne Park to watch the Australian Open finale (Duh!). But you could potentially see the kangaroos in the wild if you go outside city limits. The chances of this happening are slim: We drove 1000 kilometers along the southern coast and haven't seen even a little Joey (not a particular roo with that name, joeys are baby kangaroos.)
If you're just as unlucky as us, you need to have a back-up plan. Any tourist's first instinct is to head straight to the famous zoos of either Sydney or Melbourne. And while they're obviously great, you'll get more authentic experience at some wildlife reserve outside the city. They are, as a rule of thumb, cheaper; plus, you get to see animals that are only native to Australia (without elephants and the like), up close and personal, and even pet the tamest ones.
While near Melbourne, we visited the Phillip Island Wildlife Park. No need to wonder what to do in Australia anymore!
Come to this park, pay the mere AU$20 ($13.5) and enjoy the wildlife. The price of the ticket includes the food that seemingly every creature here eats, starting from kangaroos (which walk around you, petting distance) to crazy-looking emus and shy wombats. The park's grounds are massive, so put away at least 2–3 hours for this experience.
What foods should I try while in the Land Down Under?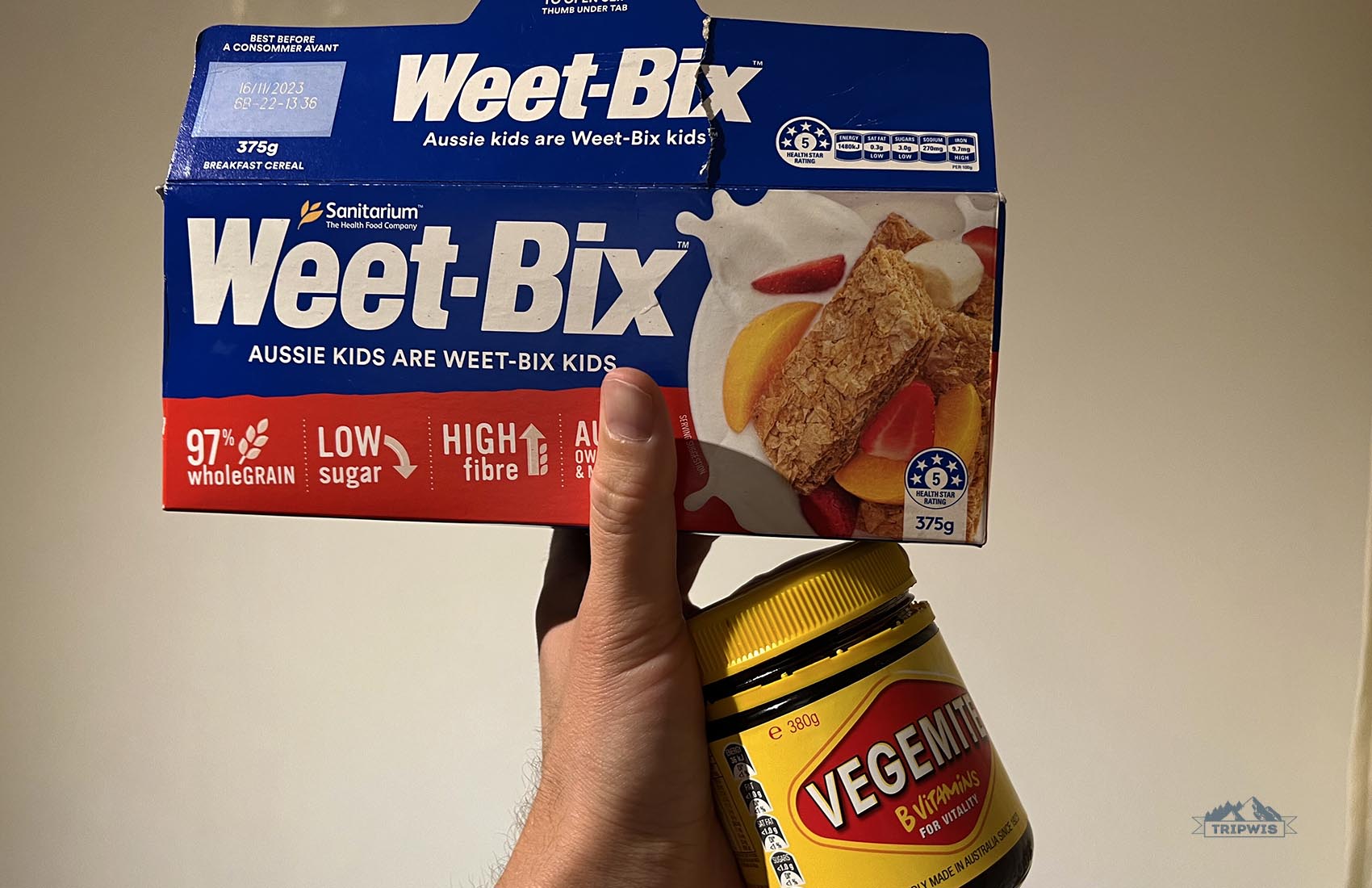 What food is Australia known for? Aussies are a weird bunch (in a good way), and their taste buds are even more eccentric. As for the most iconic constituents of the Australian menu, you should definitely look into trying the following:
Weet-Bix — no Australian brekkie is complete without a bowl of this whole-grain cereal with milk. The cereal has a lot of sentimental value for the Aussies, all thanks to the brand's iconic commercials of the 90s. Don't let the grain part of the ingredients fool you into thinking it's healthy — Weet-Bix is actually full of sugar, so keep that in mind!
Vegemite (or Marmite) — you probably heard about this brownish toast spread a lot, so you know the controversies around the flavor. The truth is, Australian palate is just used to Vegemite, since Aussies eat it from an early age. What is it, exactly? The paste is made out of leftover brewer's yeast, with added vegetable and spice flavorings. Sounds weird, plus it's savory and tangy… But as they say, don't knock it till you try it!
Tim Tams — legendary biscuit (or bikkie), that consists of chocolate wafers with chocolate filling, covered in a layer of chocolate. Once you try Tim Tams, be careful — you won't even notice how you ate the whole pack. Bring a couple of those home with you, your friends will definitely appreciate it!
Mango — pretty self-explanatory, but what you don't know is that mango's Honey Gold and Calypso varieties are the best we've ever tried! In Australia, you can easily get them at any Coles or Woolworths.
Australian pies — more commonly known as Aussie pies, they are super delicious palm-sized meat pies. We recommend you try these flaky buttery pastries either at Harry's Café de Wheels in Sydney, or at Tivoli Road Bakery in Melbourne.
Sushi — the most popular food in Australia. You can even get some surprisingly high-quality roll in your local Woolworths. Speaking of high quality…
Coffee? Coffee!
In our humble opinion, Australia is THE world's capital of good coffee, surpassing Italy and Sweden by a landslide. It seems like any Australian citizen is able to make a spectacular flat white before even learning how to talk. No wonder, since flat white originated in Sydney, Australia.
Coffee here is so good that even Burger King (or Hungry Jack's, as it's known in these parts) has its own in-house barista. Since finding a beverage worthy of any coffee aficionado is super easy here, you can get it anywhere!
But for your convenience, these are the places we've personally visited that serve bloody great coffee:
In Sydney: Barrel One, Skittle Lane, Primary Coffee, Single O;
In Melbourne (coffee here is even better than in Sydney): Bench Coffee, Maker, Industry Beans, Seven Seeds, Market Lane Coffee.
When push comes to shove, you can never go wrong with the good ol' McDonald's — their flat white with oat milk will have your back, always.
Are Aussies early birds or night owls?
I took the photos around 7:00 am
When it comes to an ordinary Aussie, the definition of an early bird seems to not be enough. Aussies wake up REALLY early, meaning that the entire country's life is centered around this fact.
You can't possibly start the day without a cup of coffee? Great, because coffeeshops here open as early as 6 a.m. Gyms' opening hours also start at 6 a.m., but we think you have to be really crazy or really goal-oriented to work out at the break of dawn. Aussies though? It's an ordinary thing for them. Cafes are filled to the brim from the wee hours of the morning, so much so that you will have to wait in a long line for your order at 7 a.m.
However, these early mornings have a major downside. Coffeeshops are already closed by 2–3 p.m., plus a lot of them aren't open on weekends as well.
Fun fact: They say that Aussies start putting their kids down for the night as early as 7 p.m.! It seems like Australia is THE country to get into a healthy routine, according to your natural circadian rhythm (it might get derailed a bit by the light outside at 10 p.m., but that's a whole 'nother story).
Is the Wi-Fi on?
At the top of the list of the most annoying things to know before visiting Australia is the abysmal quality of the Internet — both mobile and Wi-Fi. While we did mention that mobile service is pretty cheap here in Australia, providing you with the generous data, the Internet itself is bloody awful. Which is extremely weird, given the country's highly developed status.
In fact, all of our Airbnb hosts were super upfront about properties' problems with the Internet. They say that it's a common occurrence everywhere in Australia and there's nothing they can really do about it.
While we understand that having slow internet is obviously frustrating, you should still try to put a positive spin on the situation: Your online presence isn't going anywhere, consider your trip to Australia to be your digital-free retreat. Unless you work remotely, in which case, good luck!
What topic is off the table?
If you want an Aussie to like you (slim chance, but nevertheless), there are some things you probably shouldn't ask. After the whole riding kangaroos debacle and the incredibly slow internet discussion, the last question that can potentially make an Aussie slap the hell out of you is the one of "Which is better — Sydney or Melbourne?".
Let's imagine you did bring up this topic. After swiping red Australian dust off of your clothes, you can probably understand why it was a terrible idea. Asking which of these Australian cities is better is like asking if Los Angeles is better than New York City. Nobody can answer this question! The cities are amazing in their own ways.
For Aussies, choosing between Sydney and Melbourne is like choosing a favorite child. Relating to that, we recently saw a video describing the situation perfectly (not children, but sibling-based): They pointed out that Sydney is the "beautiful" sister, who's never had to do anything out of sorts to get massive amounts of attention; and Melbourne is the "pretty, but average-looking" sister, who's had to put in the work on her appearance (culture, entertainment, restaurants and the like) to get to her other sister's level. Totally agree with this description, so on point!
We're not Aussies and currently not on the Australian ground, so we feel safe to say we're totally team Sydney!
How do I get around the cities?
Let's make it clear: If you're not planning on getting outside city limits, renting a car seems like a waste of money, in our opinion.
Both Sydney and Melbourne have extremely well-developed transportation systems: There are trams, buses, subway, ferries, trains — you name it, they have it. All of these means of getting around secure your ability to go anywhere you want inside the cities and even catch some suburbs action.
If you think that exploring the city by public transportation means will be terribly expensive, don't worry!
In both Sydney and Melbourne, Aussies have this amazing thing called "daily cap". This trick guarantees you won't spend any more than AU$16,8 ($11.2) in Sydney or AU$9,2 ($6) in Melbourne a day, no matter how many trips you take.
As for other practical things to know before visiting Australia, we recommend you remember this one: Most of the pedestrian crossings require you to push a button to be able to cross the road. If you forget to do so (like we did on a couple occasions), you'll be waiting for that green light for quite a long time.
Why did the koala cross the road?
If you do decide to venture out into the Australian bush, then renting a car seems to be a reasonable decision. Here are some of the tips we learned based on our personal experience driving through the Aussie outback:
Freeways in Australia are usually divided highways with four or more lanes, which makes your driving experience easier and safer.
The biggest problem drivers encounter on Australian roads is wildlife, especially after sunset. There's a high chance to encounter a koala or a wallaby trying to cross the road. We got pretty lucky and didn't have this problem in all of the driving we did in the backcountry.
One of the most crucial things to know before traveling to Australia is that they drive on the left side of the road. If you're British, then you're all set, nothing changes for you. However, if you're from a country where they drive on the right side of the road, it will take you from around half an hour to a whole hour to get used to the experience. There were a couple of times when we thought a dog or a child was driving an approaching car (a right-hand drive one, obviously), but that went away quickly.
As a rule, stick to the left lane on the multi-lane road unless you're overtaking the car in front.
These and many more important Australian driving tips you can find in our article here.
What's your favorite bevvy?
Generally, you will not find alcohol in any Australian supermarket.
There are specialized stores to get your spirits of choice: They are either called bottle shops (Bottle-Os), or liquor stores. These places close earlier than most supermarkets, at around 8 p.m. Plus, they always check your ID.
Aussies do love their bevvies — beer and wine being the preferred drinks. Forget about the stereotype that Australians drink Fosters and nothing else. In reality, they're keen on supporting their locally brewed craft beers. As for wine-lovers, the variety of vino here is mind-boggling. We recommend you get yourself a bottle of either local or New Zealand's Sauvignon Blanc (AU$10– AU$15 / $7–$10).
Thirsty for more?
Since we're more of "filtering our water before drinking" kind of people, exploring this topic in Australia was definitely a learning curve.
The fact is, you absolutely can drink tap water in Australia, and it's widely supported by plenty of water fountains scattered around the cities. They're great for refilling water bottles and satisfying thirst on your walks.
What's DiDi?
Uber is not the only pebble on the beach when it comes to taxi services in Australia.
We learned the next amazing service when we already landed in Australia, through trial and error. So, to save you time and energy, one of the more useful travel tips for first-time Australia visitors is check DiDi app before checking Uber. The rides are cheaper most of the time, plus, if it's your first time using DiDi, you get a promo code for first three rides. All you have to do is download the app, sign in, and you're all set!
A true Land Down Under?
We've already mentioned that in Australia they drive on the left side of the road. And while this fact was easy for us to comprehend and use while driving, we didn't think that the rule extends way farther than the road.
None of the tourist information booklets about traveling to Australia prepared us for sticking to the left in other areas of life as well. While walking, pedestrians usually remain closer to the left side of the crosswalk. Escalator etiquette also supposes you use the left side for standing and the right side for walking. Even safety belts on airplanes are clipped in the other way around!
All these rules make for an easy Australian newbie litmus test — you can easily spot a first-time traveler while out on the town, just look for a person "sticking to the right".
What about cash?
Australia is one of the biggest cashless countries in the world, and when you're in a big city like Sydney or Melbourne, you can definitely feel it.
When we first landed, we took out lots of cash, dealt with exchanging money and all of that, but then the whole thing kind of naturally went away. We realized we didn't need cash in most of the situations, and let's face it — swiping a card without having to withdraw, exchange, and carry the actual bills (no matter how colorful or pretty they are) is much more convenient.
Do you need cash in Australia? Not really, but it's always good to have some banknotes, just in case. Speaking of paper money: Keep in mind that when exchanging currency, old American dollar notes get worse rates than new ones.
G'day, mate! How ya going?
You're not actually going anywhere; it's just the way Aussies ask "How are you?". So, mate, if English isn't your first language, chances are you'll have some troubles with understanding Australian slang.
Hell, even if English IS your native language, it'll take you some time getting used to the way Aussies speak. The way they change words is pretty cute, actually. Just to give you an example:
Breakfast — brekkie
Barbecue — barbie
Beer — coldie
Lipstick — lippie
Mushroom — mushie
These words are so adorable you'll end up using them outside the Australian land. There are tons of other words which Aussies use in their authentic distinct way, but these ones we feel like you defo (definitely) would like to know:
Afternoon — arvo
Bell pepper — capsicum
Excellent! — Ace!
Flip-flops — Thongs (not to be confused with American thongs, otherwise you'll end up in some pretty interesting situations)
Friend — mate
Gas station — servo
Hiking — bushwalking
Someone from New Zealand — Kiwi
Australian slang is super interesting and endearing, we recommend you do a little digging on your own (it doesn't have to be boring and scientific; you can just watch Australian tik-toks).
Brush up on your Aussie words, so that you can understand the phrase we saw in the store window during our first week in Sydney: "Buy these sunnies as a prezzie for Chrissy." Did you get it? Leave your guesses in the comments below!
What to bring on my trip to Australia?
Apart from lots and lots of sunblock which you will be dousing yourself with once you've arrived here, what are some other things to buy before going to Australia?
The most important item you need to pack is an Australian plug adapter — you don't want to be stranded with a dead phone in a foreign country, that's for sure!
Our phones have become the most crucial tool during our travels (we are counting on them for GPS, translation, emergency calls, etc.), so being able to charge them is a no-brainer. If you're staying at an Airbnb, then they'll probably have a universal adapter on hand. If not, head to the nearest Kmart, where you can by the adapter for just AU$6 ($4). We learned this through trial and error, having bought ours at the local convenience store for AU$15 (almost $10 — what a rip-off!). Learn from our mistakes, but in general, it's better to come prepared.
Am I overtipping?..
What to know before going to Australia? Apart from the differences in common words and phrases, there are a few more things that highlight the gap between Australian and American ways of living.
Just to name some aspects you'll definitely encounter during your trip:
Tipping is not required! All of the service charges are already included in the prices, but if you're feeling particularly taken care of and want to give something in return, then be our guest — an acceptable tip for good service is 10% of the bill.
USA-based businesses are known for their smooth return and refund policy. In Australia, it's not that easy. You can get a replacement or a refund only if an item is not up-to-standard.
Are there no taxes in Australia? Well, yes and no. The price you see on tags already includes taxes, but there's a loophole: the Tourist Refund Scheme, which lets you get a refund on some items that you bought while in the country within 60 days before leaving Australia.
In general, shopping experience in Australia is a little more client-based than in the USA, while the prices here sometimes exceed the ones of the States. It's a double-edged sword that you can use to your advantage depending on the particular situation you're in.
How do I plan my trip to Australia?
Now that you're more or less familiar with different tips and tricks about the Land Down Under, here comes the hardest part: Actually planning a trip to Australia.
Even though the country is virtually located on the outskirts of the world map, far away from the majority of other continents, Australia is considered to be one of the main global event hubs that everybody longs to visit one day.
There are so many things that you should not miss when in Australia: Formula 1 Australian Grand Prix, AFL Grand Final and Australian Open in Melbourne, New Year's fireworks, and WorldPride in Sydney, countless of concerts, international exhibitions, and many others!
In 2023, Aussies expect to see lots and lots of touring musicians, some of them coming to Australia for the first time after the pandemic. No matter what kind of music you're listening to, you will find something that floats your boat: Australia is planning to host such names as My Chemical Romance, Sting, Ed Sheeran, Lil Nas X, Red Hot Chilli Peppers, Kehlani, Phoebe Bridgers, Bon Iver, Harry Styles, Florence + The Machine and many, many others.
Decide on what events you want to visit while in Australia, and plan your trip accordingly!
What are the do's and don'ts in Australia?
As with any other places in the world, Australia is a place you visit with an open mind and an open heart. To save you from unnecessary turmoil and disappointment, we've compiled a short guide on social and personal pointers you can follow to have a pleasant time in the Land Down Under.
Let's dive into the particular things to know before visiting Australia. When you come to the Aussieland, do:
Thoroughly check the requirements for going to Australia in 2023. Generally, all foreign travelers need a visa to enter the country. As of February 2023, all Covid restrictions have been lifted.
Use SPF! We cannot stress this point enough, but sun in Australia is no joke! Thank god for business-oriented Aussies who made it their mission to produce a vast variety of sunscreens. If you forgot to buy your sunblock before your trip, try one of the local lines, like Bondi Sands, for example (we got familiar with this brand because they were giving out free sunscreen samples during the Australian Open 2023 — check out our article detailing our experience here).
Spend enough time to learn about the most important and interesting things about Australia, which are all directly connected to the Traditional Owners of the land — Aboriginal and Torres Strait Islander peoples. Remember to be respectful though, and follow the guidelines every indigenous place has put in place.
Know that every possible spot where Sydney's New Year's fireworks can be visible will not be free come the New Year's Eve. To make it even worse, the prices can get quite absurd.
Check out the Australian brands — Seed Heritage, Edited Pieces, Assembly Label, Matteau, Zimmermann, Aesop, and the like. Just remember about the overweight baggage fees on your flight home, don't get too crazy!
To make your life in Australia easier, don't:
Count on the weather being perfect all the time. Australian weather is terribly fickle, with any day potentially getting the scope of all seasons: Scorching heat can be followed by great storm, which in turn can lead to a cold evening. Dress in layers and always carry sunscreen and an umbrella, just in case.
Rent a car. Especially if it's your first trip to Australia and you aren't planning on driving anywhere further than Sydney. A car can come in handy for day trips outside city limits, but if you live in CBD (Sydney's or Melbourne's central business district), you'll never find parking, thus creating more unnecessary problems to solve.
Come to Australia without travel insurance. It can suck big time to pay for any needed procedures out of pocket: Healthcare is pretty expensive here. Speaking from experience, a dentist visit can cost you AU$300 or more, depending on what your problem is.
Think that traveling to New Zealand from Australia is cheap, since they are relatively close. The airplane tickets are surprisingly expensive! Kiwis must be a very loaded bunch!
At the end of the day, it doesn't matter what you do or don't do when it comes to niche topics, just be respectful and don't take Aussie's dry humor seriously — they can be a tad too sarcastic for an outsider to understand.
How many weeks is enough for Australia? Our Australia itinerary
When you travel to the Aussieland, the question of how many days is enough to visit Australia doesn't seem to come up. Not because it's a terrible travel destination (it definitely isn't), but because the duration of your stay is counted in weeks, not in days.
How many weeks is enough for Australia? You decide — however long you can afford to travel around this massive continent.
There are so many amazing places to visit in Australia that it can take months to fully take in the beauty of the continent. Our personal top picks of things to see in Australia include:
the Great Barrier Reef,
the Gold Coast,
Sydney's best beaches (Bondi Beach and Manly are the ultimate winners),
Melbourne's plentiful museums and art galleries (most of which have free entrance),
unique Tasmania state, and many others.
Plus, our bucket list item that we feel is a hundred percent worth visiting is Western Australia, with its white beaches and expansive outback. We haven't gotten around to exploring it during our last trip, but there's always next time!
How much money do I need for 1 day in Australia (Sydney)?
As we've already pointed out, Australia can get pretty expensive. Best time to visit the Aussieland if you're on a budget is either a shoulder season (February to April or September to November), or low season of June through August. The weather is on the cooler side (but it never gets too cold), and the airfare and hotel prices are considerably lower in contrast with the rest of the year.
Apart from spending a substantial amount of money on getting there, here is the approximate breakdown of our spending for two during one busy day in Sydney:
Accommodation
AU$120 ($80)
Breakfast at a café
AU$40 ($27)
Coffee to go
AU$10 ($7)
Bus to and from the beach
AU$15 ($10)
Falafel for lunch
AU$30 ($20)
Tickets to Sydney Tower Eye's observation deck
AU$76 ($50)
Take out for dinner
AU$40 ($27)
Other small expenses
AU$20 ($13)
Overall, we spent AU$341 ($227, accommodation included). If looking at this number makes your mind jump straight to the question of "How can I save money in Australia?", we can give you a few tips:
The general rule of traveling on a budget still applies here — eat out less, cook more.
Pick accommodation a little further away from the city center, major cities have a well-developed public transport system, so you'll be fine.
Quit smoking — tobacco is outrageously expensive in Australia, so we suggest you kick this bad habit to the curb.
Look for end-of-the-day discounts at big supermarkets.
Don't forget to use the Tourist Refund Scheme when bringing bought goods with you on your way from Australia.
We hope our useful tips and activities you should know about before traveling to Australia will make your upcoming trip much simpler and more enjoyable. If you still have any questions about visiting the Land Down Under, leave them in the comments below!