I think Berlin is a great city, I just love it (and no, I don't like techno music). In this article, I want to show you where to find connections with this city — through the pictures, lists of essential things to do in Berlin, suggestions on the coziest cafes. Connections that'll lead to the endless sympathy and willing to come back as soon as you can. Or won't (and that's okay).
Berlin has such a versatility of stuff to see, to eat, and to experience that you'll never run out of options. If you are interested in historic and cultural heritage, Berlin will take you on a mind-blowing journey of two opposite worlds — the Soviet and the West one. If you are a heavy party-goer, Berlin is a place to visit all sorts of clubs — from kinky to classic techno ones. If you want to see how thousands of cultures coexist in one place, Berlin is here for you for that experience as well. I have no doubts that everyone can find some exciting things to do in Berlin, Germany.
Article contents
Speaking from experience — Berlin travel tips
Before diving into the description of things to do in Berlin in 2022, let me share some useful tips I've gathered over the years of traveling to the city. They are just small observations that might make your trip more enjoyable:
Berlin is famous for its well-developed subway system, so it's definitely the best way to move around the city. Berlin public transportation fares are from €3 for a single ride, so if you plan to commute a lot during your stay, buy the one-day ticket that costs €8.80 (or the seven-day ticket which is €36). All of them will allow you to travel in A and B zones where most of the tourist attractions are.
Don't forget to stamp your metro ticket at the yellow or red boxes on subway platforms. If you don't do it, the ticket is not valid. In this case, you might get caught by the subway police and will have to pay a fine around €60.
Since 2020, there is only one airport in the city: Berlin Brandenburg Airport (BER). It's easily reachable by subway and that's probably the cheapest way to get there. The ticket price is €3. In comparison, the taxi will cost you €30–€50.
You can smoke in most of the bars in Berlin and are allowed to drink outside at any time. Prices for a bottle of beer start from €1. Most supermarkets have special recycling machines where you can return used bottles.
In February, Berlin turns into the city of flashing camera lights and dazzling film premiers as it's home to the Berlinale Film Festival. If you're not a big cinema fan and want to avoid crowds, plan your trip around the festival dates (which falls on February 16–26 in 2023).
Things to do in Berlin for first-time visitors
On one hand, Berlin is a byword for a perfect tourist destination: It boasts multiple diverse neighborhoods, good coffee, museums that won't make you bored, excellent transportation system, and traces of history scattered right on its streets. But what I love the most about this city is that it doesn't try to be all things to all people.
Berlin is a bit difficult to understand unless you delve deep into its history. It consists of the craziest combinations — the bourgeois architecture of the Western part and the bleak Soviets-inspired panel buildings of the Eastern part; the wildest street art and the strict museums with the world-renowned cultural heritage.
The city doesn't have this typical Old Town — a central square circled with 100+ years-old lavish houses — you would see in Prague or Munich. It also lacks a unified style of architecture — like Parisian buildings with Parisian balconies, or Barcelona's diagonal streets.
Still, Berlin is worth seeing or experiencing. I'll try to prove it to you. Of course, this isn't a full comprehensive all-you-need-to-know guide to the city. It's impossible to squeeze the whole Berlin in one article. Probably, I'd personally just skip the page that mentions 50+ places to visit (although Berlin is really close to that number). That's why I've sorted out the core of Berlin's attractions that makes up a decent 3-day itinerary. You'll find extra materials on the links below!
Enjoy the view from the Reichstag
This one is a must-try in Berlin! The activity is so untypical of tourist attractions, I elaborated on this further in this article (and already book some slots for my next trip to Berlin).
People say that if you haven't been to the Reichstag, you haven't been to Berlin. It's hard to argue with that. The place is great for a first time visit as you won't be only taken by its beauty and splendor, but you'll see the center of Berlin from the rooftop terrace. The best part is that there is no entrance fee to the Reichstag, which makes this experience number 1 on the list of free things to do in Berlin.
However, you have to register online for your visit on the official website. Your free ticket will include the audio guide and the pass to the rooftop. Plan your visit ahead as it is the number one tourist attraction on any Berlin itinerary and all the spots might be taken. But if you are traveling not in the high-season month, you might try your luck and book the ticket on the spot two hours before the excursion.
Take a peek at the Brandenburg Gate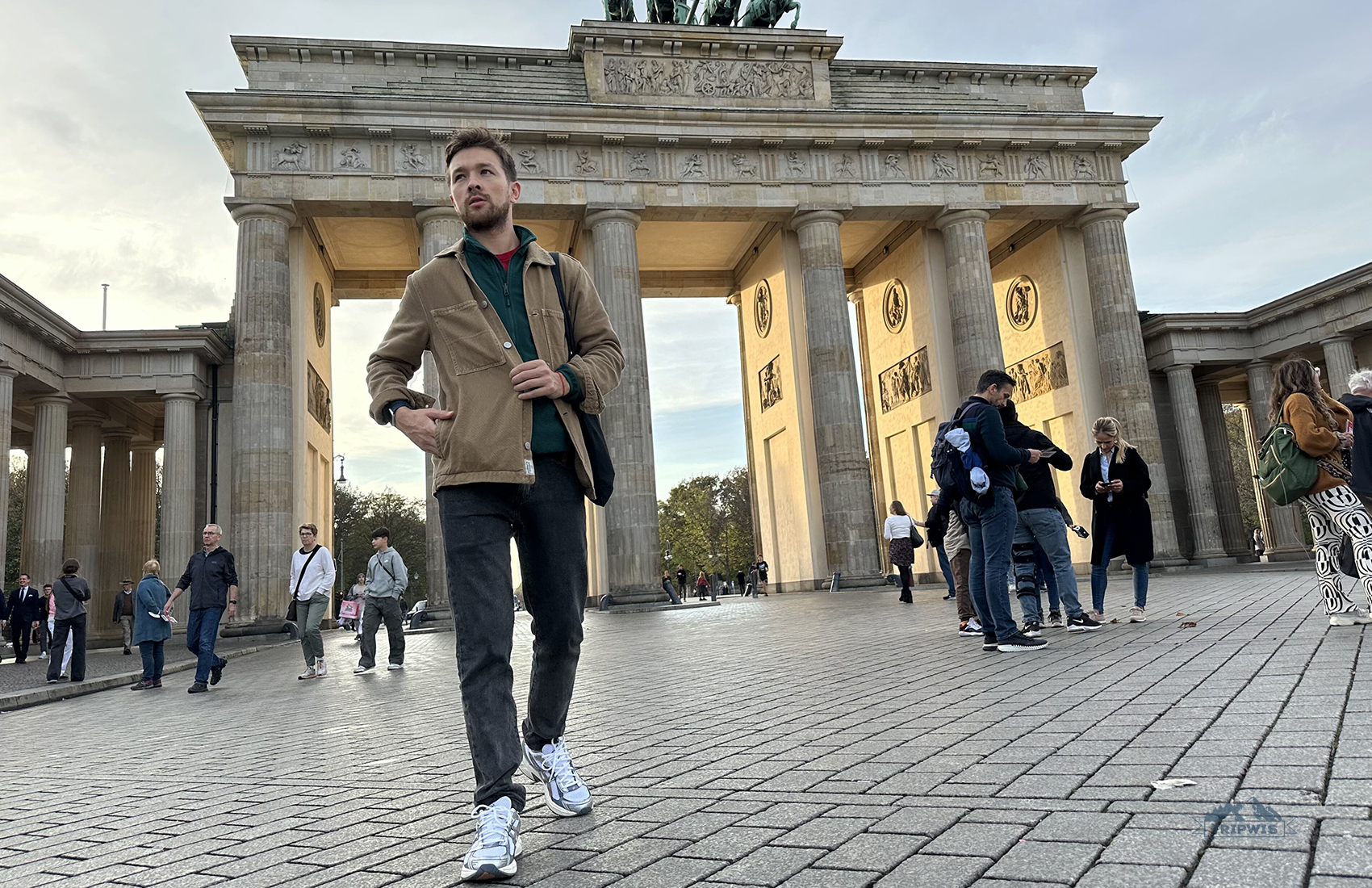 While you are waiting for your Reichstag tour to start, you might want to discover the surroundings. First, you'll come across one of the city symbols — the Brandenburg Gate. This place is always crowded and full of wandering tourists. If you get lucky you might hear one of the favorite stories of the local guides about Napoleon's love for the Gates. He was such a big fan of it that after having conquered the city he transported the Gates to Paris. Fortunately, eight years later they were safely returned home.
Right behind the Gates you'll find a giant park called Tiergarten, which has many nice spots perfect for a Sunday picnic. Don't try to find all of them! The park is so huge that you might get really exhausted from walking. If you have other things planned for the day, beware of that.
Get lost at the Holocaust Memorial and learn some history at Jewish Museum
This is another well-known spot that you can get to from the Reichstag by foot. And I highly recommend you to do so. Just be ready that after viewing the touristy sights like the Reichstag or the Gates this monument will give you… chills.
Walking through the aisles of concrete slabs in silence is quite unsettling, but the monument serves the purpose of commemorating lost lives brilliantly. If you want to learn how Berlin embeds the tragic history of World War II, the Memorial would be a great start.
To continue that discovery, plan a visit to Jewish Museum.
This establishment is often overlooked by tourists, which is a pity. This is one of the greatest museums I've ever visited! The core exhibition is well-curated and so engaging that even your kids won't get bored. For a start, it attracts you with the funky explanation about what kosher food is and then drags you fully into the world of the Jews following an explicit documentation of the tragic events of the WWII.
The core exhibition of the museum is free to visit. It's better to book your ticket online in advance. Opening hours are from 10 a.m. to 7 p.m.
Stroll around Gendarmenmarkt Square
If you are a fan of old historical buildings, then Gendarmenmarkt square is one of the top attractions for you. The square is framed by three buildings: the German Cathedral, the French Cathedral, and the Konzerthaus. Each of them is unique, yet together they create a perfect architectural ensemble.
Each season gives the square a different look. If you come here in autumn, you might catch the Festival of Light which transforms the buildings into photogenic light installations. In summer, there is a Classic Open Air on the steps of the Konzerthaus. In winter, it turns into a magical market that would lift your Christmas spirit up. The square is a must on your what to do in Berlin itinerary.
Get cultural at the Museum Island
Museumsinsel Berlin is probably one of the most important sites in Europe and one of the most vibrant spots in Berlin.
It's a museum complex right in the heart of the city that is included in UNESCO World Heritage. If you can call yourself a museum-lover, then you should definitely put it on your Berlin to-do-list. Even if you think that going to museums is overrated, I'd still advise you to check out the island. The architect ensemble would take your breath away.
There are five museums in the Museumsinsel:
The Pergamon museum is famous for the collections dedicated to the Greek and Roman times.
The Bode Museum is home to the art objects of the Byzantine Empire.
The Alte National Gallery would be perfect for those interested in 19th-century paintings and French Impressionism.
The Neues Museum features the papyrus collection with its famous bust of Queen Nefertiti.
Finally, the Altes Museum is a place to learn about Classical Antiquities.
The ticket prices vary from one museum to another, but you don't actually need to shell out euros for each of them. There's a combo-ticket that allows you to visit all five museums. It will only cost you €19 and your kids can enter for free.
A little sidenote for you: There's a museums-related advice in the end of this article that will help you to save a bit on entertainments.
Discover the old city in Nikolaiviertel
Nikolai Quarter is often called the birthplace of Berlin, so it is quite an important historical sight. The district was built in the 12th century as a trading settlement near the walls of St. Nicholas church. Almost the entire area was destroyed during the Second World War. However, the authorities' attempt to recreate a piece of the old pre-war Berlin led to different disputes among the Germans.
For some this place seems toylike after its renovation, but nevertheless it has become one of the top attractions in Berlin since then. Many are happy to come here to get the idea of what the old city looked like. Strolling through the streets of the Quarter is a must for those seeking a real touristic experience. This is a place where you'll find dozens of cozy cafes, antique and souvenir shops, and historical buildings.
Wander around Alexanderplatz
Alexanderplatz metro station (or just Alex, according to the locals) is a popular hotspot with a bunch of exciting things definitely worth visiting in Berlin. Situated in the East part of the city, this neighborhood has its own unique architectural style that combines Soviet-designed buildings with Italian renaissance and brick gothic.
Alexanderplatz is a cool neighborhood to visit with family. There is a nice square with a fountain right next to the metro station. While you take a moment to appreciate the eclectic architecture of the area, your kids can bounce on the small trampolines installed into the pavements.
Another reason to come here is to enjoy the breathtaking views of Berlin from the Television Tower — the not-so-hidden gem of the city. You sure won't miss it — watching the city from above is one of the top things to do in Berlin at night, so there are always tourist lines to enter the tower.
If you want to avoid long queues, I advise you to buy the tickets online in advance. There are different options available — the prices start from €24.5 for adults. It's true that the tickets are quite costly, but to see Berlin from up high (especially at night) is one of the most memorable moments you'll get from your trip.
Pick a favorite graffiti at the East Side Gallery
This gallery is a must-see attraction if you want to understand the nature of Berlin's free spirit. Right after the fall of Berlin Wall, many artists felt the urge to turn the ruins of it into art and painted the Wall with colorful graffiti. That was the beginning of the East Side Gallery and now you can walk for miles enjoying the works of different street artists.
The gallery is free to enter and open 24/7, so it might be a great option for you if you are on a budget.
I advise you to start exploring the Wall from Schilling bridge and end it by looking at the iconic fraternal kiss of Soviet leader Leonid Brezhnev and East German President Erich Honecker. After the Gallery you can also take a look at another historic landmark — Oberbaum Bridge. Having crossed it, you'll find yourself in a very-very vibrant neighborhood called Kreuzberg (read up on things that make it so standout here!). It's a famous destination for foodies and party lovers as there are an endless array of amazing cafes & bars in the area.
Bar hop in Kreuzberg like a local
While Reichstag should be on your list of historical landmarks, Kreuzberg is a must for a nightlife itinerary. This neighborhood offers such a diversity of cafes, bars, and bistros that you won't cover it all even in 3 days. You get to choose from Turkish, Arabic, Italian, Korean, or local cuisine — the list of where to eat in Kreuzberg is quite long.
If you are not a fan of spontaneous food discoveries, then I advise you to check out Il Casolare restaurant and Multilayerladen bar. The first option is perfect for dinner or lunch — this place serves the best pizzas in the city. Beware that you might not find any free tables in the evening, but you can always order out and enjoy the sunset from the Admiral bridge. After that, hit Multilayerladen, which is my favorite bar in this neighborhood. Instead of chairs you'll find pallets on which you can sit, lay, and even swing. It's a cool place to hang out with your friends.
Take a photo with a guard at Checkpoint Charlie
To view an iconic symbol of the Cold War should be definitely among the things to do in Berlin. The checkpoint served as a border between East and West Berlin. Now it is a museum with a replica version of the guardhouse. In my opinion, the place is overrated and feels like a tourist trap but anyway I insist on visiting and getting your own impression.
Everyone says about two American guards watching the checkpoint, which are very friendly and love to take funny — and paid, actually — photos with tourists, but I've never seen them.
If you are wondering what else to see in the neighborhood, there is an open-air Black Box memorial not far from the checkpoint. It is dedicated to the history of the Wall and illustrates the life of divided Berlin. It's also free and won't take much of your time, so it can be a great bonus to your list.
Related: If you want to check out all of the Cold War era heritage in Berlin, this article (with the most famous Cold-War sites) is there for you.
Merge into the film scene at Potsdamer Platz
As I mentioned before, Berlin is one of the most important film hubs in Europe. If you are a cinema lover then the best time to visit Berlin for you is in February or March during the Berlinale film festival. This time of year, Potsdamer Platz turns into a grandiose festival center with many red carpets, film premieres, and cinephiles all over the place. But even if you are not into film, there are two attractions worth visiting.
The first one is the Museum of Film which will definitely take your breath away. Besides the amazing and well-structured exhibition of German film history, the museum has several cool interactive settings like an infinite mirror corridor that you and your kids would love. The second one is the Sony Center. It's a high-tech modern complex that is better to check out at night. That way, you'll be able to catch an impressive light installation under the dome.
Marvel at the beauty of the Memorial Church
Kaiser Wilhelm Memorial Church is another important monument that was severely damaged during World War II and later became a symbol of the city rising from the ruins. Today this memorial is turned into a unique ensemble of two modern glass buildings with the old church in the middle. Many locals call the Kaiser Church their favorite spot in the city.
I have to admit that the inside of the church is spectacular. The glass seems to glow with a mystical blue color. The secret of this glow lies in the architecture and the special arrangement of light sources. The surreal atmosphere is heightened by the figure of Christ as if hovering in the air. This church might be among the things to do in Berlin on Sunday, especially if you like organ concerts.
Listen to live jazz at The Hat
Here is a great idea for those who are tired of Berlin sightseeing places. The Hat is a jazz bar located in a very peculiar place — right under the train line and next to some other food & wine options. The location makes The Hat a real hot spot among both locals and tourists. The ambiance in this place is really something. There is no line-up and you never know who is going to play in the evening. Sometimes musicians just pop in for a drink and end up on stage improvising with other performers they see for the first time.
The Hat is a perfect end to your day. The entrance is free on weekdays and will cost one cocktail on weekends. I'd advise you to come here on a weekday, because it might get too crowded on Friday and Saturday evenings. Ask the bartender for a cocktail with a twist and let the improvisation lead you into the night.
Visit an urbanistic miracle — Tempelhofer Feld
Tempelhof Feld is a new name for a huge former airport situated in the center of Berlin. Like many other historical places in Berlin, this one has quite a storyline. During the Nazi era, it became a big innovative international airport. In the Cold War years, it was the only way to get food and other supplies to West Berlin. In 2004, it was called the mother of all airports and in 2008, it was shut down.
Now Tempelhof is a wonderful public park with many things to enjoy. The locals come here to hang out, cycle and skateboard on 2 kilometers of the runway, and even grow lettuce and carrots. It is one of the best places to fly a kite with your kid and have a family day off. If you don't have much time, I still recommend you to stop by to trace the history of Berlin through this magical place.
Spend a day at Holzmarkt
Holzmarkt was one of the first sights I've run into in Berlin and I can't help tagging it for myself with "Berlin's spirit in a nutshell".
Holzmarkt is one of the most exciting urbanistic projects located not far from Berlin city center. This open space is built on the grounds of a legendary nightclub. As peculiar as it may sound, visiting it is one of the greats things to do in Berlin with toddlers. While your kids are having the time of their lives on a very unusual playground, you can grab a bite from one of the vegan food wagons or watch a theater performance.
Holzmarkt is a real oasis for those who want to take a break from a busy, loud metropolis. Located on the riverside, the space will win you over with fantastic sunsets over the river and peaceful ambiance. Here you'll find locals growing their own vegetables and salads next to the bistros that serve their food in "from farm to table" style. If you are looking for an authentic experience in Berlin, this place is definitely for you.
Some places to add to your itinerary
If my must-visit list is not enough and you are still wondering what to see in Berlin, here are some extra tips for you.
Techno clubs
Berlin is known for its nightlife and techno scene, so I can't miss the opportunity to share some of Berlin's techno clubs you might find interesting.
Yes, Berghain is considered to be the techno-mekka of the world, but I find this place overrated. There are so many people eager to check out the club that you have to be lucky to get in. I think it's better not to waste the time since there are many other great alternatives.
For example, Tresor. It's a slightly smaller place with several dance floors. Each of them offers a well-curated set of techno sounds. Sisyphos is another great venue housed in a former factory. The club has a huge open-air area — if you're visiting Berlin in summer, take a look at their upcoming events. For those who like something cozier and more communal, I recommend Renate. Most of the time they play electro and house, and sometimes they host theme parties and dance battles.
Day trips from Berlin
If you have more than 3 days in Berlin, it might be a good idea to get out of the city and explore the surroundings. As I mentioned before, Berlin has a very well-developed public transportation system. Many of the destinations are easily reachable with the help of S-Bahn trains.
Potsdam. It's a small, beautiful town right outside Berlin which is worth visiting because of Sanssouci Palace. Many people compare the beauty of this complex with Versailles. You might like it even more because Potsdam is not as popular as Versailles, so you won't have to push your way through the tourist crowds. The easiest way to get here is by S-bahn (S7) train to Potsdam Hauptbahnhof (Potsdam Main Station).
Wannsee. If you are in Berlin in summer, you should definitely come here. There is a beautiful lake with several sandy beaches. Spending a day far from the city noises will definitely do you good. Get on the S1 line in Berlin and an hour later you'll be in Wannsee.
Leipzig. Visiting Leipzig is a good idea if you want to take a peek at other German cities, but don't really have time for a full trip around the country. The city has a bunch of historical sights worth looking at and one of the greatest beer gardens in the country. You can take a bus or train to Leipzig. The fastest way is an express train which won't cost much if you book the ticket in advance.
Food in Berlin — our gastronomic to-do-list
For those wondering what food Berlin is known for I've prepared a list of my favorite places in the city. Isn't it a great alternative (and tasty) way of mapping out the city?
I have to warn you: Berlin is not the right place to try all the joys of traditional German cuisine. It turned into a multinational diverse city a long time ago, so many of the must-try dishes come from immigrants' cuisine.
Here are some places to eat in Berlin:
Maultaschen Manufaktur — come here to try Southern German dumplings. Vegetarian, meat, fried, boiled, anyone will find a perfect match.
Facil — a 2-star Michelin restaurant on Potsdamer Platz. The dinner course is really pricey (€178), so if you can't afford it, come here for lunch (€78) and be blown away!
Curry Baude, Badstraße 1-5 — this spot is famous for currywurst, which is a traditional German sausage. It's not a restaurant, just a stall making awesome German fast food (€2–€4).
Il Casolare — as mentioned before, the best Italian pizza in the city (€8–€12). A homey atmosphere with the chef greeting the guests as a bonus.
Berkis — a lot of great Greek food for an affordable price (€4.5 for gyros pita is a bargain!). Perfect for lunch, but if you want to dine in here, book a table.
Sigiriya — probably the best Indian curry in Berlin (€11–€14). They have a nice terrace, check it out if you catch good weather in the city.
Berlin has thousands of great bars, but these four are the ones I keep coming back to:
Café Luzia (Kreuzberg) — a must for any vintage or industrial-style lover. Besides cocktails costing about €11–€13, they serve decent coffee (€3.2 for cappuccino) and amazing juice mixes (€3).
Multilayerladen (Kreuzberg) — my favorite spot in Kreuzberg, right around the corner from the aforementioned bar. Isn't it awesome to drink beer (€3) in a bar, chat about stuff and do it all on the swing set?
The Hat Bar (Ku'damm) — no better place to listen to real jazz improvisations in exchange for a cocktail (€11–€13).
Zu mir oder zu dir (Prenzlauer Berg) — a bar to relax after a long day. The furniture — large couches and comfy armchairs — and the dimmed lighting will take you back to the 70s.
A few more things you need to know before visiting Berlin, Germany
Berlin is not only a city with rich culture and many things to enjoy, but a great location from where you can get anywhere in Europe. It has a really well-developed transport system that will allow you to travel cheap and comfortably by the means of your choice. It can be a low-cost flight, an express train or a Flixbus ride. Such diversity makes Berlin a must-visit in any trip around Europe. What else?
1) The average price for a breakfast for two in a trendy café is €20–€25. If you can and want, there's an opportunity to live on cheese and ham which are plentiful in the supermarkets. Mix with a pretzel croissant (€0.6) at the start of the day and a bottle of Riesling (€6–€9) at the end of the day for a full German experience! 🙂
2) Berlin DOES lack good weather in the months from November till April, so I suggest you visiting in summer — it's the perfect time to discover it on foot.
3) For all museum geeks, I doubly recommend to build their trip around a certain date — the very first Sunday of any month. Because just about every museum in Berlin is free on this date.
4) The city is gorgeous in fall. It's not only about the parks — even the bleakest streets of Berlin decked out in the golden foliage can't be called gray anymore. Taking a long autumn stroll to wherever you want is something to put on your list of what to do in Berlin in September and October. Plus, it's an inoffensive way to protest against the city's insane public transportation fares (€3 per ride!).
5) And last but not least… Among all the things you need to know before visiting Berlin, this one really stands out: Most coffeeshops in Berlin DON'T HAVE RESTROOMS. Even if there are 30+ seats in the room. On top of that, restrooms in malls can charge you €0.5–€1 for entrance. Whaaat?
Is Berlin worth visiting?
One hundred percent! As you've probably noticed, coming to Berlin means learning about so much more than just German culture. And that is why I love this city so much. It will be perfect for a trip with friends, a romantic getaway, or a family vacation. All you need to do is to choose the right itinerary for you and your close ones.
What is also great is that you can enjoy the city in any season. Summer is the best time to visit Berlin to explore parks and natural sights. Autumn makes the streets and squares very cozy. Spring is great for long walks around the landmarks while the sun doesn't roast you. And winter turns the city into a must-visit place for any film lovers.
Where to stay in Berlin?
Where to stay in Berlin is one of the most common questions crossing the mind of a traveler. Here are some options to make your stay in the city comfortable: